Women with a Cause 2020: Shannon Williams Hultberg & Kathryn Rothkamm Gill
---
One of the last events Shannon Williams Hultberg attended before the COVID-19 pandemic shut the world down was a pep rally at her daughter's school. As the students sang the national anthem, Hultberg began to cry. "I guess I just really realized we are all neighbors," Hultberg remembers. "This was going to affect each and every one of us in different ways. And I just wanted to figure out a way that I could help."
Hultberg, 47, reached out to friend Kathryn Rothkamm Gill, 52, with an idea. What if they could support struggling restaurants hit hard by the pandemic and, at the same time, show their appreciation to medical workers and first responders by providing them free meals?
The pair soon founded a nonprofit organization called BR Answer the Call and began soliciting donations and inquiring at restaurants about purchasing meals. "It just was a frenzy of ideas that we kind of organized and put into action," says Gill.
To date, BR Answer the Call has raised $20,000 in donations from community members with none of the money coming from big corporations, Hultberg says. "I think that says so much about our community and about people's hearts," she notes. "That even when they're struggling, they gave whatever they could to help their neighbor,"
Those donations allowed BR Answer the Call to purchase and deliver 3,000 meals to medical centers and hospitals across Baton Rouge and even as far as Lane Regional Medical Center, Pointe Coupee General Hospital and the Eastern Louisiana Mental Health System.
Gill enjoyed delivering the meals especially to her workplace of Our Lady of the Lake, where she personally handed out pizza to the security team, housekeeping staff and hospital operations teams—people who weren't always acknowledged for their hard work. Her favorite memory was "just hearing from the people that were actually getting the meals and how appreciative they were because not all of them were remembered."
Hultberg says the meal recipients cried as they described the ordeals they faced helping patients with COVID-19. Others wanted to take pictures with the meal delivery team, she explains. "I hope it just made a difference and put a smile on their face and maybe just helped them through their day," she says.
A GoFundMe fundraiser is still available online for BR Answer the Call, and Gill and Hultberg say they want to continue supporting local restaurants and the health care industry even when the pandemic eventually goes away. "Even though it was established in response to COVID," says Hultberg, "we are going to be able to utilize it in the future to help with any cause that may come up that we want to try to make a difference with."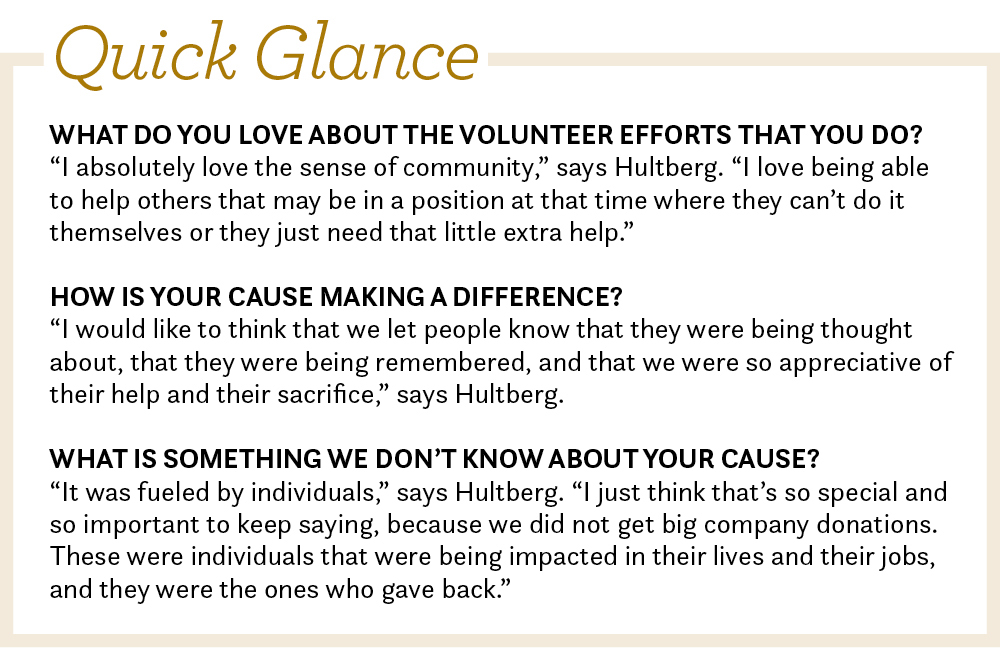 gofundme.com/f/ppcjp-br-answer-the-call