The wellness whisperer: Chenoa Farrell coaches clients to better health
---
Every day is different for health coach Chenoa Farrell.
She might stroll through the Red Stick Farmers Market with a client, pointing out how to use the lush bounty of seasonal local produce. She could be at a grocery store, helping a working mom navigate the pitfalls of processed foods. She might teach a class in meal planning, or guide a client experiencing setbacks with words of encouragement.
"Every moment that you make a decision that supports your health is impactful," says Farrell, who prides herself on a no-shame philosophy. "You make that initial commitment with better eating and exercise, and you build on it. And it builds and builds and builds."
It's something she says she knows firsthand.
In 2011, then a single mother living in Houston, Farrell found herself caught in an endless loop of stress and bad health. Her frenzied schedule yielded little free time for healthy eating and exercise.
"I was working long hours and eating a lot of fast food," Farrell says. "And my health started to suffer."
She developed gallstones, a condition that can be triggered by a high-fat, low-fiber diet. Frustrated and tired of feeling poorly, she decided to get serious about eating better and exercising. As her health improved, she thought she could help others do the same. That year, she enrolled in the Institute for Integrative Nutrition, an expansive nutrition school founded in 1992 that offers online certification programs. After completing 12 months of coursework, Farrell became a certified health coach and founded her company, Feel Good Mama.
"I really think it's a calling," says Farrell. "I want people to be at their optimal health. You have to feel good to do good in the world. Everyone wants more energy to play with their children, to be present and to be more productive."
After building her practice in Houston, Farrell moved to Baton Rouge in 2015 when her husband, an engineer, was transferred to the Capital City. She has worked with a growing number of local clients and has given meal-planning classes at both Whole Foods Market and Red Stick Spice Company.
Client Amy Dighton, a Baton Rouge-based graphic designer, credits Farrell for helping to transform the way her family eats.
"I was doing typical tacos from a box and everything with ground beef, but Chenoa never made me feel bad about it," says Dighton. "I started making small changes, and now we have things like bacon-wrapped shrimp, or pasta using spaghetti squash. I'm much more comfortable making substitutions with healthier ingredients than I was before."
As the mother of a 13-year-old, Farrell recognizes it's hard to sustain a commitment to health and wellness without interruption. Fats and sugars are ever present at social gatherings, especially where young people are involved. But balance happens over time, she says, and even small changes make a difference.
"People come to me most often because they say they're 'sick and tired of being sick and tired,'" she says. "I help them take those incremental steps and report back until those changes a regular part of the routine."
Farrell starts by learning about a client's goals and current habits. From there, she recommends incorporating tailored changes in diet and exercise. She adds more changes with each meeting, whether it's on the phone or in person. She says she believes it takes three to six months to substitute good habits for bad ones.
"It took a long time to not feel good, so naturally it takes a while to undo those bad habits," she says.
Despite Louisiana's public health struggles and notorious high-fat diet, Farrell says she's found a robust environment for living well in the Capital City. Her personal routine includes regular sourcing of locally raised foods that have optimum nutritional value. She like to shop at Iverstine Market for grass-fed beef and heritage pork. She fetches Gulf shrimp and fresh drum from Anna Marie Shrimp at the Red Stick Farmers Market, products that are frozen minutes after they're caught, and thus have no preservatives. She's also a big fan of farmers market vendor Fullness Organic's fresh zucchini, from which makes spiralized "zoodles" to use as a pasta substitute or side dish.
"We've been taught to see food as secondary to our health, but really, food is medicine," she says. "Once you start substituting good foods for less healthy ones, you can retrain your brain to crave things that are good for you."
[caption id="attachment_36868" align="aligncenter" width="1549"]
Chenoa Farrell launched the company Feel Good Mama to help others make healthy food and lifestyle choices. Courtesy Chenoa Farrell.[/caption]
---
Upcoming classes that Farrell is offering at Whole Foods Market
Meal Prep Like a Pro
July 15, 10-11:30 a.m.
Participants will leave with a clear knowledge of how to save money shopping at Whole Foods Market while enjoying a healthy lunch and will receive a 5-day meal plan, recipes, a shopping list and coupons.
Back to School Meal Planning Tips
August 5, 10-11:30 a.m.
Participants will enjoy a nourishing meal while gaining meal prepping skills that encourage a seamless transition from summer back into a hectic school schedule. A 5-day meal plan, recipes, a shopping list and coupons will be included.
Keep up with the Feel Good Mama's event schedule on her Facebook page.
---
5 Tips from the Feel Good Mama
Changing your diet and exercise routine can seem overwhelming, says Farrell, but you'll be more successful if you keep the following tips in mind:
[caption id="attachment_36869" align="alignright" width="400"]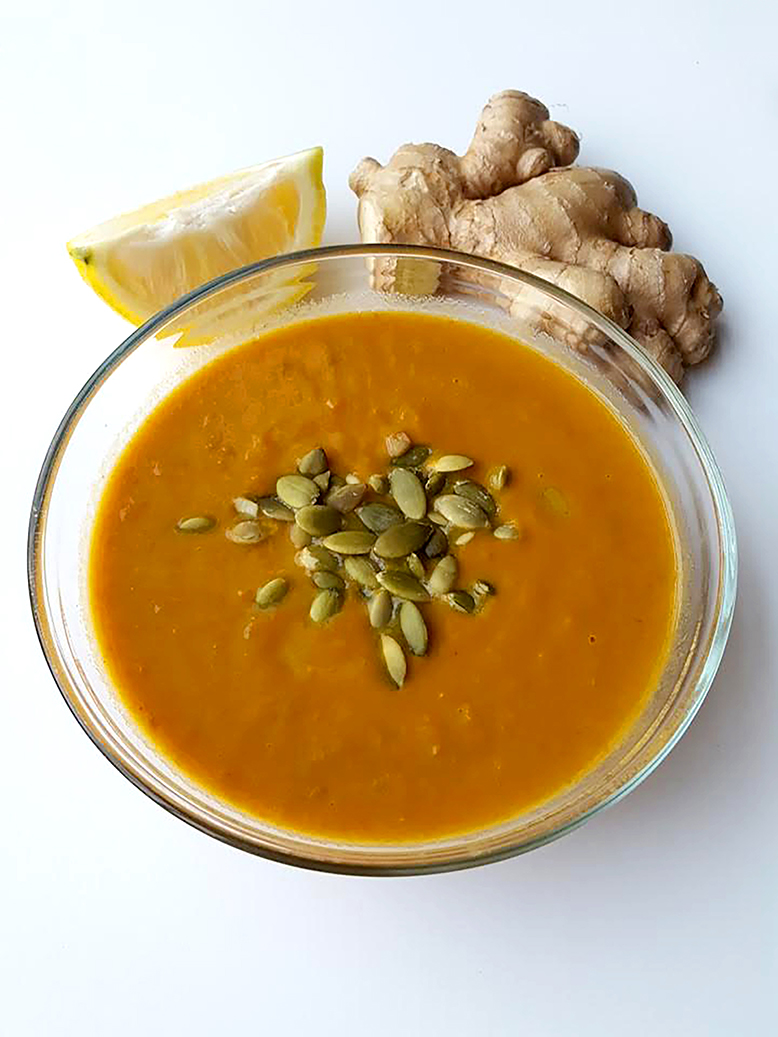 Teaching people how to prepare healthy food options, like this carrot soup, is the focus of the classes that Farrell leads at Whole Foods and Red Stick Spice Company. Courtesy Chenoa Farrell.[/caption]
1. "No time" is no excuse. It's not surprising that Farrell often hears the excuse "I just don't have time." She felt that way herself once, and she counters it with a reminder that feeling strong and healthy actually makes time. "We're living a period where everyone is busy and no one really has extra time," Farrell says. "But you make time for the things that are important to you."
2. Set realistic goals. It takes effort and planning to replace bad diet and exercise habits with good ones, and you'll be more successful if you attack it one goal at a time. "Small, incremental changes are the most effective way to pursue your goals," says Farrell. "Be kind to yourself and have appropriate expectations. We've all spent a long time creating bad habits, and it's important to be patient as you grow into new ones."
3. It's not always fun. Farrell says it's important to recognize that when you strive to improve your health, you might feel discouraged along the way. "Change is hard, and it's human nature to resist it," she says. "But if you know the journey is going to include uncomfortable moments, you can prepare to be persistent and not give up. Like the Neale Donald Walsch quote says, 'Life begins at the end of your comfort zone.'"
4. Plan, plan, plan. Planning is crucial to success, advises Farrell. "You're more likely to eat better during the week if you take time on Sunday to stock the fridge and pantry with healthy ingredients," she says. "And, you're more likely to follow through with exercise if you've planned to meet your bestie at the gym or for a walking date."
5. There is strength in numbers. "Building a community of likeminded contacts and champions can give you the shame-free support and encouragement you need to change your habits permanently," says Farrell. Indeed, according to the American Psychological Association, it's easier to lose weight and stick to a workout regime with social support. Try trading healthy recipes with others motivated to eat well, or join an exercise class or running group.