---
Seen through the eyes of … Kaci Yoder
Who went: My childhood best friend and her sister and I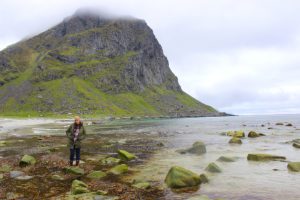 We went because: All three of us have always appreciated natural beauty more than big cities or touristy attractions, so when we decided to do a summer trip, we wanted the most spectacular views and breathtaking experiences.
Hotel recommendations: We opted for Airbnb accommodations throughout our trip, which didn't let us down. If you want to get up to Lofoten in the summer months, book at least six months ahead and look for cabins in Reine or Sørvågen for easiest access to the ferry port.
Where to eat: Though I meticulously researched every restaurant outing on our trip, the best was one we stumbled upon exhausted and soggy from a hike on our last day in the Lofoten Islands. Restaurant Gammelbua in the small village of Reine is in an old general store and has the cozy, rustic feel of an old Norwegian trading post, and the kitchen cooked up the tastiest food we had in Norway.
Favorite dish on the menu: The fish of the day. If you're anywhere in the northern islands of Norway, order the fish of the day. You will literally never taste fresher fish unless you catch it yourself. We had kveite, or halibut.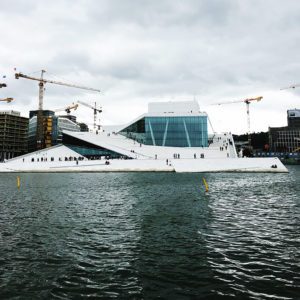 Item of clothing you shouldn't leave home without: A reliable, durable rain jacket. Norway technically has four seasons, but some locals just refer to two: "white winter" and "green winter." Even though we went in mid-June, it was cold (as high as upper 60s, as low as upper 30s), foggy and rainy, and we would have been miserable without water-resistant outerwear and shoes.
Favorite historic landmarks: Gol Stave Church at the Norwegian Museum of Cultural History in Oslo and the collection at the Munch Museum in Oslo. The whole city is packed with culture and history.
Local attraction worth a drive-by: The Oslo Opera House. Even if you can't catch a performance, check out the gorgeous architecture.
A great experience off the beaten path: Exploring the beaches of Lofoten. The Lofoten Islands themselves are off the beaten path: we had to take a flight into the city of Bodø and then a four-hour ferry across the Norwegian Sea to get there. Moss-covered cliffs drop down into gorgeous, crystalline, white-sand beaches surrounded by plains of the lushest, greenest grass. You'll literally see sheep grazing near the tide pools. We even took a four-hour roundtrip hike to find the hidden Kvalvika Beach—just watch out for muddy trails. I had to leave a pair of shoes behind.
Worth the splurge: A flight to Ålesund and round-trip ticket to tour Geirangerfjord. We spent two nights in the small but adorable coastal city of Ålesund just to catch a bus and ferry tour of one of the most beautiful fjords in the country. A little pricey, but absolutely one of the most stunning experiences of the trip.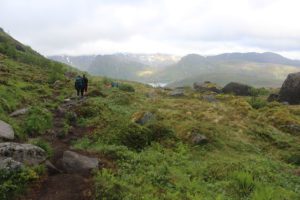 Not worth the splurge: Going out for drinks in Norway. While Airbnbs and public transit were cheap, food and especially beers and cocktails drained our funds. Try staples of the Norwegian diet, like Kvikk Lunsj (the signature chocolate bar), but don't waste cash sampling local drinks.
Something surprising we learned on the trip: The language barrier is almost nonexistent. Almost all Norwegians speak great English, so don't be afraid to ask for help if you get on the wrong train.
Insiders' tips: If you want to see a huge amount of the Norwegian countryside easily, book a ticket on the Bergen Railway. It's essentially a six-hour Disney World ride of unbelievable views from Oslo to Bergen. Also, it's customary in Norway to take off your shoes before walking into someone's home, so do so if you're staying with a host. And when you're trying to make sense of Norwegian Kroner (their currency), just divide it by 10 to get the approximate amount in dollars.
We would suggest this trip to others because: Our flights from Boston to Oslo on Norwegian Airlines were dirt cheap. If you've dreamed of escaping to Arctic archipelagos like Iceland but can't afford it, Norway is the way to go. Just plan carefully, learn a little rudimentary Norwegian to read tram and ferry timetables, and have the Nordic adventure of a lifetime.