---
Seen through the eyes of … a brother, a sister and a six-year-old: Michael Preis, Caroline Preis Graham and Connor Graham
Who went: Three generations of family hailing themselves as "kind of outdoorsy"—Phil and Terry Preis, Michael Preis, Caroline Graham, Jennifer Preis Pou and her husband Gray, and grandchildren Connor and Emelie Graham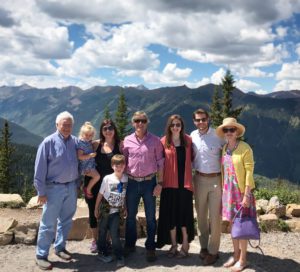 We went because: We needed to beat the heat by enjoying the Rocky Mountain temperatures of 70 degrees during the day and a crisp 50 degrees at night.
Hotel recommendations: The Villas at Snowmass Club and, for camping, tents provided by the Treehouse, Snowmass Village.
Where to eat: Phenomenal eats and ambiance are pinnacle considerations on a Preis vacation, and there is never a shortage of varying opinions:
Caroline: Sunday brunch at Prospect at the Jerome, Aspen
Michael: Post-40-mile bike ride lunch and lagers at Riverside Grill, Basalt
Connor: Fireside campout on Elk Camp Mountain Cookout
Favorite dish on the menu:
Caroline: Brunch salmon with caper berry relish, crème fraiche and dill
Michael: Quinoa salad and fish tacos
Connor: Treehouse s'mores
Item of clothing you shouldn't leave home without:
Caroline: Asics Gel Noosa Tri shoes. Optimal footwear for the activity spectrum—whitewater rafting, camping, shopping, yoga, biking and nature walks. (Note, I do not hike unless I am forced to, and I will never compete in a triathlon—they are just great shoes.)
Michael: A fleece
Connor: Wool socks and a bathing suit (note, not to be worn together)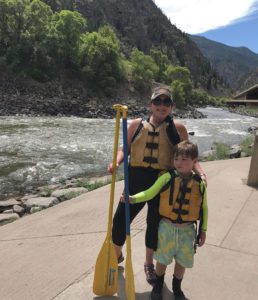 Favorite historic landmark: Glenwood Canyon and Caverns, formed 3 million years ago by the Colorado River
Local attraction worth a drive-by: Why drive when you can float by the caverns while whitewater rafting on the Colorado River, fly up Aspen Mountain by gondola, or pedal a bike down Snowmass Mountain? While we did rent a righteous minivan, there are a plethora of transportation modes at your disposal. Don't limit yourself to a drive-by. Float, pedal or fly.
A great experience off the beaten path: Overnight camping expedition hosted by Treehouse guides. We arrived at our campsite on Elk Camp Mountain (after first stopping at the liquor store), 1,800 feet above Snowmass Village. The camping expedition provided opportunities for Connor to catch his first rainbow trout, to enjoy a prepared meal (and wine!) by firelight under a canopy of stars, to master s'more making, and to stargaze in a majestic venue.
Worth the splurge: The Kids Camp at the Snowmass Club (managed by Megan, a Baton Rouge native!), which provided Caroline with much-needed time to work out the kinks from sleeping on an air mattress in the middle of the woods.
Not worth the splurge: Sage Restaurant at the Snowmass Club
Something surprising we learned on the trip: We not only survived, we thrived during the overnight camping experience (according to our extraordinary guides!).
Insiders' tips: Make sure you stop at the liquor store before heading up Elk Camp if you decide to embark on the overnight camping expedition.
We would suggest this trip to others because: Summering in Colorado appeals to all ages, all fitness levels and all interests (whether at a spa or in the forest) while enjoying a stunning climate and engaging with magnificent people.