How we're transitioning the tomato girl summer trend into fall
Some call it a fruit; some call it a vegetable. All I care about is how it tastes on my sandwich. While we may be slowly exiting tomato season, that doesn't mean we have to do away with them completely. Who said tomatoes were just for eating anyway?
This summer, we watched as the tomato girl summer trend rapidly grew on TikTok and beyond. But, we're not ready to let go of it just yet. We've been on the lookout for all things tomato around Baton Rouge, from recipes to artwork to outfits so we can bring the look—and lifestyle—into fall.
---
Tomato Confit with Burrata (or Boursin) Cheese on Crostini
Ingredients:
1 lb. grape  tomatoes
1/2 cup extra virgin olive oil
2 tsp. kosher salt
1 Tbsp. sugar
1/2 tsp. red pepper flakes
1/4 cup rice wine vinegar
Fresh thyme sprigs
6 cloves of fresh garlic, peeled
Combine ingredients in a small baking dish. Bake uncovered at 350 degrees for 45 minutes.
Correct seasoning with more sugar, salt and red pepper flakes.
Arrange confit around boursin or burrata cheese on a serving dish with crostini.
Next time you're struggling to come up with an appetizer to bring to a get-together, look back to this recipe from the owners of Ingle Eats, Joan Chastain and Shannon Countryman. This Tomato Confit pairs well with every season and is perfect for sharing with a group.
---
View this post on Instagram
Ooh la la! This painting from Robn Cook, titled "Eggplant with Tomato," has such a warm and cozy feel to it. Progressing into tomato girl fall just got even easier.
---
View this post on Instagram
I know what you might be thinking. How do a pair of red leather coated pants correlate with tomato girl fall? The deep red of these pants from NK Boutique is the same hue as the ripest tomato.
---
View this post on Instagram
Cheers! This Bloody Mary from Chimes looks mouth-wateringly good. Once the weather cools down a bit, you can find us sitting on the Chimes rooftop enjoying a bloody alongside the restaurant's classic spinach and artichoke dip.
---
EASY HOMEMADE SALSA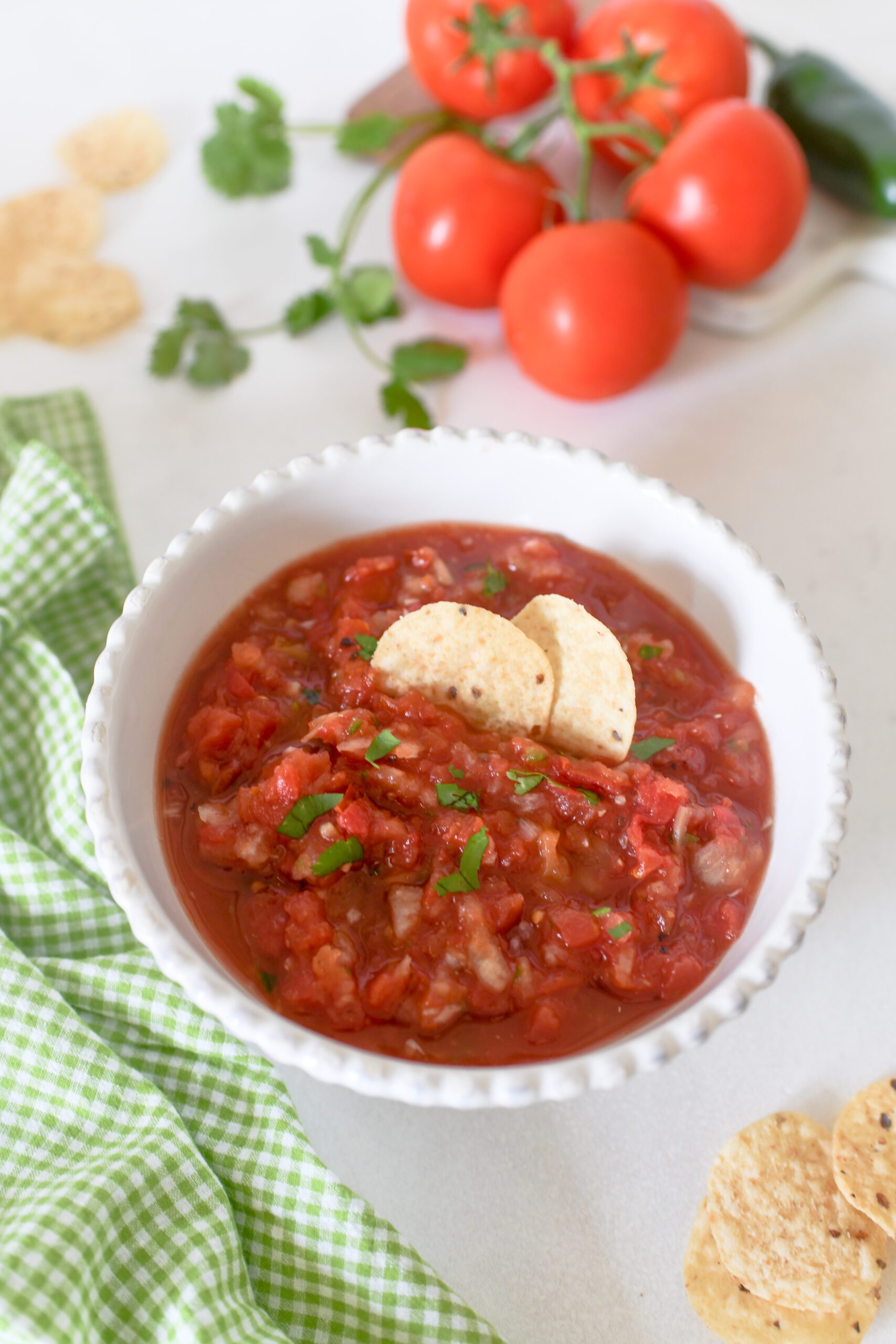 1/2 cup yellow onion, roughly chopped
2 cloves garlic
1/2 jalapeño, seeds and ribs removed, roughly chopped
1 (14.5-oz.) can fire-roasted diced tomatoes
1 lb. fresh tomatoes, roughly chopped
Pinch sugar (optional, to balance the acidity of the tomatoes)
1/4 tsp. salt
1/2 tsp. chili powder
1/4 tsp. cumin
1/3 cup fresh cilantro leaves
2 Tbsp. fresh lime juice
Add onion, garlic and jalapeño to the bowl of a food processor, and pulse several times.
Drain off liquid from can of diced tomatoes. Discard liquid, and add canned tomatoes to food processor, along with remaining ingredients. Pulse until salsa reaches desired consistency (I like mine a bit chunky). Taste and adjust lime juice, salt and sugar as needed.
Store refrigerated for up to 1 week.
Makes 10-12 servings.
With LSU football season in full swing, this salsa recipe from Aimee Broussard is a must. It's easy and quick and can be doubled or tripled depending on how many guests you have.