The Station is all dressed up for its spooky Halloween pop-up
The nightmare has moved from Elm Street and found a new home on Bennington Avenue in Baton Rouge. That's right, now through Oct. 31, local Halloween lovers can get drinks with an extra shot of fright at The Station Sports Bar & Grill's spooky pop up titled The Nightmare Before Miracle on Bennington.
For three years, The Station has been putting on its own Halloween pop-up bar experience complete with ghoulish props, nightmare-inducing dolls and themed drinks cleverly known as Shocktails.
Emily Graham, special events coordinator for The Station, says the idea to create a Halloween pop-up bar came about after seeing the success of the Miracle pop-up experience, which launched at The Station four years ago. Miracle is a Christmas-themed bar experience that pops up in bars across the U.S., but Graham says The Nightmare Before Miracle on Bennington is The Station's original themed event.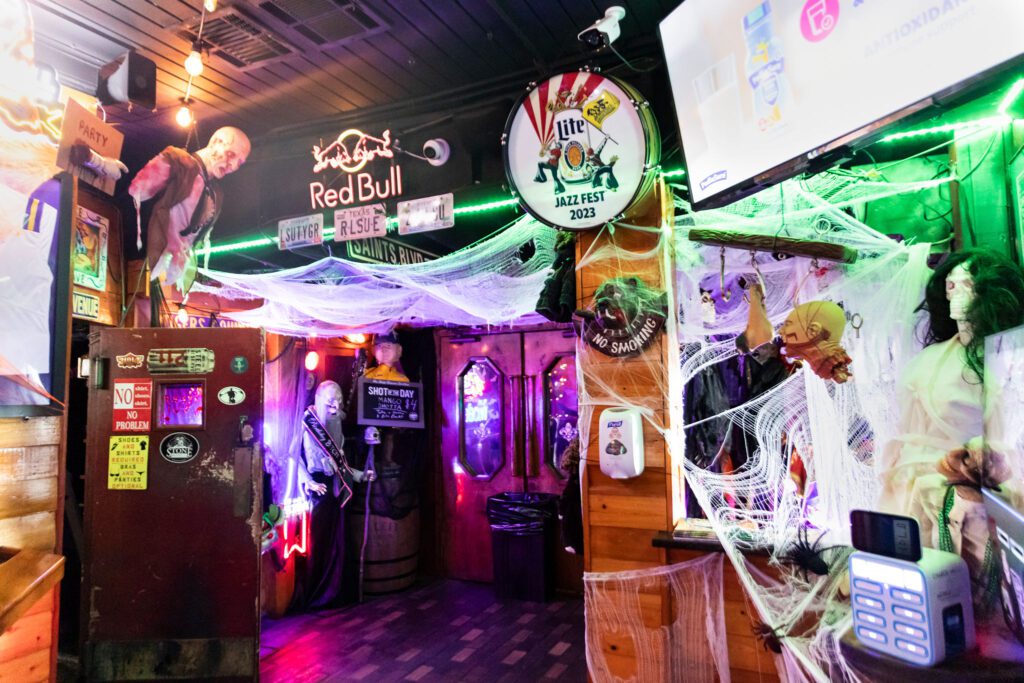 "I love The Nightmare Before Christmas, and it made sense to name the pop-up bar The Nightmare Before Miracle because it's going to be back-to-back pop-up bars to close out Q4," Graham says. "We just want to have a very exciting place for people to celebrate Halloween and Christmas to end the year."
The 5,000-square-foot bar is decked out with decorations straight out of a horror film. Ghastly monsters lurk around every corner of the bar and each section has its own theme, like a carnival area filled with not-so-friendly clowns and a Nightmare Before Christmas-themed room complete with a towering Jack Skellington figure that had to have its legs cut down in order to fit in the building.
Graham says her husband Robert, The Station's owner, loves Halloween, so there is no shortage of spine-tingling decor.
"Every year (when) those Spirit stores open, we're there," Graham says. "And, when they're closing down, we're there because we want to collect more and more. It just seems like we've purchased so much cool Halloween stuff, but there's always more to get. It grows year after year because it does take a lot to decorate such a big space."
Graham says the decor takes about five days to sort through and put up. After the Halloween and Christmas pop-up experiences, she says they keep a 12-foot storage unit full of decorations for the two holidays.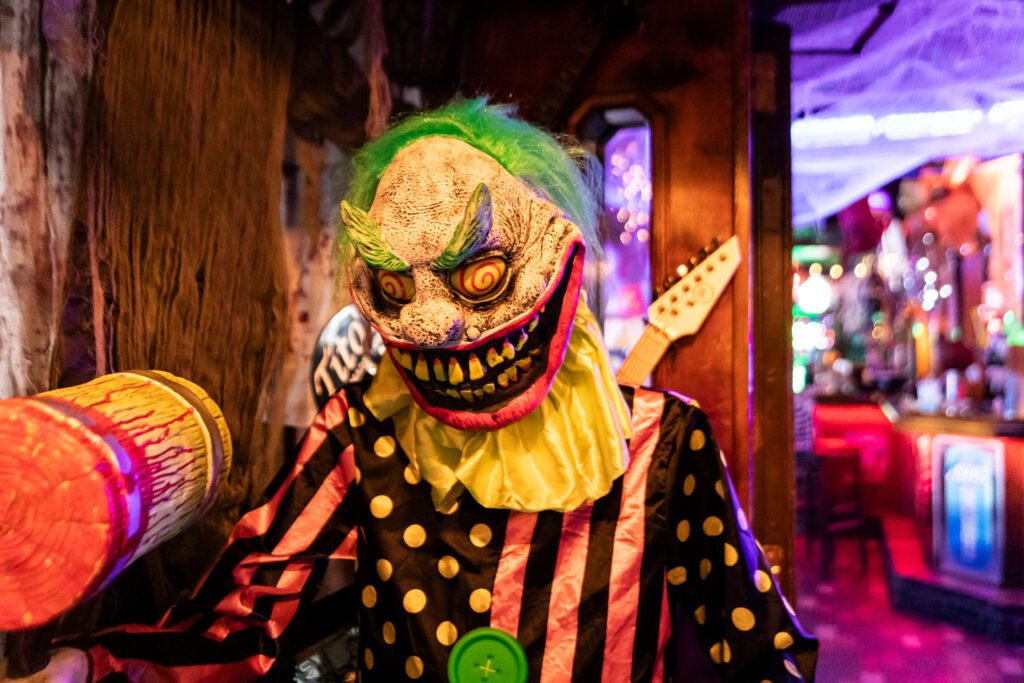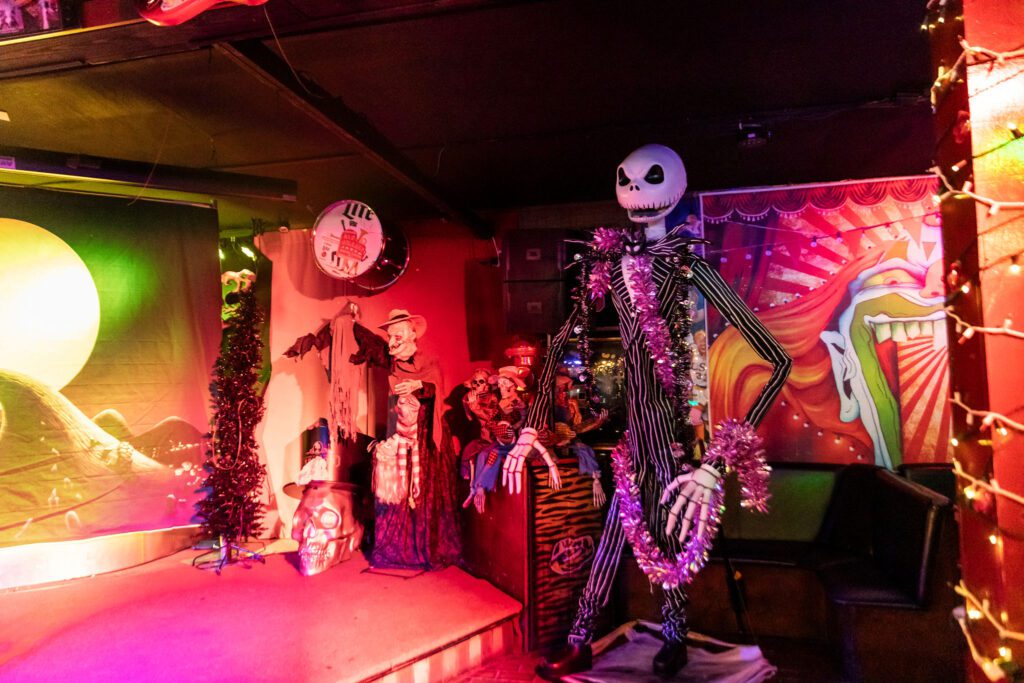 "We set the opening day and dedicate the whole week to decorating," she says. "We don't like it to go up in pieces. We want it to just pop up, like yesterday it was all LSU stuff and today, 'Hello, Halloween!'"
If the scary decor isn't enough frightful fun for a night out, visitors can also order a Shocktail to get into the Halloween mood. The themed drink menu, made by The Station's bartenders, includes shots and mixed drinks that are dressed up with festive sprinkles, like edible eyeballs, and are even served in on-theme containers like blood bags and syringes.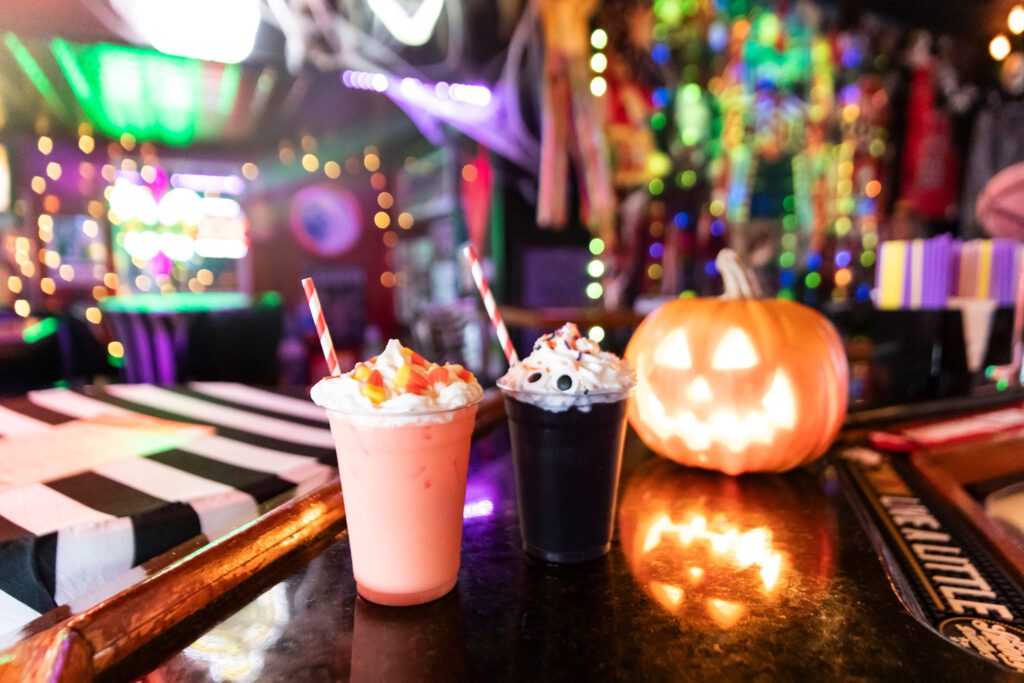 Graham says she encourages patrons to really get into the spirit of the holiday, especially on the weekend leading up to Halloween and on Halloween day itself.
"We encourage people to wear their costumes all the time when they're in here," she says. "This should be Halloween. We wanted it to be Halloween for the whole month, and that's why we opened up prior to Oct. 1."
Those who want to catch a glimpse of the Halloween pop-up should be sure to head to The Station before the end of the month, because Graham says Christmas decor will take over just a week after the spooky trinkets come down. And in the future, she says there's a possibility of more holiday pop-up bars and events.
The Station is open Monday through Friday, 5 p.m.– 2 a.m., and Saturday, 6 p.m.–2 a.m. There is no cover fee, but you must be 21 or older to enter. The Station is at 4608 Bennington Ave.
---
This article was originally published in 225 magazine's 225 Daily newsletter.