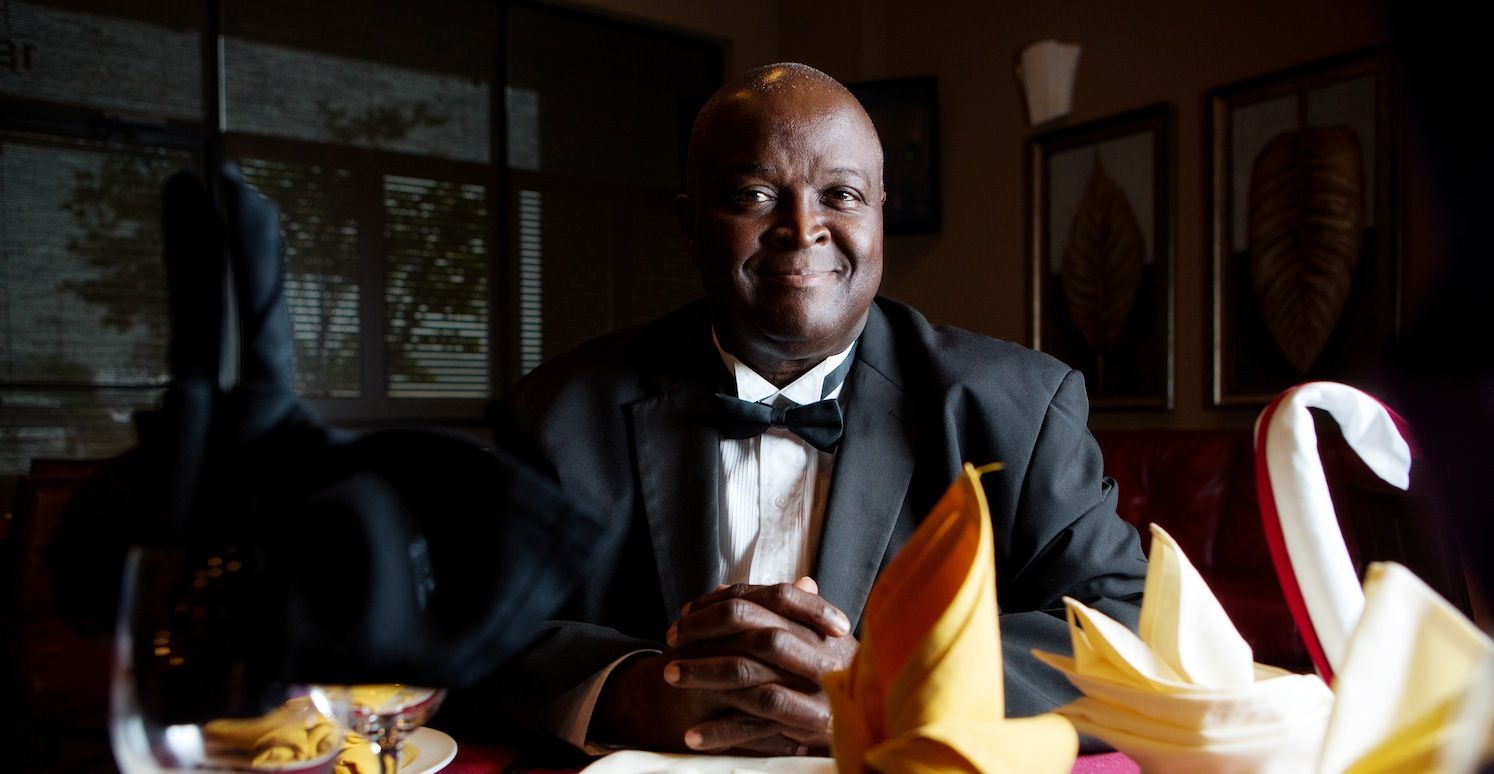 Expertise and enthusiasm keep this local waiter at the top of his game after five decades in the field
When Tyrone Howard was 14 years old, a veteran waiter at the Fairmont Hotel in New Orleans directed him to have a seat at a table in the empty dining room. The older man had a job for him. Fold a thousand napkins, the man instructed. He made a series of intricate folds with the cloth. Do it like this, he told Tyrone. The teenager started folding napkins.
Fifty years later, Howard—now employed at Le Creole—is still folding napkins, and with good reason. The so-called King of Napkin Folding has trotted the globe demonstrating his technique: He has traveled to Sydney, Tokyo and Paris for competitive events. He has appeared on shows such as Regis and Kathie Lee, where he gave the loquacious Regis Philbin a folding lesson and named a new fold in his honor during taping ("I called it The Philbin Fold,' Howard says). A copy of a letter from a producer at the now-defunct Joan Rivers Show notes that the show's audience was "stunned" by Howard's ability, shown on the program.
Howard knows 722 different napkin folds, many of them original designs, others a twist on classic folds like the dunce hat and the fleur-de-lis.
On a recent Thursday morning, Howard gives a demonstration of his skills at Le Creole, the Highland Road establishment where he has served since 2013. First he transforms a white napkin into a swan. Next he takes a green napkin and folds it into an elaborate accordion fan that he nestles on the swan's back. He finishes deftly with a double candlesticks design, the napkin folded into two points so it can be tucked into an empty glass.
If Howard's face looks familiar to Louisianans, it might be because he has spent most of his distinguished career in New Orleans. He has been on the front page of The Times-Picayune, New Orleans Magazine and the city's Gambit Weekly.
His prowess with napkins reflects a larger story about tradition and opportunity. He began working at the Fairmont after school and on weekends when he was in junior high school, then he stayed on for 37 years. Early on, its legendary waiters took Howard under their wing and taught him what they knew about the art of service. They knew plenty, but Howard built on what they taught him by researching service traditions around the world and subscribing to culinary magazines. He made this job a career.
"You've got to stay up on your understanding of food," Howard says.
He will tell you that there are 28 distinct traditions in the art of service and why a properly trained waiter never lifts the water glass from the table to refill it. He demonstrates the right way to hold a plate: gripped in the crease of the hand, thumb tucked under the plate, away from the food.
He will tell you these things with the charm and low-key wit that come from decades in renowned Louisiana kitchens and dining rooms, interacting with diners from around the world.
"He's a true New Orleans waiter of the type that they don't make anymore," says Wayne Stabiler, owner of Le Creole in Baton Rouge. "He brings an excitement and knowledge to the dining experience with a New Orleans flair."
Howard's vocation was a birthright. He father was a career waiter in New Orleans. His grandmother was a Creole chef.
"I was born into this," he says.
Over the decades, Howard became intimately acquainted with many well-known hotel kitchens in New Orleans, as well. As a banquet waiter at the Fairmont, he could moonlight at other hotels when he wasn't working there. On many days, he worked a breakfast banquet at one venue, a lunch at another, and then arrived at the Fairmont in the evening. He has worked as an oyster shucker, a carver, a flame waiter, a bartender and a banquet captain. Bananas Foster and cherries jubilee are specialties. He is well-versed in the tableside preparation of dishes like Caesar salad. His tax return once included more than 35 employers in a single year, he says. Flipping through his massive resume is like taking a stroll through some of New Orleans' most revered kitchens. The Omni Royal Orleans. The Plimsoll Club. The Monteleone.
A few years back, Howard started a nonprofit school to train underemployed and unemployed New Orleans residents to work as waiters in fine-dining restaurants. He says he would like to start a Baton Rouge location of the school, called ServingUp, although the idea is in its early stages. He views the school as a calling: He wants to see highly trained waiters in restaurant dining rooms again, not just because he respects the tradition, but because he says work as a career waiter can be lucrative and satisfying.
"I love this work," he says.Howard moved to Baton Rouge in 2006 to escape the chaos and crime of post-Katrina New Orleans. He continued to work in New Orleans for a time after the move, but these days his life is focused here. In addition to his position at Le Creole, he has two young children at Southern Lab School. He was overwhelmed the first time he saw them ride their bikes down the street in front of his Shenandoah home, something that was too dangerous for them to try in his neighborhood in New Orleans. Later, he sat by the pool in his new backyard and wept tears of joy.
"I'd never lived in a place that was peaceful," he said. "I thank God for that."