Culture has come a long way in the capital city in the past quarter century
The curtain rises on the girls' annex of the New York City Municipal Orphanage, where six orphans lie sleeping in the dormitory. The opening notes of "Maybe" rise from the orchestra pit like a lullaby. This is one of the most memorable opening scenes in all of musical theater, and Brad Blanchard can say he was a part of it when Annie took the stage at the Baton Rouge Little Theater in July 1989.
"One of my jobs was moving the iron beds into place for each performance and then offstage after the scene," recalls Blanchard, who at 16 years old was a rookie stagehand for the production. "I was hooked instantly by the magic of it all."
Blanchard's introduction to the excitement of the theater world has blossomed into a lifelong love affair. In the past 25 years, he has performed in nine productions and choreographed 10 on that very stage. He met his wife Sonya when they both played in Carnival; they got engaged on the stage after a performance of Oliver! And when the company, now called Theatre Baton Rouge, brought back Annie this past summer, the role of the rascally redhead was played by their daughter Molly Beth.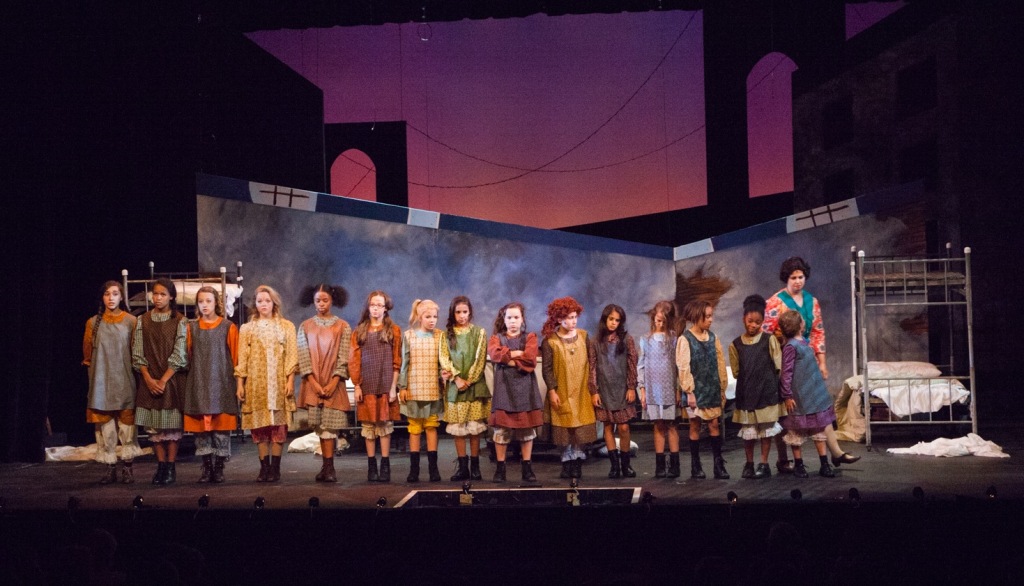 "I have never been so proud and nervous at the same time," confesses Blanchard of watching his daughter's star turn, during which she tumbled on the very bunk beds he had lugged many years earlier. "She was out there alone to handle anything that could go wrong on her own–and handle it she did, better than I ever imagined."
Annie's return to the stage a quarter century after its local premiere highlights the Baton Rouge arts scene's reverence for the past, but beyond the curtains much has changed on the cultural front since 1989.
"There are so many more opportunities to experience the performing arts in Baton Rouge than there used to be: many theater groups, more touring shows coming through town, and incredible dance companies," says Blanchard. "There is a larger variety of performances that audiences can choose from–from mainstream family musicals like Annie to more contemporary and cutting-edge smaller productions that push the envelope."
Eric Holowacz has noticed the shift in the city's cultural energy even in the short time since he became president and CEO of the Arts Council of Greater Baton Rouge in June 2013.
"From my first day on the job, creative people have walked into my office with bold ideas, interesting projects and new collaborations," Holowacz says. "It's my job to bolster their vision, to forge partnerships and to find ways to resource a creative Baton Rouge. I don't think we can aspire to be the next Austin, Seattle, Miami or even New Orleans; but I do think we are all trying to make a creative city, an expressive and interesting place that is unlike any other community."
One of the most visible changes to the city's arts scene seems to literally beam with pride from its aluminum and glass faade on Lafayette Street downtown. The Shaw Center for the Arts opened its doors in 2005 as the new home for LSU's Museum of Art and School of Art Gallery as well as the 325-seat Manship Theatre, which draws national acts, and the smaller Hartley/Vey Theatres, which serve as a home for emerging arts experiences. The building's construction also marked a meaningful milestone in the redevelopment of downtown.
The success of Louisiana's film industry has also added cultural character to the Capital City. Local actors and crew members are finding gigs steadily enough to make careers from their callings. "Tax credits have turned our state into the leading movie production site, overtaking Hollywood and New York in the past year," says Holowacz. The close connection to the silver screen has even inspired a new annual event, the Louisiana International Film Festival, which kicked off in Baton Rouge in 2013.
Other arts enhancements have been less flashy but equally meaningful to broadening the city's base of cultural opportunities. Startup organizations like the Walls Project and the Museum of Public Art are transforming bland brick walls, often in blighted areas, with eye-popping murals. This new breed of local arts entities, unencumbered by a corporate-style structure, can easily morph and adapt to fill the old cultural voids.
"Culture Candy disseminates information about happenings around town," says Elizabeth Chubbuck Weinstein, curator at the Louisiana Art & Science Museum. She says she has seen a dramatic change in the city's art scene since she moved here in 2002. "Elevator Projects provides young artists whose work doesn't necessarily fit the traditional mold with an opportunity to show publicly. There are more opportunities for local artists to interact with one another and to display their work, not only in a gallery setting but also in coffee shops, restaurants and even hair salons."
Even art collecting in Baton Rouge is different from what it was 25 years ago. Young male collectors are becoming more of a force in the art world than ever before, says Ann Connelly of the gallery Ann Connelly Fine Art. "They like to have a lot of interaction, and they want to have a voice," she says. Collectors of all ages and both genders are slowly moving away from strictly traditional forms and styles and considering works in a variety of media and methods, she adds. "It really opens up their options," she says. "Instead of simply looking at painting and printmaking, we have artists who are building conceptual pieces from sticks and stones or using intricate origami techniques to create dimension in their works."
Connelly says the leaders of the local arts community are collaborating like never before, even pooling their resources to advance the community's cultural growth. "We're all sharing what's surfacing, who's coming up," she says. "We're pretty much in constant contact. There's more of an openness, a mindset of being inclusive instead of exclusive. It's exciting to share information now and let the cream rise to the top."
LASM, one of Baton Rouge's anchoring arts institutions since 1964, has also evolved with the times. "Before my arrival, the art exhibitions here were primarily traveling exhibitions rented from touring companies, and little of it [could be] truly classified as contemporary," says Weinstein. "The vast majority of LASM's exhibitions are now curated in-house by me with a team of museum professionals."
The content of those exhibitions is as unique as their origins. Weinstein has organized shows by internationally recognized artists including Hunt Slonem, Odd Nerdrum and Fritz Bultman. These new exhibits are changing how viewers experience art. In the spring, for example, LASM partnered with the Arts Council to host artist Jonathan Brilliant as he composed a mammoth structure entirely of coffee stir sticks, and in June local children helped to tumble it down. This fall, a show titled "Art in Action: Inflate. Draw. Pour." will demonstrate how the process of making art is as compelling as the final product, and another artist is set to take up residency to construct two huge sculptures from latex balloons.
"I am a true believer in the power of art to heal, to stimulate the imagination, to broaden our minds and to make us better people," says Weinstein. "As a curator, I am committed to sharing my passion by helping to bring high-quality art to our community and presenting it in a manner that makes it more understandable and accessible."
Financial supporters of local arts organizations play a vital role in their success, and Baton Rouge is fortunate to have many corporate and individual philanthropists who view cultural experiences as essential to the city's overall growth. These are the "community activists who won't stop until we all have a great place to live, work and play," says Holowacz, and their input continues to "foster growth and new creative ideas."
"My ultimate dream for the future of the arts in Baton Rouge is that everyone has access to the arts," says activist and arts patron Paula Pennington de la Bretonne, who as one of the trustees of the Irene and C.B. Pennington Foundation has helped to launch new arts initiatives, including the Pennington Great Performers in Concert series at the Baton Rouge Symphony Orchestra. "The arts are such an incredibly important means of exposing people to joy, intellectual development and problem solving."
Brad Blanchard and his family will continue their own affair with the arts this fall as he, his wife Sonya and their daughter Molly Beth are all set to take the stage in Theatre Baton Rouge's Mary Poppins, which debuts Sept. 12. "One backstage tradition is signing your name on a wall in the backstage area when you work on a show," he says. "There are signatures all over the place, and it's fun to walk around and look at them all and see the history. Our kids always check our names on the walls from before we were married, and now it's great to know that our daughter has her name on a wall too."
---
Modern Arts
The capital city's culture club has many more members today than it did back in 1989. Here's a sampling of the local arts-related entities and programs that have launched or reinvented themselves over the past 25 years:
Art Melt
In only 11 years, this downtown event has become the state's largest juried multimedia art exhibit.
artmelt.org
Cangelosi Dance Project
Kris Cangelosi's troupe goes beyond ballet to showcase varied dance styles.
cangelosidanceproject.com.
Capitol Park Museum
The Louisiana State Museum's premier destination offers 69,000 square feet of exhibits on the state's history and culture.
crt.state.la.us/louisiana-state-museum
Celtic Media Centre
The state's largest film and TV production studio opened its first large sound-stage in 2008
celticmediacentre.com
Culture Candy
This group hosts events like Uncommon Thread and Looking @ Art while also hosting a comprehensive cultural calendar online.
culturecandy.org
Debbie Allen
Dance Residency
The "Fame"-ous choreographer has shared her talent with young local performers for a half-dozen years.
acgbr.com/DebbieAllen.htm
Elevator Projects
Innovative installations and events are all on the agenda for this creative nonprofit.
elevatorprojects.com
Louisiana International Film Festival
Launched last year, LIFF brings together movie lovers for an immersive experience.
lifilmfest.org
LSU Museum of Art
What was once a small collection in the campus clock tower became a bona fide downtown destination in 2005.
lsumoa.org
Manship Theatre
Another of the Shaw Center's stars, this venue brings big-name talent to an intimate space.
manshiptheatre.org
Museum of Public Art
Professional graffiti artists have been helping to transform Old South Baton Rouge with massive murals, exhibits and special pro- grams since 2012.
museumofpublicart.org
New Venture Theatre
Launched in 1997 as Eden Park Theatre, this company features diverse casts and bold show choices.
newventuretheatre.com
Of Moving Colors
This contemporary dance company, which launched in 1997, often puts on multi- disciplinary productions with painters, sculptors and other artists.
ofmovingcolors.org
Opéra Louisiane
This seven-year-old com- pany combines high-quality performances with free opera exposure for kids.
operalouisiane.com
River City Jazz Masters
Branford Marsalis was the debut performer for this series launched in 2007.
acgbr.com/jazzmasters.htm
Stabbed in the Art
Now on hiatus, this produc- er of pop-up free art shows is set to return later this fall.
stabbedintheart
Swine Palace
This boundary-pushing pro- fessional theater company founded in 1992 is housed in a revamped former livestock-judging pavilion.
swinepalace.org
The Walls Project
For two years, the folks behind this effort have been transforming building fronts with colorful public art.
thewallsproject.org
White Light Night
This late-fall art hop through Mid City has also spawned a summer sister called Hot Art, Cool Nights.
midcitymerchants.org