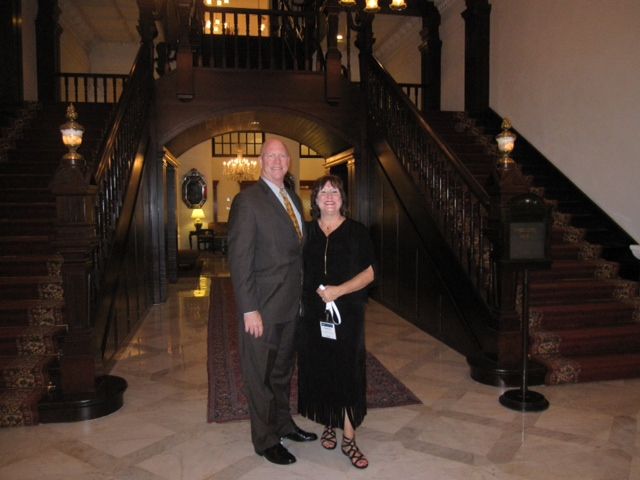 Travel Journal: Singapore
Seen through the eyes of Paul and Kathy West
We went because: Paul's association with the International Association of Gaming Advisors. He was to be conducted into leadership as a counselor after his stint as president.
Hotel recommendations: Raffles Hotel. It's like being in a 1930s movie. Rife with history and celebrity photos it is a warm and welcoming hotel of the finest order. It is a National Historic Landmark.
Where to eat: Cuisine at the hotel was great. We had a lovely evening at Garibaldi Restaurant as well.
Favorite dish on the menu: I loved the satay dishes—light pork, beef and/or chicken skewered and grilled meat.
Item of clothing you shouldn't leave home without: light clothing. It is subtropical and hot as the dickens.
Favorite historic landmark: In addition to the hotel, we loved the Singapore Botanic Gardens. There were orchids everywhere. I purchased a lovely gold orchid necklace that was actually a tiny orchid dipped in gold!!!
Local attraction worth a drive by: The forest at the top of the city. It has a view to die for from the forest all the way down to the busy port.
A great experience off the beaten path: Visit all the other fabulous hotels. We took a pub crawl to the other magnificent hotels, such as the The Sands and the Fullerton.
Worth the splurge: Business class on Cathay Pacific Airlines—makes a 14-hour flight a trip to a spa!!
Not worth the splurge: Singapore Slings at the famous Long Bar at the Raffle. It's a highly overrated cocktail, but the bar is fun and the food is very, very good.
Insider's tips: The heat is incredible, relentless. Carry a fan and wear the lightest fabrics you own. Bring comfortable shoes for lots of walking.
We would suggest this trip to others because: This city is so clean, and so safe that it is a treat to be there. It is a new city and the first language is English due to its British beginnings. And yet there is an elegant near east feel in the lush landscapes and the indigenous folk (Malay and Chinese) are absolutely delighted to have you come to their city.