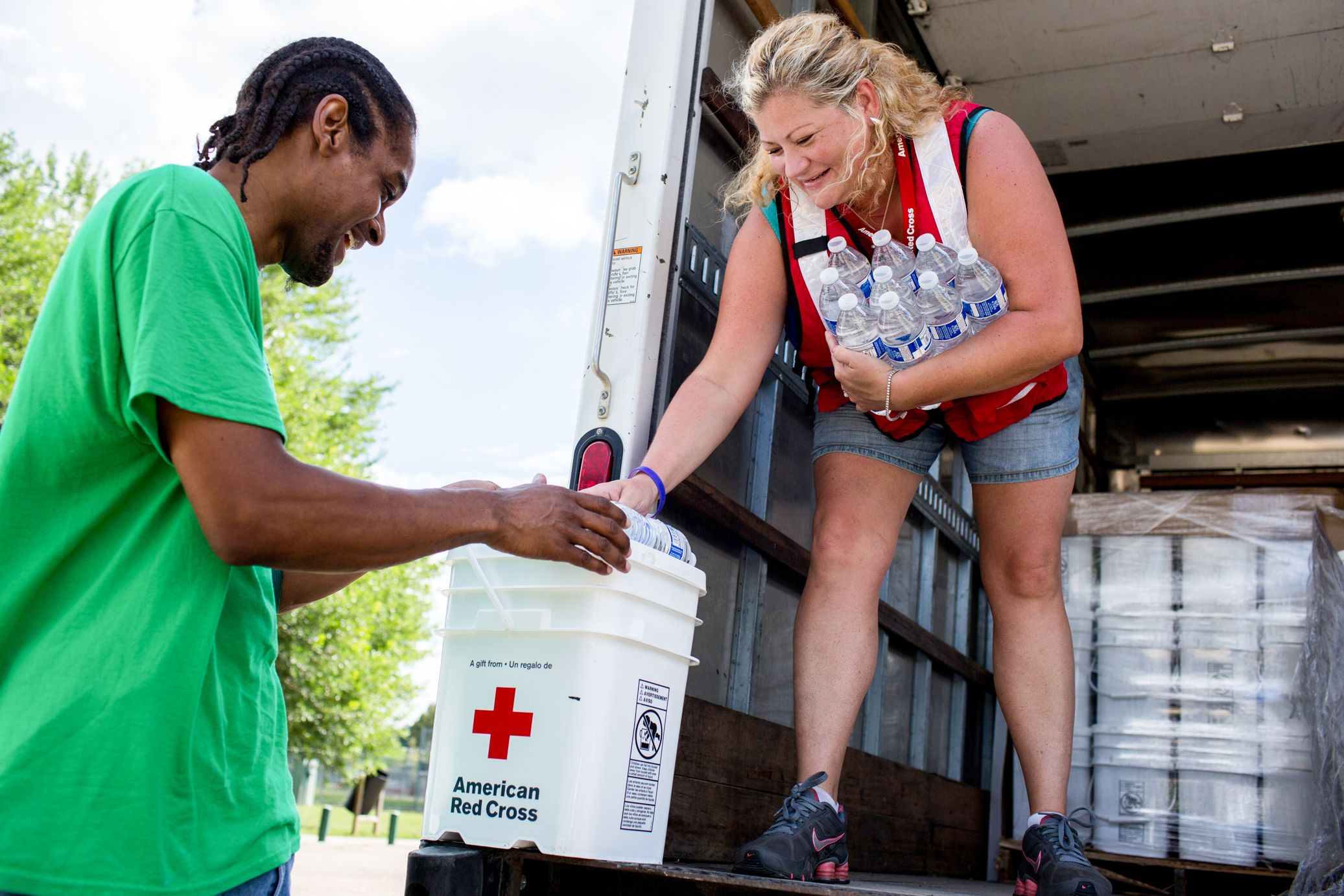 Giving Back: Shelter after the storm
The catastrophic flooding that devastated Baton Rouge and surrounding areas last month almost went down in history as the disaster America forgot. Several articles by major news outlets hit the Internet days too late, while other pundits took to blogs and opinion pieces to express shock that what the American Red Cross described as "the worst national disaster since Hurricane Sandy" failed to garner equal amounts of national attention. Perhaps because steady rain has long been a part of south Louisiana summers, no one had been able to anticipate the sudden rise of nearby rivers, and certainly not fast enough to prepare for the damage that seemed to surmount overnight. But while syndicates scrambled to send out photographers and reporters to capture the event before it dissipated, one group, at least, had jumped into action when the first streams of water began dribbling up driveways.
The American Red Cross, a humanitarian organization dedicated to health care and disaster relief, among other services, traces its origins to 1881 in Washington, D.C., where famed nurse Clara Barton founded it after being inspired by similar programs in Switzerland. Today, the Red Cross is one of America's most valuable resources in emergency response, with three local chapters in Louisiana, and dozens more in all 50 states.
All 50 states, by the way, have represented themselves in Louisiana's sea of volunteers, the earliest responders having arrived by Saturday, August 13, just one day after the major flooding began.
"When they saw how bad it was, our national leadership started shipping supplies to us on massive 18-wheelers right away," says Vincent Gonzalez, a native to Baton Rouge and longtime volunteer with the Red Cross logistics team. "We had trucks coming from Georgia filled with drinking water, and the people came, too."
Jennifer Ramieh, regional chief development officer for Nevada's regional Red Cross leadership, also celebrated the generous response of volunteers from across the country. Even she had left her Las Vegas offices to take over for Louisiana's Red Cross head of public affairs, whose own home had taken on water during the flood.
"But we don't just have shelters for those who have been directly affected," she says, "We also need to shelter the large number of staff we have here. We have about nine staff shelters set up especially for the workers and volunteers coming in."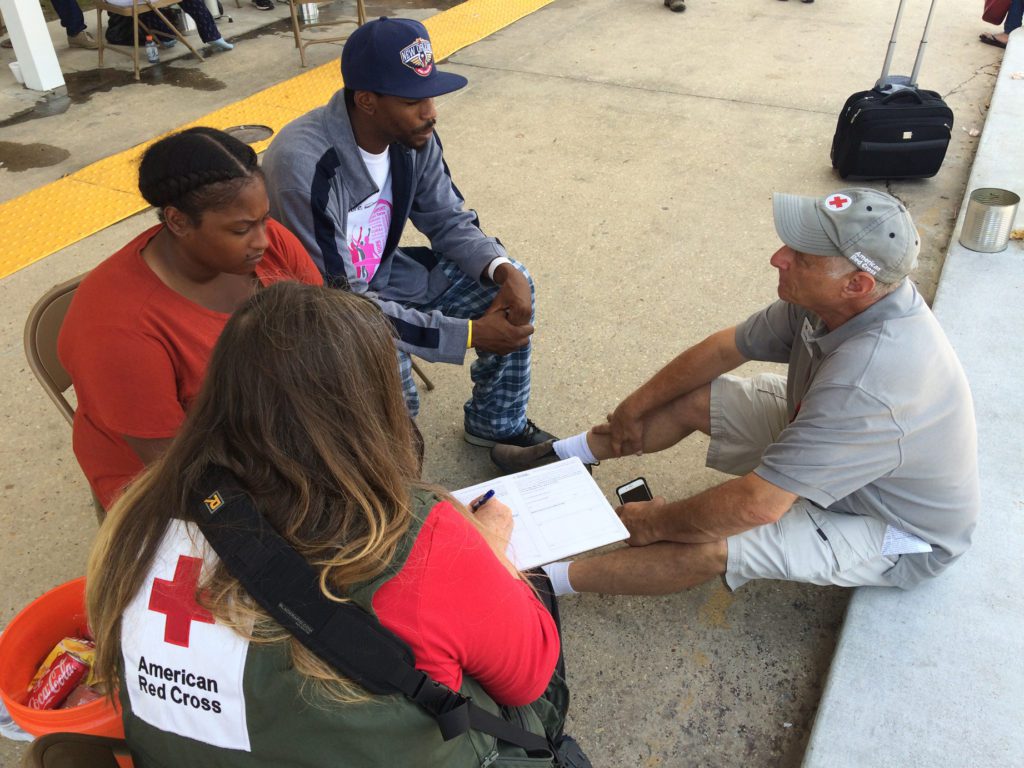 Ramieh emphasizes that although the shelters do sustain large amounts of food and donations—serving 10,000 meals three times a day at one point—the volunteers hardly live in luxury compared to the victims forced to flee their homes.
"These volunteers are people who have left their houses and families to sleep on a cot in a gymnasium," she says.
Some volunteers even showed up with no prior experience, just the will to help in whatever way they could.
"One of the volunteers working with me every day here is what we call a spontaneous volunteer," Ramieh says. "She walked right in the door and said she wanted to help. I had been needing assistance here in the office, so she's been with me for four days so far. She's just fantastic."
Almost one week after the flooding began, American Red Cross CEO Gail McGovern flew into the state from headquarters in Washington, D.C., to assess damage and speak with victims on a personal level. Gonzalez, who, as a logistics coordinator, controlled much of the transportation and supply demand during the height of the crisis, was one of the people who showed her around some of the state's worst-hit areas like Livingston Parish, as well as some local shelters.
"Some of the houses there had about 6 feet of water inside," he says. "So we brought her to some of the shelters to talk to some of the flood victims, speak to the kids, see how they were doing and what they were feeling."
One woman in a special-needs shelter—a separate area of existing shelters for people with handicaps or in need of constant medical care—had been forced to abandon her home without her wheelchair, which couldn't function in deep water.
"Red Cross had coordinated with some people and found another wheelchair to take its place," says Gonzalez. "She was so emotional and started crying when we gave it to her."
The bottom line, says Ramieh, is that the Red Cross is different from a government entity. All of its funding—and the $30 million she estimates the organization will need to spend on Louisiana flood relief—comes solely from the generous hands of the American public.
"It's very personal," says Gonzalez. "We're even sending our own teams to investigate some of the damaged homes, talk to the owners, and write up our own reports that they can refer to for any claims they might need to file in the future."
Not only that, but Red Cross workers continue to wear a variety of hats to suit any occasion, whether it requires them to turn into makeshift security guards, chefs or just a shoulder to lean on.
"Everyone is here because they want to help people," says Ramieh. "And people just want to do a good job, making sure that folks are taken care of and taken care of well."
For more information about Baton Rouge's local Red Cross chapter, visit redcross.org/local/louisiana.