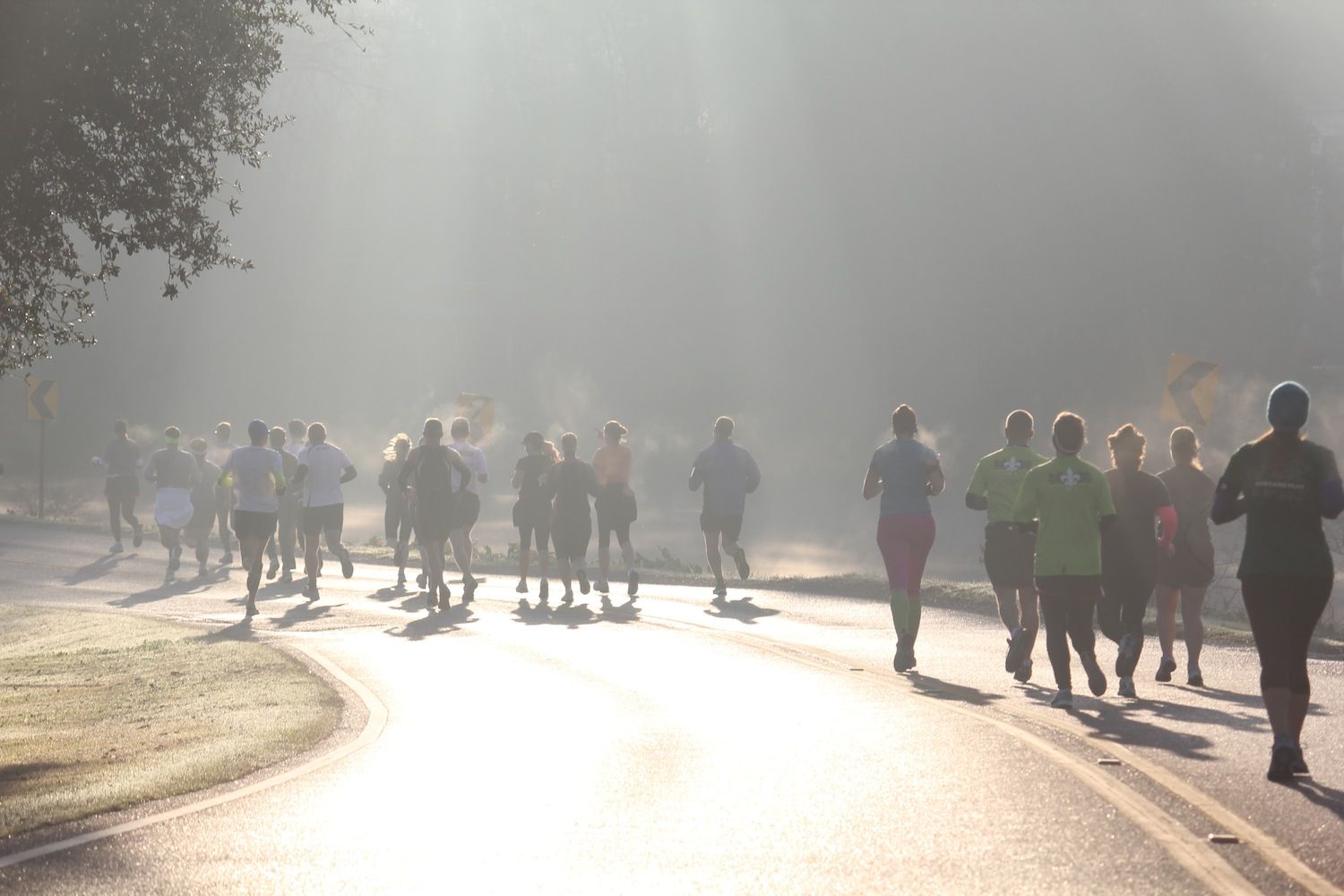 Women of all ages are finding inspiration
Joa King didn't grow up as an athlete. In fact, she was quite the opposite. "I always believed that if someone threw a ball your way, the best advice was to duck!" she says.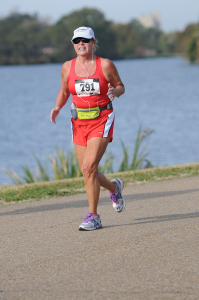 So the teenage Joa might have been surprised to catch a glimpse of the future and see her 61-year-old self crossing the finish line of a half marathon. But that's exactly where she found herself in December, capping off less than a year of exercising with a victorious sprint toward a cheering crowd at Baton Rouge Beach.
"My running has given me so much energy as well as a positive feeling of accomplishment," says King, who is poised to run her second 13.1-mile race this month. "The benefits are so worth the time it takes to train."
King is far from alone in her newfound recognition of the rewards of racing. More and more Baton Rouge-area women of all ages are challenging themselves to complete marathons, half marathons, triathlons and other races. They compete for many reasons: from wanting to lose weight or feel good about themselves to desiring to relieve stress and stay healthy.
The local surge in female racers is part of a larger overall trend. In 1990, only 25% of road-race finishers nationally were women, according to the nonprofit Running USA; in 2010, female finishers made up the majority—53%—of the field. Women are also the fastest-growing demographic among American triathletes, says Susan Hayden, co-founder of the hugely popular local race known as Rocketchix.
"I think this is because women are discovering that their athletic dreams and adventures don't have to end when that first baby is born or when the last baby moves out of the nest," Hayden says. "There is an athlete in every woman, at any age."
Angie Herpin found her inner athlete at age 40 after having a baby and gaining 80 pounds. "I needed to lose weight, and fast!" she recalls.
She began on the treadmill at a local gym and soon realized she was able to run longer and longer distances with ease. She entered a half-marathon in New Orleans and not only placed in the top 20 in her age group but had enough energy left to run the three miles back to her hotel. Two weeks later, she signed up for the Chicago Marathon; and the following spring, at age 41, she ran the Boston Marathon, which she calls the "pinnacle of all marathon running events."
Now, at age 52, Herpin is in the midst of training for her 10th marathon, again in Boston. At her side will be her longtime running partner and friend, Randa Patrick.
"I cannot express to you how running has enhanced my life," Herpin says. "I have met the most wonderful people. Randa and I have run thousands of miles together and have encouraged each other along the way."
To prepare for the Boston race, on a course that Herpin says is "very hilly and unforgiving," she and Patrick complete a 10-mile loop around St. Francisville's rolling terrain every week in addition to their longer runs in Baton Rouge.
"By the end of the training schedule, we will have run at least three 20-mile runs and over 80 miles of hills," Herpin says. "I have run Boston twice before, and you don't want to go undertrained. Besides, the prestige and honor of running such a race makes you want to bring your 'A' game. So we train hard and hope we peak on race day."
Sharing the miles with a running partner or group helps many women push themselves in training and stay motivated throughout the race preparation process. Patrick has run the Boston marathon four times so far, and she says training with her friend for the past 11 years has helped her on and off the running path.
"I swear, Angie has saved me thousands of dollars in counseling fees over the years," she says. "We share our joys and concerns while we run. We get what's bothering us off our backs before we face the day with our families."
Fitting training into a life busy with family and work commitments can be its own challenge, but, as Hayden says, "if you want your life to be different than it is, you have to make it different than it is." For Patrick, that meant bringing her children to the health club's day-care facility while she trained on an indoor track when they were very young. Now that they're older—her brood of four ranges in age from 12 to 20—she gets up early to run at 5 a.m. or trains while they are at school.
"I am a firm believer that if you feel good about yourself, then you will be a better mother, spouse, daughter and friend," Patrick says. "When you race and find out that you can do better than you expected, it gives you motivation to be better in every aspect of your life. I can't imagine a child not looking up to a mom who wants to push herself."
Often, it takes only a single race to turn a new runner into a lifelong competitor, but the effects spill over into many other aspects of life.
"When a woman finishes her first race, she feels like she can do anything," says Michelle Forte, owner of Fleet Feet Sports and herself an accomplished triathlete. "We have a national beginner 5K program with New Balance called 'No Boundaries,' and it's amazing to see these women cross the finish line. They feel better, they look better and they make themselves and others happy."
Hayden didn't start racing until age 36, when she followed her husband's lead by signing up for her first triathlon. In the 10 years since, she has completed several Ironman triathlons. But more significantly to local ladies, she launched the Rocketchix Triathlon series in Baton Rouge in 2007. Created as an extension of the mission of Rocketkidz Foundation—aimed at battling childhood obesity—Rocketchix quickly became a stand-alone sensation.
"We aren't completely sure why it's been so successful so quickly, but I believe it's because it provides something that was missing here in Baton Rouge," Hayden reflects. "If people can combine fun and exercise and do it for a great cause, everyone wins."
Rocketchix has since grown from 150 participants in the first event to 450—plus waiting lists—in the most recent races. This year's two races will take place on April 15 and July 28. Because of ongoing levee repair work, the April event will be shorter than usual—a 250-meter swim, 6-mile bike ride and 1.5-mile run—which Hayden says she hopes will encourage even more newcomers to sign up.
"A women-only event has a vibe that is unique," Hayden says. "It really lowers the intimidation factor for those seeking to let their inner athlete out to play. … We encourage women to cross the finish line with their families and friends to celebrate their achievements."
Devin Lemoine was one of those newbie competitors back at an early Rocketchix race in 2008. While working out at Woman's Fitness Club, she was encouraged to give the race a try, and she felt herself gaining a new strength even before the race itself.
"I had to start cross training and fitting in time for riding and swimming, which were not typically part of my workouts," says Lemoine, now 48, who has since competed in five more Rocketchix events. "Once I started, I realized it was having a great impact on my fitness level. I like the variety, and I think triathlon training is a little easier on my body than just doing one thing all the time."
Another benefit Lemoine has realized from racing is a "great group of friends" in her training partners, who still ride together every weekend. "These women really keep me motivated and challenged," she says. "They push me because they are so committed and such solid athletes. But it's social, too: We keep up with each other's work and family news … and harass each other to get back in the saddle when we slack off."
The majority of Rocketchix athletes are 30 and older, says Hayden, who notes that there can be benefits to beginning a racing career later in life.
"If you start racing when you are 15, when you hit 40 you will have put a lot of miles on your body," she says. "Starting when you're 40 means you have a long time to enjoy improving and reaching new goals. … And so much of racing is mental—that's where being over 40 really has its advantages. We folks that have been around the block many a time have a lot of life experience to draw on when the going gets bumpy."
A bumpy road was exactly what led Joa King to racing in the first place. Sidelined by two surgeries in 2010, she was ready to move when her body finally healed, so she began walking, then running, around the LSU lakes. She eventually connected with a training group at Fleet Feet Sports and boldly began preparing to run a half marathon. Meanwhile, she lost 20 pounds without even trying.
King has thrived on encouragement from fellow runners as well as from her husband and her mother, who began bike riding in her early 60s and went on to compete in three 100-mile races. "She loved those endorphins racing through her body and continues to tell me how those years of exercise have added years—healthy years—to her life," King says of her mother. "She encourages me to just keep running as long as I can."
For Hayden, the personal push to keep racing comes in part from witnessing the sport's transformative effects on other women.
"I am motivated immensely by the people around me, especially the ones new to all this, who are completely jazzed by accomplishing something they thought might have been out of reach," she says. "It feels like being part of a giant team, and we are all winning."