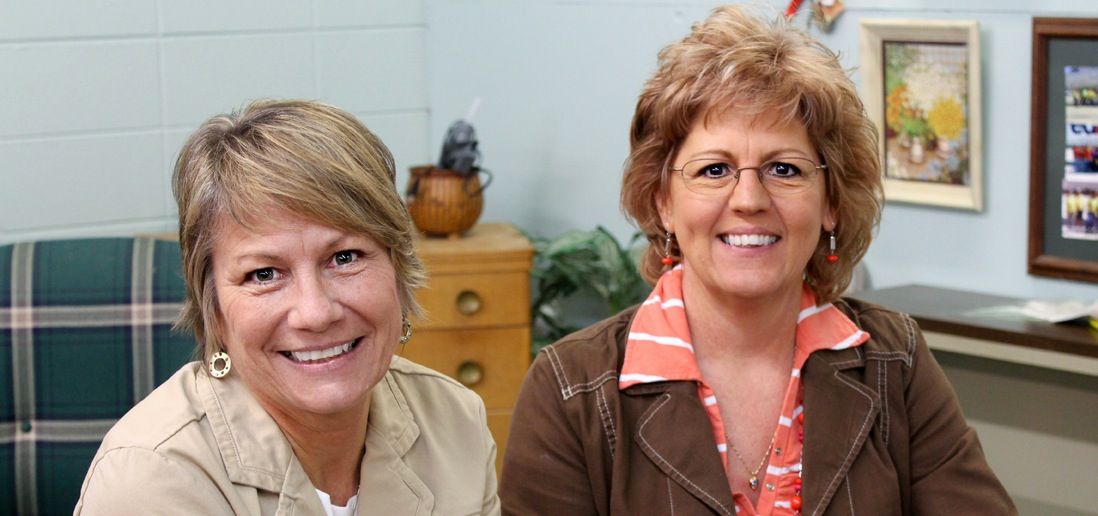 Suzanne Romig, director of community relations and fund development, and Christine Dunlevy, program director, inside the Dallas Drive location of Metro Enterprises. Photos by Lindsey Holland.
At Metro Enterprises on Dallas Drive, you can tell carnival season in Louisiana has come and gone. A pile of mismatched, tangled Mardi Gras beads lay on the table. Pearly Johnson, Patricia Biles and Ashli Smith are working diligently at the task at hand—sorting and untangling them.
Through The Arc Baton Rouge's Metro Enterprises program, in which these women are involved, the recycled beads are resold after being cleaned and repacked. Last year, several thousand pounds were sold back to the Baton Rouge community. The adults who take part in the program—like Johnson, Biles and Smith—have developmental or intellectual disabilities.
"These are the happiest, most reliable, and most dedicated individuals," says Susanne Romig, director of community relations and fund development for The Arc. "They don't see themselves as less capable than anyone else."
Recycling the beads offers the ladies a chance to experience entrepreneurship and earn a paycheck. The money they make from reselling the beads, they keep. The Metro Enterprises Program offers employment and volunteer opportunities to adults with diagnoses such as Down syndrome, cerebral palsy and autism. The participants range in age from 22 to late 60s.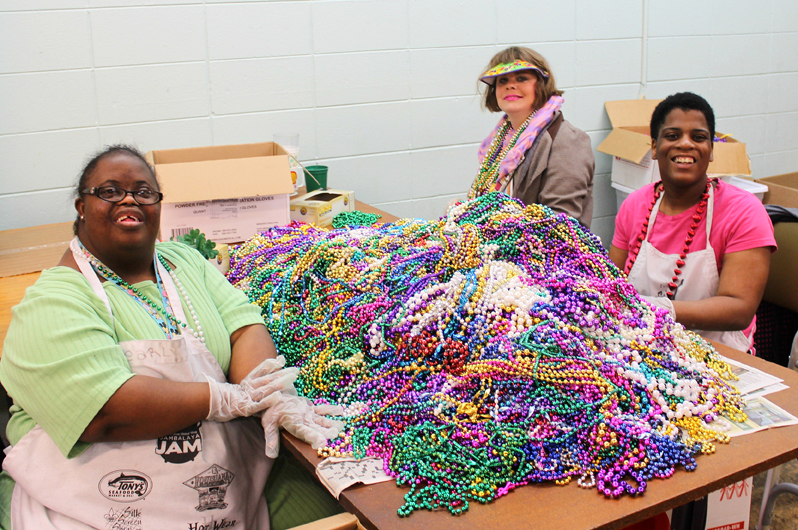 "Our programs give purpose in life," says Christine Dunlevy, program director. "It's a chance to have a meaningful career, to develop friendships and to get that paycheck."
Participants are offered the chance to work a variety of jobs including gardening and janitorial services. Shanell Theriot helps to maintain the grounds at Woman's Hospital twice a week, for example. They also take part in leisure activities, crafts, and volunteer opportunities.
The Arc is a nationwide program with more than 700 chapters that serve more than 1 million individuals. The Arc Baton Rouge, which has seven programs total, including Metro Enterprises, serves about 500 individuals across seven local parishes. The nonprofit celebrated its 60th year in Baton Rouge in 2014.
"Community inclusion is a big part of who we are," says Dunlevy. "The rest of our programs are all stories within themselves."
Indeed. The six other programs The Arc offers fulfill the needs of those with intellectual or developmental disabilities from birth to retirement. Services offered include early intervention programs, vocational training, job placement services, respite care, supported living, inclusive recreation and community involvement, in addition to programs that benefit the hearing impaired, deaf and blind.
---
How you can help:
 Drop off your pre-owned Mardi Gras beads at 8326 Kelwood Ave., 3950 Prescott Rd. or 2082 Dallas Dr. year-round. Find out more about The Arc Baton Rouge's Metro Enterprises program here.