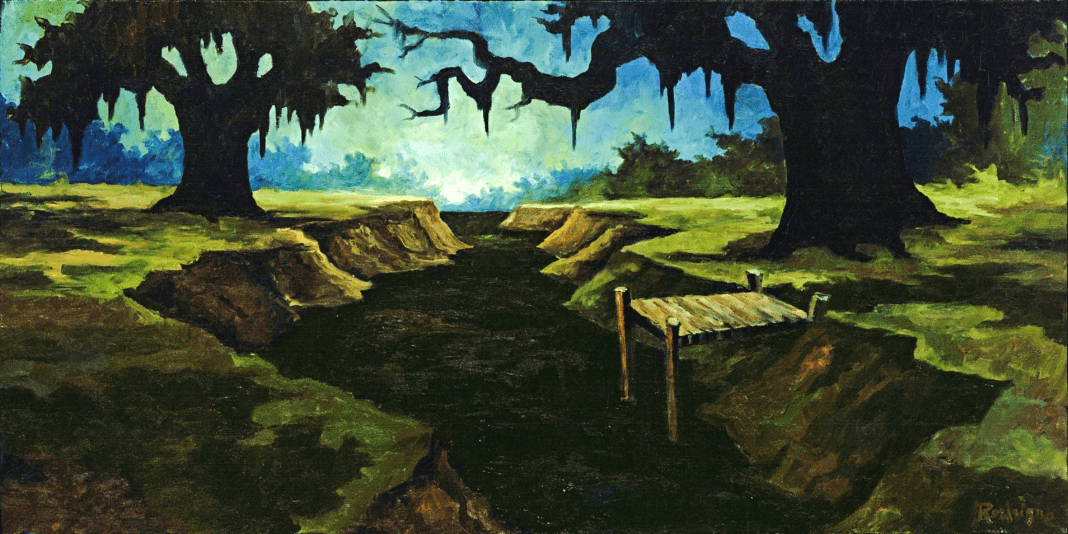 On Exhibit: 'The River is the Road' at the West Baton Rouge Museum
Just like Hunt Slonem has his bunnies, George Rodrigue had his Blue Dog. The internationally known Blue Dog paintings are indelibly linked to our great state because of Rodrigue and his endless love for Louisiana. Far before Rodrigue painted his first Blue Dog, the subjects of his art were often the swampy scenes and live oaks of south Louisiana. To celebrate his art evolution and his life on the 10-year anniversary of his death, the West Baton Rouge Museum will host "The River is Road: Paintings by George Rodrigue," opening on June 17.
This first-of-its-kind exhibition, sponsored by Telich Custom Homes and Morgan Stanley, features 45 pieces of original artwork as a way to mark the 45 years of Rodrigue's use of the river in his works. The exhibit will focus on how he created images of the river to relate to his Cajun heritage. "With the museum's proximity to the Mississippi River, we felt it was a fitting theme," says curator Lauren Hawthorne, who is working with Rodrigue's widow, Wendy Rodrigue Magnus, and her Life & Legacy Foundation to bring this unique exhibit to life.
The Port Allen show is one of a series of Rodrigue-focused exhibitions being put on by the Life & Legacy Foundation in five states this year to mark the milestone anniversary of the artist's death. Other collections of his work with different themes will be on display in Portsmouth, New Hampshire; Eureka, Illinois; and Rodrigue's hometown of New Iberia.
The exhibit opening event will take place June 16 and will feature live music by the band Cajun Roots as well as the opportunity to meet Magnus. Throughout June and the rest of summer, the museum will host several events and programs in conjunction with the exhibit. "During the fall, we'll have Magnus hosting in-person tours for schools in our area," Hawthorne says. "We are so excited for this special opportunity for children in our area." 
One of the pieces Hawthorne says she is most looking forward to seeing in the exhibition is an 8-foot Blue Dog sculpture. "To have George's most recognized creation be transformed from a two-dimensional design to a giant 3-D figure," she says, "is going to be so fun."
---
Find more information on the exhibit at westbatonrougemuseum.org