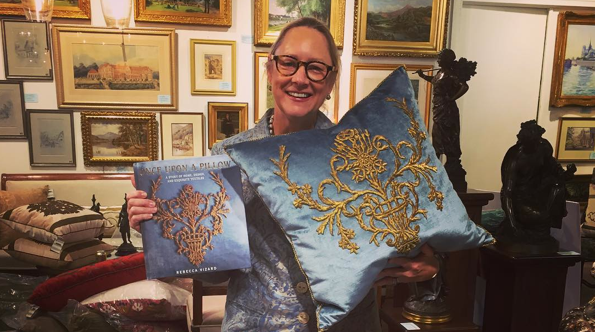 Off the Page: Once Upon a Pillow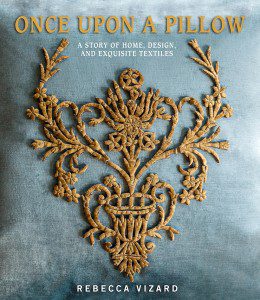 The opening pages of textile virtuoso Rebecca Vizard's book Once Upon a Pillow are a full frontal assault on the senses. Close-up photos of natural textures—a tree's rough bark, leaves scattered on gravel—are juxtaposed with oversized images of ornate fabrics in the same warm tones. This is the world in which Vizard lives, a world where sumptuous antique velvets and ancient cypress lakes go hand in hand.
For more than 20 years, Vizard has been making luxury pillows and accessories from fragments of fine antique textiles. Her exquisite handiwork is on display in penthouses and palaces. What makes it all the more remarkable is that she creates these plush jewels in the studio outside her family home on Lake Bruin—a place where, as she puts it, "I can't even buy thread." But she is as connected to her clients as she needs to be.
"Keeping one foot in the rural north Louisiana Delta and one foot in the high-end design world makes each environment feel more stimulating," she writes. "I see my natural environment more keenly and discover the colors and textures around me surfacing in my pillow designs." And after all, she notes, "I can get pillows from St. Joseph, Louisiana, to Abu Dhabi in 36 hours."
After walking the reader around her rural property—from overgrown azaleas and live oaks to the screened porch that's a favorite dining spot to the lake that glows under an orange harvest moon—Vizard gets down to business. Her business is sourcing fabric pieces ranging from 17th-century tapestries to Fortuny patterns—each discussed in detail in the book—and then transforming them into one-of-a-kind accent pillows. Without frou-frou embellishments like heavy tassels and fringes, Vizard's pillows kick up the style quotient in even a modern room, and magazine editors and top interior designers recognized their value almost instantly.
Today, Vizard travels the world to find textiles, and she and a team she assembled back home in St. Joseph give the patina-rich pieces new life.
"I have to say, as much as I love making beautiful things, it's a bigger story than that," she writes. "The wonderful people I've met along the way, and the incredible talent that was hidden in this tiny town, is the real tale."