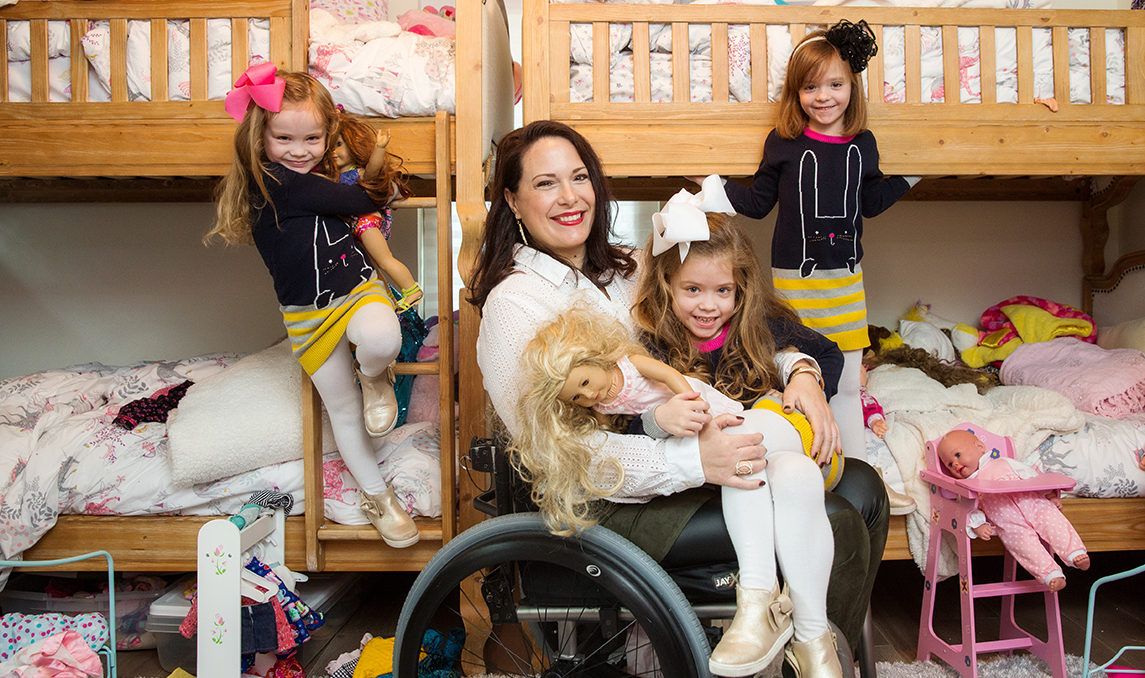 No Ordinary Blueprint: Georgia LaNasa keeps moving toward happiness and accessibility
---
It came without warning. While just a 16-year-old student at St. Joseph's Academy, Georgia LaNasa, home on a Sunday, suddenly felt a sharp pain shooting through her back, debilitating her. Later, in the hospital, a doctor revealed a near-unthinkable diagnosis: LaNasa, hardly in the usual age range, had experienced a spinal stroke. From this moment on, she would be paralyzed from the lower waist down.
"It was such a rare thing to happen," says LaNasa. "I was so young, and I hadn't been in an accident or anything. So it was very hard to deal with."
But her friends and family refused to let her go through the changes alone. LaNasa returned to St. Joseph's, this time in a wheelchair, after the school had hired a contractor to ensure the campus would be handicap accessible. She credits her family and friends—many of whom she still counts among her closest friends today—with helping through the healing process that eventually brought her back to normalcy. In what seemed like no time, she became a student in the School of Architecture at LSU.
"In high school, I'd been part of a small, supportive group, so the thought of LSU was daunting," says LaNasa. "But I adapted. I even pledged a sorority. Sometimes you surprise yourself with what you can do."
Now a mother of 5-year-old triplet daughters and a professional architect, LaNasa has thrown herself into the movement for a more handicap-accessible world.
"It's something that able-bodied people don't necessarily have to think of," she says. "But I get very frustrated when I go to a venue or restaurant in Baton Rouge that I know isn't up to code. I went to a very popular restaurant in town recently and couldn't even get into the bathroom stall, and that just frustrated me. Accessibility is improving, but you'd think that in 2018 things would be better."
One change that has made things better for LaNasa in recent years? Her three girls.
"The first 10 years after my stroke were a huge adjustment period," she says. "I feel like I'm quite a strong person, but I still have breakdowns sometimes. It's just something you need to push through, and I think my daughters have really helped with that. They're my primary focus right now, and I want to be a good role model for them."
Through her work and her parenting, LaNasa hopes that she can make a small difference by simply being visible and setting a good example.
"I've made peace with what happened," she says. "Now, I just want my girls to grow up to be strong women who know how to keep moving and be happy as they are."