Musical Chairs: Garland Goodwin Wilson mixes people as easily as place settings
Of Moving Colors dance company founder Garland Goodwin Wilson is a born hostess who has thrown plenty of parties, large and small. Sometimes, they're casual holiday fêtes where 100 or so folks show up with no need for a formal response. Others are elaborate plated dinners that combine guests of vastly different life experiences.
"My mother [Margaret Goodwin] had a natural gift for hospitality," says Wilson. "I grew up seeing different styles of entertaining. I think it's a joyful requirement of Southerners."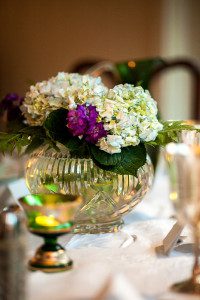 One of the defining elements of Wilson's parties is her interest in combining strangers. The age range at one recent event at her Walnut Hills home was 18 to 83, and the crowd included twin rock musicians and a heart surgeon. Some hostesses believe more than 10 makes a dinner party unmanageable and conversation difficult, but Wilson ignores such strictures. Odd numbers and multiple tables don't bother her, either.
"I don't worry about things like that," she says. "I'm a loaves and fishes kind of girl."
She makes sure her guests mingle—really mingle—through a system of layered place cards. Each place at the table is set with a stack of three, and as the first course ends, guests flip their cards to reveal who's sitting in each spot next. Attendees will switch seats three times throughout the evening.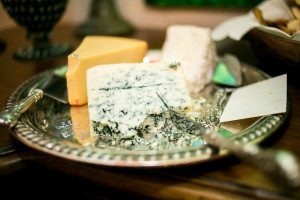 Wilson created her most recent menu after poring through Pinterest and top-rated Southern Living recipes and conferring with a chef friend. She starts the night with homemade tartlets and classic cocktails. Then she features feta and blackberry salad, butternut squash and sweet potato soup, rosemary-scented pork tenderloin with port sauce, cheese and carrot potatoes, and seared asparagus. For dessert, she makes a variation of a chocolate lava cake with raspberry glaze. Prior to her parties, Wilson takes her menu to Calandro's Supermarket on Government Street for suggestions on wine pairings—one red and one white.
---
Menu: Elegant Southern comfort
Bar: Mad Men-esque cocktails chosen by Wilson's husband, Billy, that nod to the couple's midcentury modern home
Seating strategy: Guests, at different tables, rotate seating between courses.
---
Menu: Harvest Dinner Party
Before Dinner
Cocktails alongside blue cheese and pear tartlets
The First Seating
Butternut squash sweet potato soup
Feta & blackberry salad with
lemon dijon dressing
The Second Seating – The Main Course
Seared asparagus rosemary-scented pork loin stuffed with roasted garlic, dried apricots and cranberries and port wine pan scauce
Cheese-and-carrot mashed potatoes with thyme
The Third Seating – The Dessert
Petit chocolate molten cakes with raspberry sauce & coffee (Never forget coffee… no matter what the time of day or night)
---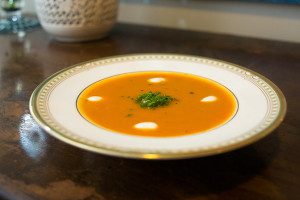 Butternut Squash Sweet Potato Soup
1⁄4 cup butter
1 butternut squash, peeled, seeded and cut into chunks
1 sweet potato, peeled and cut into chunks
1 carrot, peeled and chopped
1 stalk celery, chopped
1 sweet onion, chopped
2 cloves garlic, minced, or more to taste
4 cups chicken stock, or as needed
3 small sweet bell peppers, chopped
Salt and ground black pepper to taste
Melt butter in a large pot over medium-high heat. Cook and stir butternut squash, sweet potato, carrot, celery, onion, and garlic in hot butter until lightly browned, about 5 minutes. Pour chicken stock and sweet bell peppers into butternut squash mixture; bring to a boil. Reduce heat to low, cover, and simmer until squash and potato are tender, about 40 minutes. Pour squash mixture into a blender no more than half full. Cover and hold lid down; pulse a few times before leaving on to blend. Purée in batches until smooth. Return puréed soup to pot and season with salt and black pepper.
---
Rosemary-Scented Pork Loin Stuffed With Roasted Garlic, Dried Apricots and Cranberries, and Port Wine Pan Sauce
3 Tbsp. olive oil
16 whole peeled garlic cloves
1 (8-lb.) whole boneless pork loin, patted dry, at room temperature
Salt and freshly ground pepper to taste
3 Tbsp. minced fresh rosemary (snipped with scissors), divided
16 dried apricots (or similar amount of your favorite dried fruit)
1⁄3 cup dried cranberries
Heavy kitchen string or twine
1⁄4 cup plus 2 Tbsp. apple jelly, divided
2 Tbsp. minced garlic cloves
1⁄4 cup port
1⁄2 cup chicken broth
2 tsp. cornstarch
Cold water
Adjust oven rack to upper-middle position and heat oven to 250 degrees. Heat oil in a small skillet over medium-low heat. Add whole garlic cloves and cook, stirring occasionally, until soft and golden, about 5 minutes. Remove with a slotted spoon; reserve oil.
Turn pork loin fat-side down. Slit lengthwise, almost but not quite all the way through, to form a long pocket, leaving a 1⁄2  - inch border of unslit meat at each end.
Brush cavity with some of the reserved garlic cooking oil, and sprinkle generously with salt and pepper and 1 Tbsp. rosemary. Line cavity with sauteed garlic and apricots; sprinkle in cranberries. Tie loin together with kitchen twine or heavy-duty string at 1 1⁄2 - inch intervals.
Brush with remaining oil, and sprinkle generously with salt and pepper. Set roast, fat-side up, diagonally or curved (so it fits) on a large, lipped cookie sheet or jellyroll pan. Warm  1⁄4 cup apple jelly along with minced garlic and remaining rosemary. Brush mixture onto meat.
Roast until a meat thermometer stuck into the center registers 125 to 130 degrees. (Start checking at about 1 1⁄2 hours.) Remove from oven; raise oven temperature to 400 degrees. Brush loin with pan drippings, return to oven, and continue to roast until the loin is golden brown and a meat thermometer stuck into the center registers 145 degrees, about 20 minutes longer. For even more attractive coloring, broil until spotty brown, 3 to 5 minutes. Let roast rest for 15 to 20 minutes; transfer to a carving board.
For sauce, stir juices around pan to loosen brown bits. Pour through a strainer into a small pan, and stir in port, chicken broth and remaining 2 Tbsp.  jelly; bring to a simmer. Mix cornstarch with a couple of tablespoons of cold water; whisk into sauce. Simmer until lightly thickened. Slice pork and serve with a little sauce.