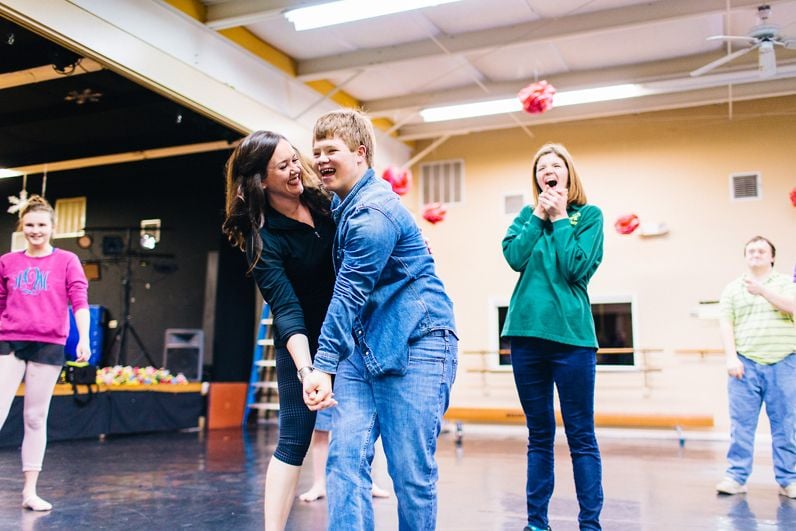 Miracles in motion: Special-needs dancers kick up their heels
Every Wednesday afternoon at a small dance studio on Jones Creek Road, magic happens.
It's not a disappearing act or a watch-the-model-get-cut-in-half illusion. It's a good old-fashioned, soul-opening, smile-inducing, humanity kind of magic that happens when a dozen special-needs adults—who speak little and move less—are awakened by the power
of dance.
The magical ingredients for this special dance class are equal combinations of a mother's tenacity and a teacher's gamble. It was a moment of fate, they both agree, when one woman dialed the phone and the other picked it up.
Nearly a decade ago, Laura Landry wanted to find a place for her then 17-year-old special-needs son David to dance. He was a natural dancer who loved to shake his hips and had since he was three. But one day, Landry noticed him standing in front of the TV and perfectly imitating choreography from the Disney movie High School Musical. She wanted to let him experience more.
---
"So I started calling every dance studio in town to see if they had special-needs classes," says Landry. "I mean, I called everyone, and they all said no. Until I got in touch with Jennifer."
Jennifer White is a dance instructor and owner of The Dance Center and School of Performing Arts, a one-stop shop for triple-threat enthusiasts. Her studio, located on Jones Creek Road, offers dance, music and theater classes. When White picked up the phone the day Landry called, both of their lives changed.
"I thought, 'What the heck? I will give it a shot,'" says White of the proposal. "And it has turned out to be a tremendous blessing. Every week is a party. We just dance and have fun. It's a place where they all get together and are friends and feel a sense of empowerment because they are all dancing. No matter what kind of day you're having, when you come to this class, you're happy."
The special-needs class is now in its ninth year, and enrollment increases each year. The students have varying disabilities, including physical, behavioral and mental. Some have autism and others have Down's Syndrome. There are some students who have low cognitive skills and challenges with communication and movement in their daily lives.
But not on White's dance floor. That's where the music from Bruno Mars, Justin Timberlake, Taylor Swift and NSYNC, along with soundtracks from nearly every Disney movie, awakens their spirits as they bop up and down, wiggle their hips and grin from cheek to cheek.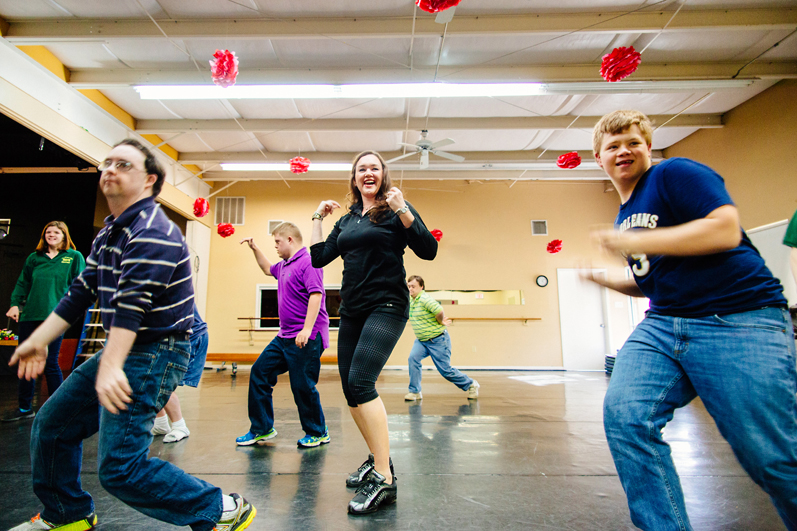 ---
"If you saw these people out in the world, you wouldn't think they were capable of doing this," Landry says. "These are people who don't move."
Each week, White begins her class with a warmup and stretch before introducing or reintroducing choreography, usually from a Disney movie like High School Musical, Teen Beach Movie or Teen Beach Movie 2. They sing and dance to these songs in front of a wall-to-wall mirror with Landry leading the class. After the choreography, each student takes a turn leading the class in a follow-the-leader format. They each pick their own songs and create choreography for other students to follow. They often have performances for their parents to showcase the dances they learned.
"There are certain songs they like to do and act out," says White. "They have very vivid imaginations, and in our class, whatever the feeling is at the moment, we go for it. Music lifts the spirit and helps them move and get the exercise and the strength they need."
And they love being able to lead and teach their friends dance moves, the parents say.
"It's his absolute favorite," says Amanda Avant of her son Sam, 24. "He loves to be the leader and express himself through dancing."
The parents sit on the other side of the studio wall, facing each other on wood benches in the hallway. They watch their kids through a small window and chat about upcoming events and their daily lives. They have become a support group for each other.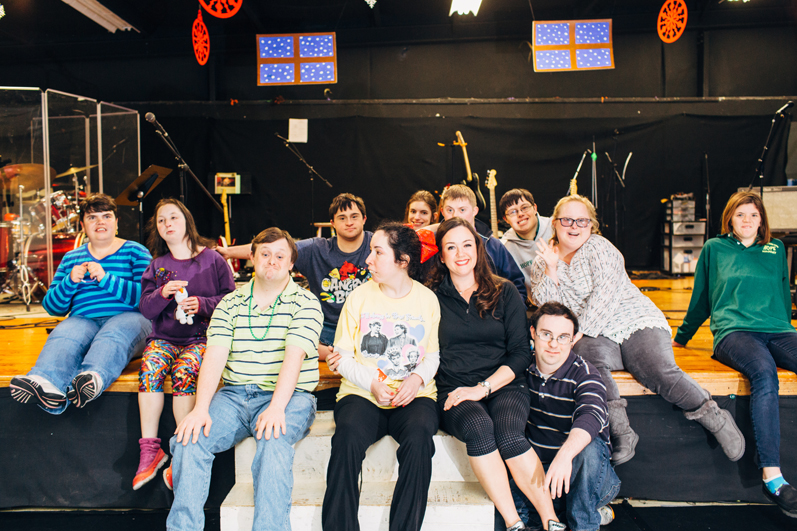 ---
"This is what she looks forward to every week," says Missy Reid of her daughter Jessica, 23. "After we leave here, she puts her Mulan CD on the kitchen table until she is ready to bring it back next week."
The dance class has also created more confidence in each of the students. White says all of them recently participated in Tim Tebow's Night to Shine event, organized by the Tim Tebow Foundation. More than 200 churches in 48 states and seven countries hosted the event in February for people 16 and older who have special needs. According to the nonprofit's website, 32,000 people participated in the event. Locally, Hosanna First Assembly Church on Goodwood Boulevard hosted the event, and 70 people with special needs attended.
White says her students used the dance moves they learned in class during the Night to Shine event. But Landry maintains White has given the students even more: confidence, social skills and the ability to create lifelong friendships. It's everyday magic at its best.
"Jennifer taught them to have a sense of being part of something," says Landry. "She was determined to help us when she didn't know who we were, and she gave us a chance when no one else did. We can now go to any function, any dance or wedding anywhere, and people ask him to dance. My son has always loved to dance. Jennifer gave him a way to express it."