A legacy of leadership at the Junior League's Hollydays
There are so many similarities. They look and laugh alike. They have both been busy moms to two children. They both share a passion for the fundraising work of the Junior League of Baton Rouge. And they both have prayed and worried about whether enough people will show up.
Simone Nugent and Renee Skinner share a special bond. As mother and daughter, their familial ties are obvious to anyone who sees them together. But the similarities go even deeper, all the way to their heart for service. For both Simone and Renee, that love of service has landed them the chairman position for the League's annual Hollydays marketplace and fundraiser—just 26 years apart.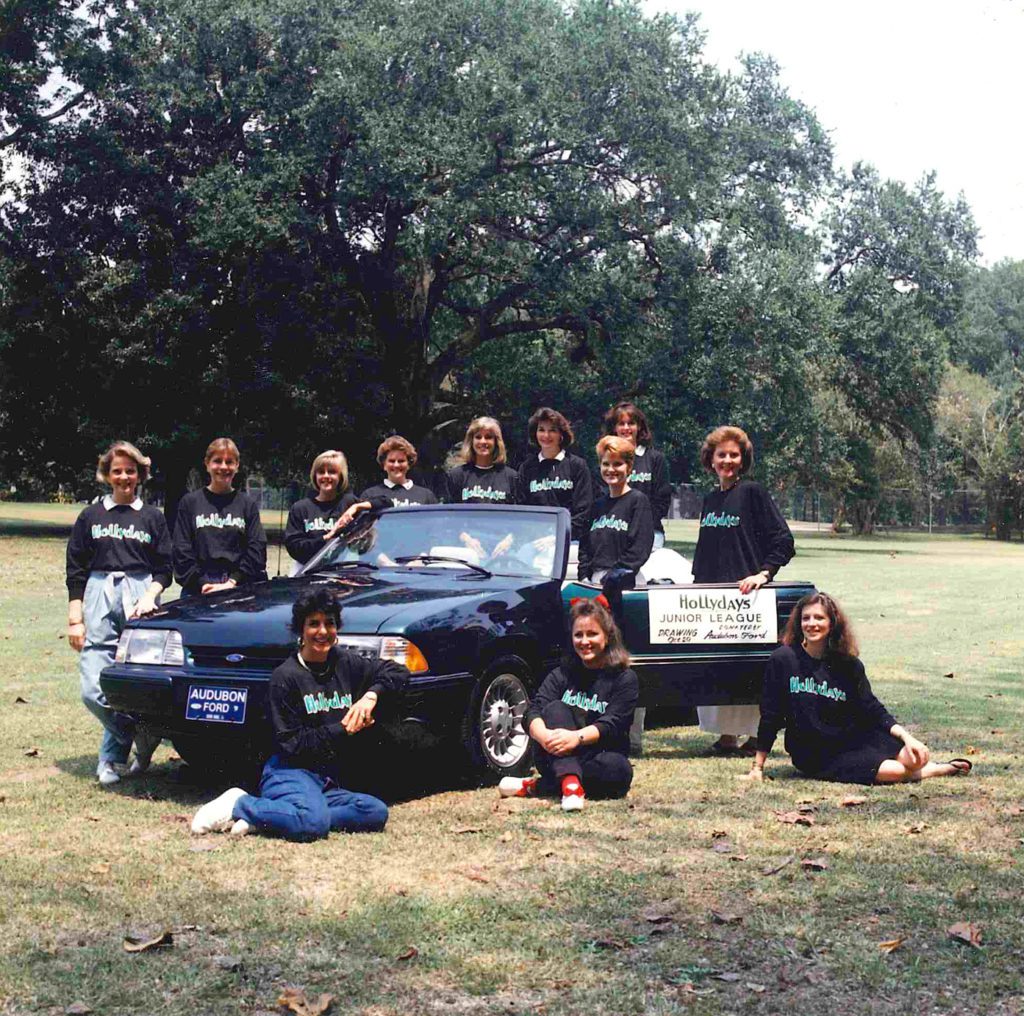 Things were different when Simone chaired Hollydays in 1990. Hairdos and accessories were bigger. And the chair and co-chairs did a lot more of the work themselves.
"We had committees, but some were committees of one. Our committee of 10 did the heavy lifting ourselves," recalls Simone. "We also didn't have all of these events that are built around Hollydays. We had a market, and that was our focus."
Renee's experience as chair is very different in this regard. She is managing a team of over two dozen chairs who are overseeing an army of over 434 Junior League volunteers to make this year's Hollydays a reality.
"And we've got so many great special events now that let shoppers choose the Hollydays experience that's best for them," Renee says. "From Blitzen's Bash to Girls' Night Out, you can choose how to experience Hollydays and have such a positive impact on our community."
Not only are there more events in and around Hollydays this year compared to 1990, but the marketplace itself is much bigger. "We had 70 vendors in 1990, and that seemed like a lot. Renee will be managing over 200 vendors," Simone says.
Both Simone and Renee are adamant about why they chose to chair Hollydays. While the Baton Rouge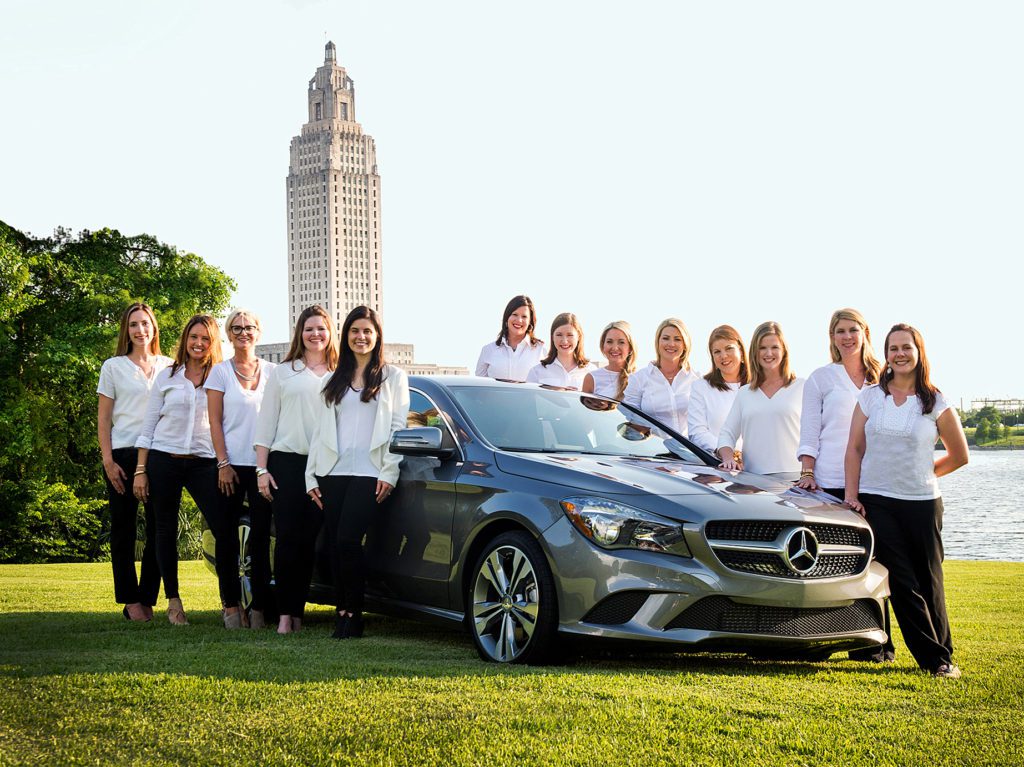 community sees the shopping and events, it's the impact of the dollars raised through Hollydays that has driven both mother and daughter.
"This year we've made it a point to remind people what the money raised at Hollydays actually does for our community," Renee says. "When you look at the devastation of the recent floods, and JLBR's quick response with its Diaper Cooperative's donations to displaced families, it's easy to see why we do this."
In fact, Hollydays generates the largest chunk of money raised by JLBR to support its community partners and efforts. Hollydays funds, combined with donations from companies and the community since the floods, have allowed JLBR's Diaper Cooperative project to donate more than 250,000 diapers to families impacted by the storms.
Which is why Renee is so driven to make this year's Hollydays as successful as possible. "We know folks have been impacted by the floods and have given to groups helping our city recover," she says. "I see Hollydays as a way for us to get back to a little bit of normal. We could all use a moment to look forward to the holidays. And Hollydays is just the party to let us do both—get back and give back."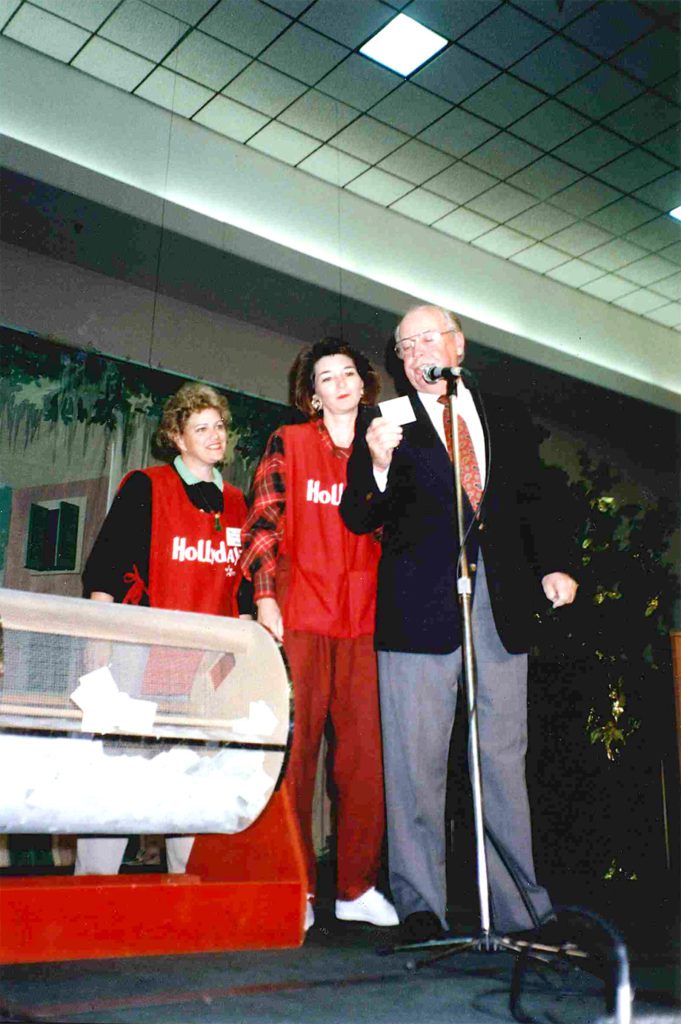 Established in 1984, Hollydays raises over $400,000 each year that goes directly into JLBR's community service and development efforts. In addition to the direct impact on area charity partnerships and service activities, Hollydays also impacts tourism in Baton Rouge. For Hollydays 2016, 93 merchants are coming from out of state and another 48 merchants are from within Louisiana but more than an hour away from Baton Rouge. These merchants stay in area hotels and eat at area restaurants, making Hollydays a positive economic force as well.
Hollydays will always be a family affair for Renee and Simone. In fact, Renee's sister-in-law Erin Nugent is also serving on this year's committee. For them all, Hollydays is a way of giving back to the community they call home.
"I never missed a Hollydays in Baton Rouge until last year after I had surgery," Simone recalls. "Even when Renee and her brother were mad at me for being gone so much, I was committed."
Renee laughed at Simone's flashback, sharing that her own sons now fuss at her for the time she devotes to Hollydays. "We've become closer, mom and I—our whole family has, through Hollydays," Renee says. "We've made so many new friends and laughed through all of the work."
---
Hollydays is hoppin'
Tickets are available for this year's Hollydays market and special events:
Wednesday, October 5, 6 to 10 p.m.
Thursday, October 6, 9 a.m. to 12 p.m.
Thursday, October 6, 6 to 8 p.m.
Friday, October 7, 5:30 to 8:30 p.m.
Saturday, October 8, 10 a.m. to 12 p.m.
Hollydays Market Hours
Thursday, October 6:
Preferred shopping: 9 a.m. to 12 p.m. General shopping: 11 a.m. to 9 p.m.
Friday, October 7:
General shopping: 9 a.m. to 9 p.m.
Saturday, October 8:
General shopping: 9 a.m. to 4 p.m.