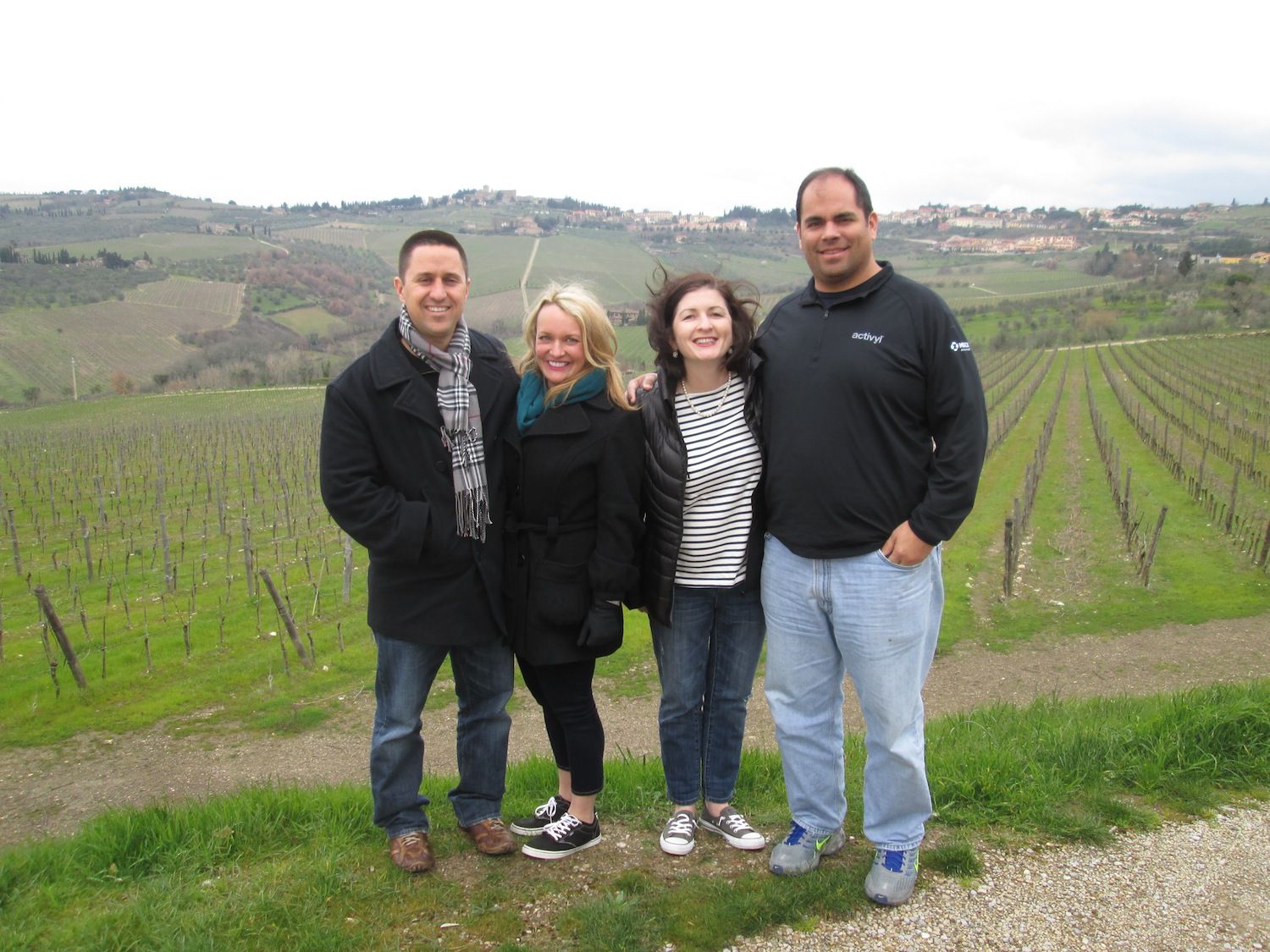 Seen through the eyes of Liz & David Castro
Who went: Liz & David Castro and Tracy & Mario DeOliveira
We went because: Italy has always intrigued us, and traveling there was on all our bucket lists. It is a country with charm, antiquity, and—most importantly—lots of pasta and wine.
Hotel recommendations: In Florence we'd recommend staying at Hotel La Scaletta. Offering reasonable rates, it's situated a block from the Ponte Vecchio. The hotel has a terrace with an incredible view of the city; it's where we sipped on cappuccinos in the morning and took in the incredible architecture.
Where to eat: The best places to eat in Italy are off the beaten path. Avoid the tourist traps found near local sights. We enjoyed the now-famous butcher shop in Panzano, in the Chianti region, owned by Dario Cecchini, who descends from a long line of butchers. He also has two restaurants, and he does not let your vino run low. He greets you with prosciutto and cheeses even before you're seated.
Favorite dish on the menu: All dishes were amazing, from the pastas to the pastries. But everyone must have one gelato a day. Look for dark pistachio gelato. If the gelateria has bright green pistachio gelato, it's probably not the best.
Favorite historic landmark: The Scavi underneath St. Peter's Basilica in the Vatican. Only 250 people per day are allowed to see the site, so you must book a tour at least two months in advance. The Scavi is a live excavation site of the tomb of St. Peter. Those taking the tour get to skip the line to enter St. Peter's.
Local attraction worth a drive-by: If time permits, visit Cinque Terre. The name means five towns, and they're nestled on a cliff overlooking the Italian Riviera. The views are breathtaking.
A great experience off the beaten path: In Tuscany we came upon Montegrossoli Castle and stopped to have lunch. The castle was charming, and the restaurant was a bonus.
Worth the splurge: We hired a private tour guide in Tuscany. Alessandro Cammilli was charming, and captivated us with his knowledge. We were able to see Siena, San Gimignano, and two wineries.
Not worth the splurge: The water taxi in Venice. Try the Alilaguna public transport instead.
Something surprising we learned on the trip: We were surprised by how much we could see on foot. Walking was the best way to see all the sights and to walk off all the pasta and wine.
Insiders' tips: Going to Italy can be overwhelming if not mapped out. Make sure to plan your trip ahead of time and buy passes to museums before leaving the states. The wait in lines to the Vatican in Rome, Accademia Gallery in Florence, and other museums can be hours long.
We would suggest this trip to others because: There was not one place we visited in Italy we did not enjoy. In this country, you can do it all—from cathedrals to museums, and wineries to beaches.