Inspiring: Ready to serve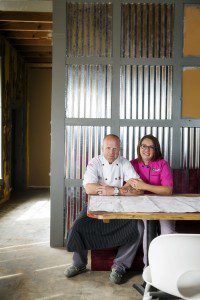 Chef Chris Wadsworth isn't shy about sharing his homegrown vision for his new Government Street restaurant, Goûter (pronounced "goo-tay"), which is set to open this month.
"If you can trap it, shoot it, catch it with a fishing pole—it's on the menu," says Wadsworth, who successfully opened Restaurant IPO in downtown Baton Rouge several years ago. He describes the new restaurant's vibe as a rustic camp with a modern twist.
Decked out with pine rafters and cypress tables handcrafted by his father-in-law, Wadsworth's new venue will offer custom cocktails with locally sourced liquors and small plates with a heaping helping of originality. He points to a stack of Cuban cigar boxes that he'll fill with smoked redfish collar, then opens a cabinet and pulls out a beautiful cypress plank. His eyes light up as he talks about the freshly caught fish he'll serve on the plank, plated with a bucket of fries.
"We'll have venison, rabbit, frog legs, wild boar, crawfish, oysters and more, cooked in a cast-iron skillet—old-school Louisiana style, the way they should be," Wadsworth says with a laugh.
As enthusiastic as he is about the menu, you can hear Wadsworth's real passion come through when he talks about how Goûter fits in with his dreams for Triumph Kitchen, where he and his wife Sommer mentor and teach at-risk teens and young adults about the art of cooking, life and how they can achieve their dreams if they work hard.
"After we left IPO, we spent everything we had on Triumph Kitchen, and we needed a steady funding stream to continue helping these kids," Wadsworth says. "Goûter will allow us to teach the kids during the day and still get creative in the kitchen at night."
So far, the Wadsworths have graduated 20 students and mentored many more in the program, which is now housed in a small, homey kitchen and dining room behind the restaurant.
"Some people think Triumph Kitchen is a culinary school, and we're not. We teach life skills, and that happens to be through the culinary industry," Wadsworth said. As students progress, they will slowly make their way into the kitchen or dining room to master cooking techniques and customer service, something Wadsworth won't compromise on.
"Our chef's table will look into the kitchen," Wadsworth says. "We do it right—just like we teach our kids."