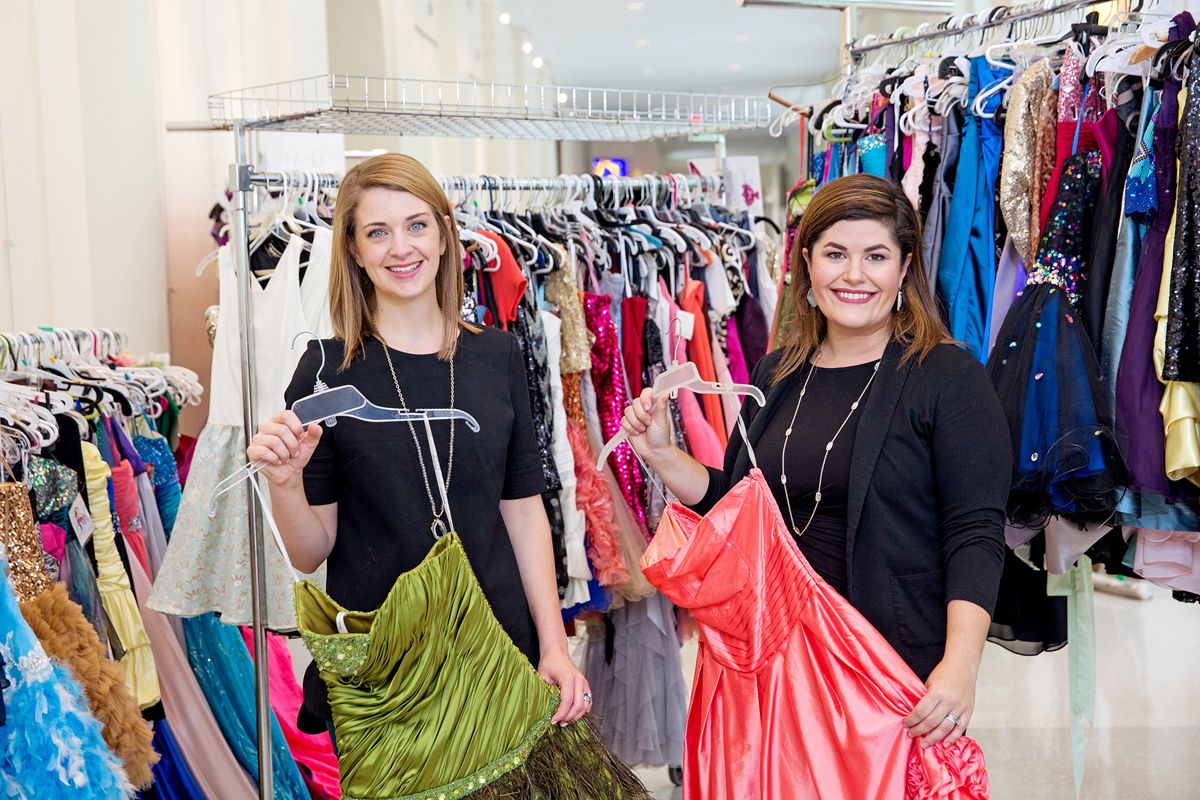 Inspiring: Hope for Homecoming
On a normal Sunday afternoon, St. Joseph's Academy is fairly quiet as students prepare for the chaos of the week ahead. But on a mid-September Sunday, the school was far from its usual tranquil self. It was teeming with high-school girls chatting and trying on formal dresses, one after another.
Lining the hallway of the school's Arts Center were more than 1,000 frocks dripping with sequins and beading, the fruits of a dress donation drive held to help girls affected by the recent flooding.
The Arts Center was transformed into a pop-up boutique complete with makeshift dressing rooms and a seating area for family and friends. Teens from all over south Louisiana scanned the racks while carrying handfuls of dresses to try on, hoping at least one would be perfect.
Sarah Wampler, owner of Bustle Bridal and Soiree, says the drive surpassed her expectations. Wampler, a 2004 SJA graduate, was contacted by her former classmate Katy Ryan Michaud with an idea for a homecoming dress drive for flood victims. The two assembled a group of other 2004 alumni to transform the idea into a reality.
Wampler and Michaud encouraged local boutiques to act as donation drop-off centers, and they reached out to bridal boutiques across the country. They received dresses from Pennsylvania, Virginia, Texas, Colorado and beyond. 
The community's response to the drive was one of generosity and love, Wampler says, adding that seeing the positive response from the girls in attendance made the whole event worthwhile.
"We received so many hugs and were met with many happy tears on the day of our dress giveaway," Wampler says. "The morale boost to these girls and their families made all the work put into the event more than worth it."
For some girls in attendance, this event meant the difference between being able to attend homecoming and having to miss out on a high-school tradition. Payton Chustz, a student at Denham Springs High School, says many area families don't have funds for such an extravagance in this time of crisis.
"If it wasn't for this event, I wouldn't really have the means to buy a dress for homecoming," Chustz says. "A lot of people I know don't have enough spare money right now to spend on a homecoming dress since they are focusing on repairing their homes."
Abigail Gunby, another DSHS student, says that while the flood was a tragedy, she believes it brought the community together.
"This event is a really good idea and it shows how much people care," Gunby says. "It's definitely bringing normalcy back into the situation."
The final tally for the event included 125 girls from 25 local high schools, each of whom received at least one dress, while some found two or three. The leftover dresses were donated to No Glass Slippers, a local organization that provides girls with free dresses and shoes for prom.
Overall, Wampler says she was happy that so many girls were able to find what they were looking for.
"Everyone deserves to experience the traditions of high school," she says. "We wanted girls to look back on this time in their lives and have a happy memory of homecoming, regardless of the hardships they're experiencing at home."