Check out the awards that inRegister raked in this past year
Bet you didn't know that inRegister competes with the likes of The Baltimore Sun, The Miami Herald or the Chicago Sun-Times, did you? Well, this month, as part of the Short Feature competition in the national 2021 Society for Features Journalism Excellence-in-Features awards, our humble magazine took home the second place prize for "Hang Time: LSU Architecture Grad Elyse Marks Scales Manhattan's Tallest Buildings," our September 2020 piece by writer Kate Stevens about a Lafayette native's unusual (and vertigo-inducing, at least on our end) job. In the words of the judges:
"If you're afraid of heights, this piece might not be for you. Kate takes readers to the top of New York's tallest buildings, exploring what would compel a young woman to hang off the side of them. The descriptions are spot-on and, in just a few words, tell an irresistible story about someone with an unusual occupation."
We're not the only ones racking up recognition. Our sister magazine 225 also came away with the first-place win in the General Feature category with April Capochino Myers' "In the Gray Area," a profile on the Louisiana Parole Project.
Earlier this summer, inRegister, Business Report and 225 were also honored with 10 additional national and regional awards for editorial excellence. In the Society of Professional Journalists' Green Eyeshade Awards, the nation's oldest regional journalism competition, inRegister took home two first-place prizes: one for Humorous Commentary for Ashley Sexton Gordon's collection of opinion pieces, and another for Feature Photography in our 24-hour carousel through the Baton Rouge arts scene, "A Day in the Life of the Arts." A couple of our covers also proved to be big hits: our December 2020 "Women With a Cause" cover, a collaborative effort by editor Kelli Bozeman, art director Hoa Vu and local painter Nicole Callac, received the second-place prize for Best Cover, and our October 2020 "Secret Gardens" cover, conceived by Bozeman, Vu and local photographer Jordan Hefler, took third place in that category.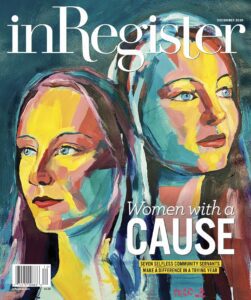 And the list for Louisiana Business Inc. magazines goes on. To see the full array of prizes bestowed upon our family of publications by the Society of Professional Journalists and the Alliance for Area Business Publishers, check out this roundup from the Daily Report.