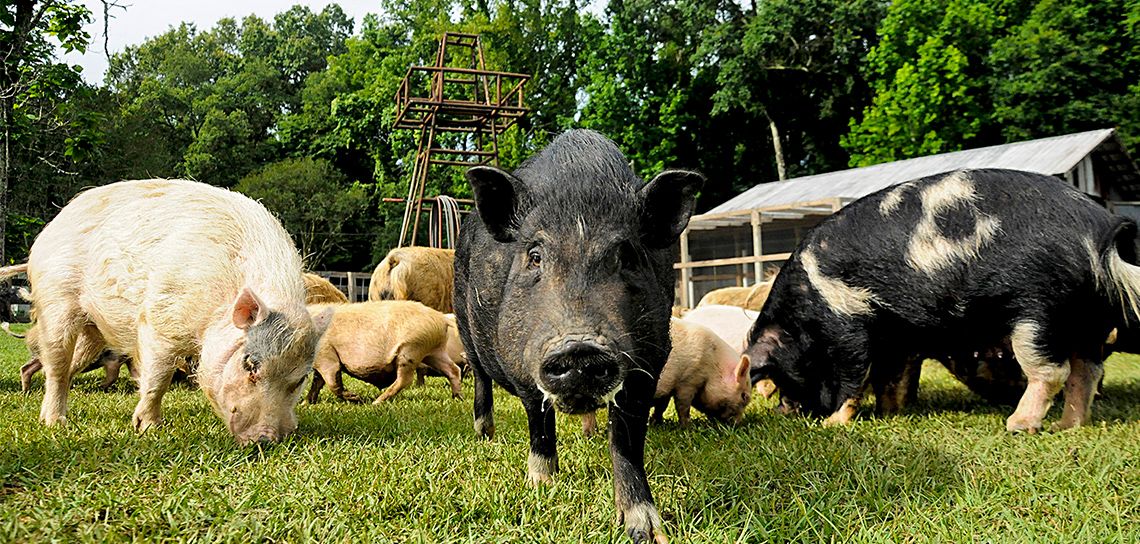 Pig paradise at Hawkins Hideaway Farms
---
Every few weeks, Theresa and David Hawkins set off to scour thrift stores across Baton Rouge for blankets and sheets. Printed with everything from forgotten cartoon characters to faded paisley, the discounted linens won't be finding their way to beds or couches. Instead, they'll soon fill barn stalls and shaded corners on the couple's property, known as Hawkins Hideaway Farms, acting as nesting material for a population of about 100 pigs that call the backyard oasis home.
"They each have their own little place," says Theresa, as she walks through the couple's barn, pointing out a pig hiding near a corner among stacks of dog kennels. "If you go out to Goodwill and can't find a blanket anywhere, it's because we got there first."
The couple didn't always plan on filling their home—they have four indoor pigs also—and their vast yard in Central with hordes of pigs. While they were no strangers to farm animals as pets, as they had owned a pet pig in the early years of their marriage, both Theresa and David say the scale to which their operation has grown to is somewhat shocking. However, they noticed a need.
"After the flood, people were posting about all these pigs that needed homes," explains Theresa, who works full time as an accountant. "Originally, we were planning to make this a sanctuary for all unwanted farm animals. But the need for the pigs has just taken over."
In addition to animals being displaced after the flooding of 2016, the recent mini pig craze has become a major issue. Adorable Instagram posts of "tiny pigs" have led many families to seek them out in the last few years, with breeders specializing in the miniature variety. However, with the animals living up to 20 years and growing far beyond the advertised size, people are often shocked to learn the reality of pig ownership.
"People are sold the idea of these 30-pound pigs, but, in reality, even small pigs grow up to be about 250 pounds," explains David. "These breeders are just trying to make a buck, and then a few years in, the family doesn't want this pet anymore."
With each member of the Hawkins Hideaway community coming as a rescue from previous homes as far away as Texas, the couple frequently deals with the consequences of subpar living conditions and a lack of socialization, among other issues. Even more heartbreaking, Theresa notes that the animals are smarter than people often realize, and they are very aware when they are being abandoned by their owners.
"Pigs are like dogs. They're very intelligent and they build bonds with their owners," says Theresa. "We have pigs here who spent the first few years of their lives only knowing one person, and we even have one pig who had never touched grass before. It's a hard adjustment for a lot of these animals to move here, where we have a lot of pigs and most of them are outside. We try to do everything we can, but at the beginning it's common for them to be depressed."
Because each of the animals comes with its own story and struggles, Theresa and David say the pigs have become like "therapists" to their family and to guests they invite onto the property on select weekends. Theresa says she is even considering making one of the indoor pigs, a deaf Kunekune named Cooper, an official therapy animal.
"We have had people bring their autistic children out here," says Theresa. "Animals are great because all they want is love. They just lie down and let you rub their bellies."
Opening up the farm to visitors is the beginning of the Hawkinses' efforts to raise both money and awareness for the cause. While the initiative is now entirely funded by the couple themselves, they are looking for help to provide everything from food to fencing to vet visits. Welcoming visitors also allows the pigs to get a little extra attention and socialization, while people can experience the joys of the animals without adopting one themselves.
"We are not re-homing any of the animals we take in, right now," explains Theresa, who also has several rescue horses and a rescue donkey. "We have the property for them, and as long as we can still give them everything they need, we are going to keep taking care of them."
Despite making sacrifices like opting out of vacations and waking up early to make their morning rounds before heading to their full-time jobs, Theresa and David say the pigs have become not only their passion, but an integral part of their family.
"They all know their names, and they get excited to see us," says Theresa as she walks back towards the main house, greeting her 8-year-old potbelly pig Molly. "We're just here to give them shelter, love and belly rubs."
Follow Hawkins Hideaway Farms on Instagram and Facebook to learn more about visiting hours and donation opportunities.