It's a good thing: Domestic doyenne Jean Hebert shares holiday hosting tips
---
What? November! Already?
"Summer is over and football season is here, which also means the two biggest holidays of the year are right around the corner," says Jean Hebert, known to her friends as the "Martha Stewart of Baton Rouge." "Preparing for Thanksgiving is the trial run for having a smooth Christmas. Once you get your home ready for Thanksgiving, you will be ready for anything!"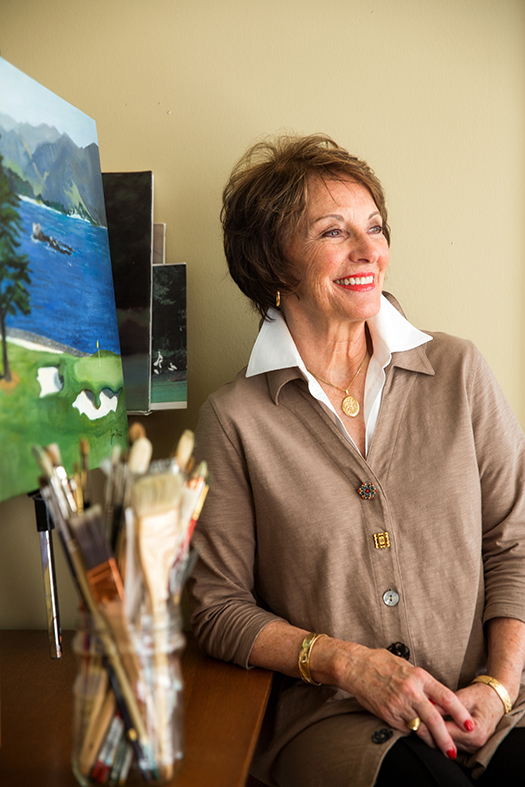 According to Hebert's unofficial fan club, her talents are amazing, though she is reluctant to accept the title. Hebert is an outstanding watercolorist with paintings hanging throughout her home, is an expert at sewing—including drapes and bridge-theme card holders to carry cards and score pads in—and has recently started making covers for furniture. She can paint designs on wine glasses and is known as a creative cook, as is her husband, Roger. She's also a golfer and was a skier and even a tennis player. "I can do a lot of things but I'm not professional at any of them," she says.
Hebert smiles at the Stewart comparison and humbly shrugs it off, but a moment later she does admit to liking to be organized and ready for any hosting surprise during the holidays. "Our children live in Nashville and Houston, two of our grandchildren live in Atlanta and Colorado and the other five still live at home," she says. "I am also very fortunate to have my 101-year-old dad and my 91-year-old stepmom living in Lafayette, and they are always ready to go somewhere."
To prepare for the holidays, Hebert says she begins by checking her silver flatware—"which usually needs a little shine," she notes—and washing glasses that haven't been used in a while. "Actually, I just think about each meal and the dishes I will use for eating and serving, and I make sure everything is clean and on shelves for easy access," she says.
Hebert's next steps are to clean out the refrigerator and pantry, since space inside both will be at a premium as she begins cooking up dishes for guests. "It's amazing what you can accumulate over the summer," she says. "Most of all, I just de-clutter the house—you know, pick up things that somehow pile up all around the house like stacks of magazines I am saving to read one day, or a pile of papers I am going to go through that interested me at one time, or just all those things that have no business being where they are."
Hebert adds that it's equally important to consider the outdoor environment when planning any gathering. "Now is the time to put in the fall and winter plants, check on your outdoor lighting, and dust off those chaise lounge cushions, since it is finally time to sit outside and enjoy some cool temperatures with friends and neighbors over a glass of wine," she says.
You can be assured that Jean Hebert does not need to call on Ms. Stewart for assistance—perhaps it should be the other way around.
---
Jean Hebert shares two of her favorite recipes for entertaining:
HOLIDAY WILD RICE
1 package Uncle Ben's Original Wild Rice
3⁄4 cup red grapes, sliced
3⁄4 cup quartered artichoke hearts
3⁄4 cup dried sweetened cranberries
Cook rice as directed. Turn off heat, then add remaining ingredients. Mix together, then cover the pan until all ingredients are heated.
DIRT DESSERT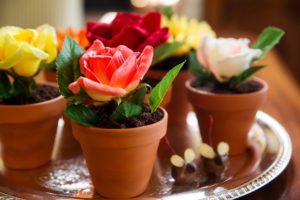 1 large pkg. Oreo cookies
1⁄2 stick butter, softened
1 cup powdered sugar
8 oz. cream cheese
3 1⁄2 cups milk
2 small pkg. instant vanilla (or chocolate) pudding
12 oz. Cool Whip whipped topping
1 silk flower for each pot (sized to fit pot and with stem cut)
New clay flowerpots, washed (1 large or 6 to 10 small) and with clear tape covering drain hole
Crush cookies. Cream together butter, sugar and cream cheese. Mix together milk and pudding. Add Cool Whip to pudding mixture, then add butter/sugar mixture to pudding mixture.
Layer cookies and pudding mixture in each flowerpot. The size of the pot will determine how many layers you will do. Refrigerate overnight. Add silk flowers to each pot just before serving.