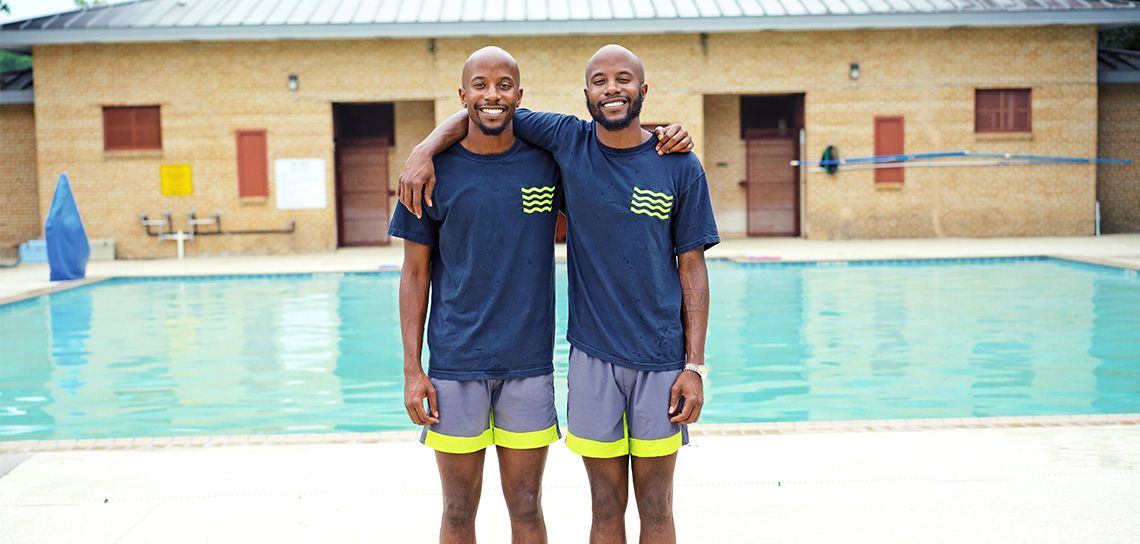 ---
On a bright summer morning, a group of children, teens and a few young adults stand fully clothed on the edge of a public swimming pool. It's the final day of swim lessons with Tankproof, and jumping into the crystal-clear water in street clothes rather than bathing suits is the program's non-traditional version of a graduation ceremony.
"It's exciting, and the kids love it," explains Torrence Thomas, who founded the organization that offers swim lessons free of charge in 2012 with his twin brother Thurman. "But really, the idea is that if you're in an adverse situation with water, it likely won't be when you're expecting it, so it's important to learn what to do and how to survive in the water, even when you aren't in a swimsuit."
The duo, who work professionally as musicians and creatives, weren't always interested in swimming. While Thurman did have a life-threatening encounter with the water at age eight that led the twins' mother to promptly send the two to lessons, the brothers never envisioned themselves as swim teachers until they stumbled upon an alarming fact.
"Louisiana has one of the highest child drowning rates, and drowning is the second leading cause of child death in the United States," explains Torrence, noting that the epidemic is caused by a lack of access to pools, as well as a generational fear that keeps parents from teaching their kids. "When we heard that and did more research, we thought, well, we can just leave things like they are or we can try to do something."
Teaming up with high school-age swim coaches from throughout the community, the Thomas brothers say the success of the program, which has grown to accommodate over 500 kids per year, is all attributed to the "vibes" the group fosters in its classes. Calm and laid-back, but with an emphasis on love and personal responsibility, the teachers address the mental challenges of swimming as well as the problems the children bring with them from beyond the pool.
Originally partnering with Crawfish Aquatics, Torrence and Thurman Thomas say they learned many skills that they continue to use and adapt to the needs of each individual session.
---
"These kids are coming in with needs," explains Torrence. "They're a little rough around the edges. That's why it's so important for us to create relationships with them."
"When they're excited to see you, that's the best part," adds Audrey Sanfore, a recent high-school graduate and a Tankproof instructor. "Teaching a life-saving skill is rewarding. And it's amazing to see how much you impact their lives. They just want love, and that's what we give them."
But the program isn't all mushy gushy. The brothers note that their goal is to build a legacy by fostering a culture of responsibility.
"We want the people we teach to be able to teach someone else," explains Torrence. "Their job is to pass it on."
Since the program's start, it has expanded beyond Baton Rouge to include Gonzales as well as cities in north Louisiana and other, more rural, parts of the state.
"The program looks different in every place," notes Thurman. "A lot of the time, kids don't learn to swim just because there aren't any pools around. For the more rural areas, we bus them to the closest pool. It's still important for them to learn."
Up next, the Tankproof team is working to extend its offerings to New Orleans, a process they explain has not been an easy one. However, they say the possible life-saving advantages outweigh the struggles they sometimes face when it comes to fundraising and other red tape.
"The need is greater than what we can facilitate, so we are always working to expand," remarks Torrence, who explains that children and their parents find the program through organizations like Big Buddy, Boys & Girls Club, summer camps and faith-based organizations. "In Baton Rouge, this summer's slots were filled in six hours. We have 357 registered, with many on a waitlist, and we wish we could get to all of them."
While it's easy to get caught up in the numbers and all that is left to be done, the Thomas brothers are committed to cherishing every moment with the kids who come through the program as well as with their staff. They say Tankproof has become about much more than swimming. Rather, the organization has flourished into a community of people learning from one another and making a difference in the future of families statewide.
"The impact is immeasurable," says Torrence. "These parents know the importance of learning, even if they can't. They want it for their kids, and then their kids will be able to pass it to their kids."
"We aren't afraid to give kids real responsibility," adds Thurman. "Kids can smell fake from a mile away. We believe in them and we want them to succeed."