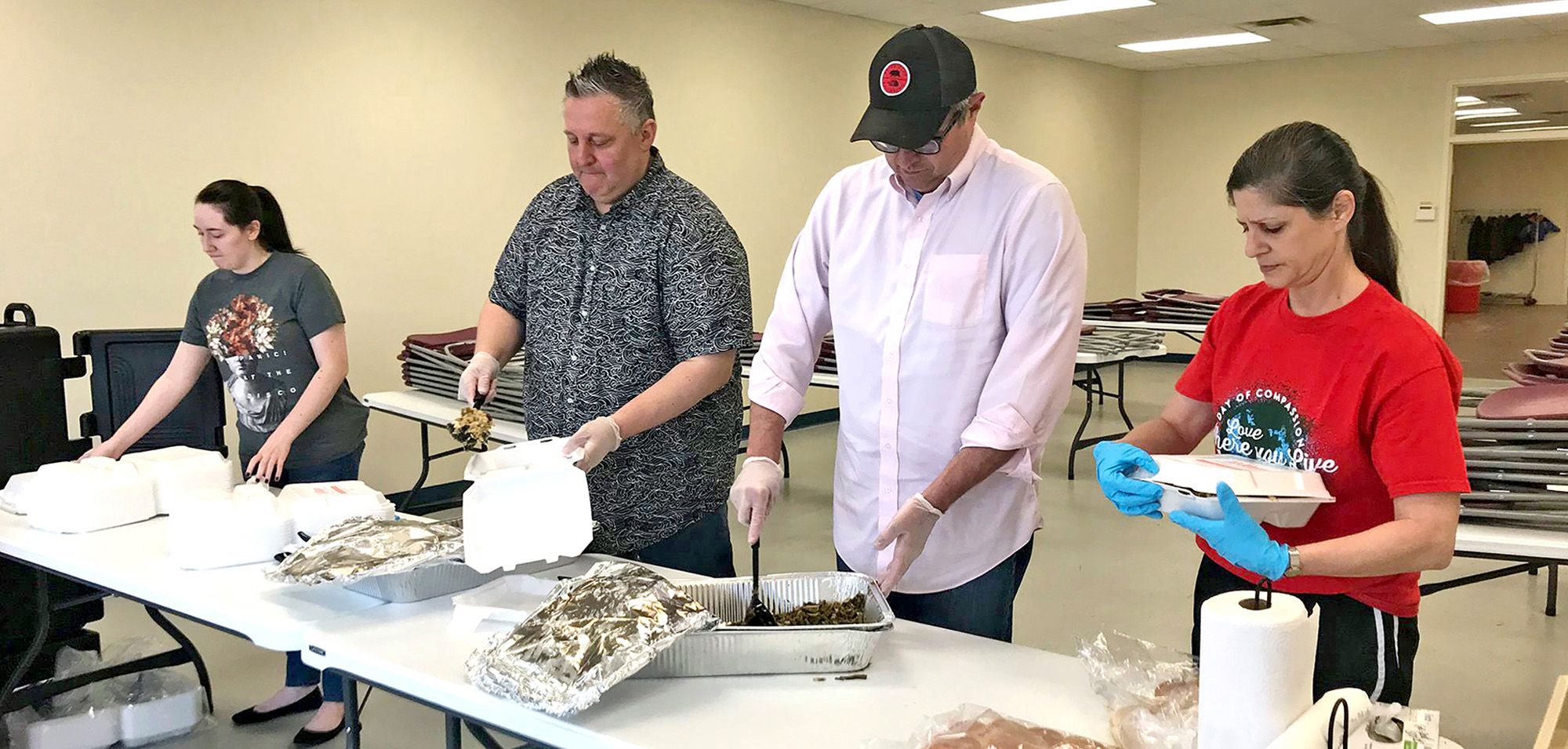 Giving back: Red Stick Together
When Broadmoor United Methodist Church began its Red Stick Together meal-sharing initiative in December 2019, the rumbles of COVID-19 had barely reached the ears of Americans. Louisiana's 15% unemployment rate in April 2020 would still seem unimaginable, as would the social distancing measures designed to keep us apart, as friends and families gathered in the church's halls once a week to share a meal and a sermon from Senior Pastor Donnie Wilkinson. Little did Wilkinson know that his history as a pastor in the neighborhood spanning two sides of Florida Boulevard—where he began preaching in 2016 right before the Alton Sterling shooting and the floods that soon followed—had prepared him for dealing with disaster through simple acts of love that help transform a community, plate by plate.
"In December, we started out sharing sit-down meals with about 40 people once a week," says Wilkinson. "Now, we hand out between 225 to 250 meals a day at 6 p.m. every Monday, Wednesday, and Friday at the Broadmoor Shopping Center."
By mid-March and the start of social distancing guidelines, Wilkinson and his team, including Executive Pastor Rev. Kennon Pickett and Assistant to Senior Pastor Mary Saltzman, knew that they would have to find a way to keep the program going without gathering in person. In a new world where physical contact could end up hurting more people than helping them, a drive-through takeaway option became the safest and most effective change of course.
"Our first day doing that, we made 100 meals and ran out within five minutes," said Wilkinson. "That's when we knew how great the need really was, so we more than doubled the amount of meals and increased distribution to three days a week."
But Wilkinson wanted to provide more than just a meal to the families and individuals who drove by every week—he knew that people were hurting spiritually as well as financially from the economy's downturn, the isolation from friends, the nationwide protests surrounding racial justice, and the simple uncertainty of what the future would hold. So he's willing to talk. For each car that pulls up to collect any of the hundreds of homemade meals prepared fresh by chef Steven Martinez, who came aboard full time during lockdown, Wilkinson asks its passengers how he can be praying for them.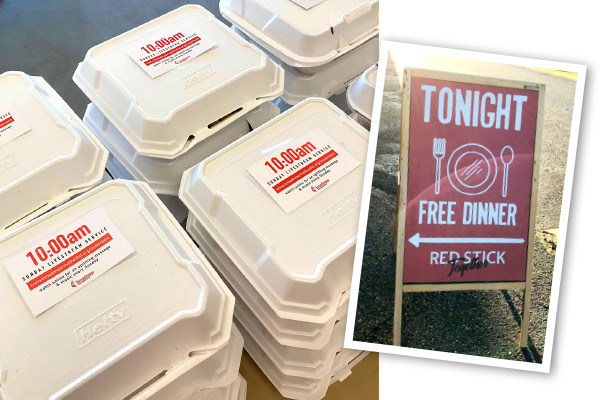 "There are people struggling with food and money right now who never thought they'd be in this position," he says. "I had a young couple pull up in a truck the other day, with a baby in the backseat, who told me they would like a prayer to help them find work. We prayed together that God would open some doors for them, and when I looked up, this otherwise handsome and rugged young man had some tears welling up in his eyes. It's beautiful to be able to bond in that way."
Wilkinson notes that the Broadmoor neighborhood and its surrounding areas are some of the most culturally, racially, ethnically and socioeconomically diverse areas in Baton Rouge—an ideal landscape to examine how Baton Rouge can look more like what Dr. Martin Luther King Jr. called "the Beloved Community." For Wilkinson, part of the inspiration toward the answer comes from a favorite passage from the Book of Revelation.
"People get nervous, especially these days, when preachers start quoting Revelation," he says with a laugh, "but I think it paints the most beautiful picture: 'I looked and I saw a multitude beyond which anyone could count, of every nation, tribe, people and language surrounding the throne of God in robes of white, and holding palm leaves in their hands.' Imagine Black, white, brown, Hispanic, Asian, Anglo, straight, gay, all finding the commonality in their relationship with God. That was our vision with the dinners in the first place, to create a space for people who otherwise wouldn't sit down and share a meal together to do so, and in so doing, build relationships across all lines of separation that divide us."
Those interested in lending a hand to Red Stick Together can do so by donating canned food or money ($10 will feed a family of four), or by volunteering to help distribute meals in what Wilkinson hopes will be additional drive-through locations in the near future.
"We also ask that you come pick up food for anyone you think could be in need," says Wilkinson. "As long as people need our help, we want to be here to do our part."