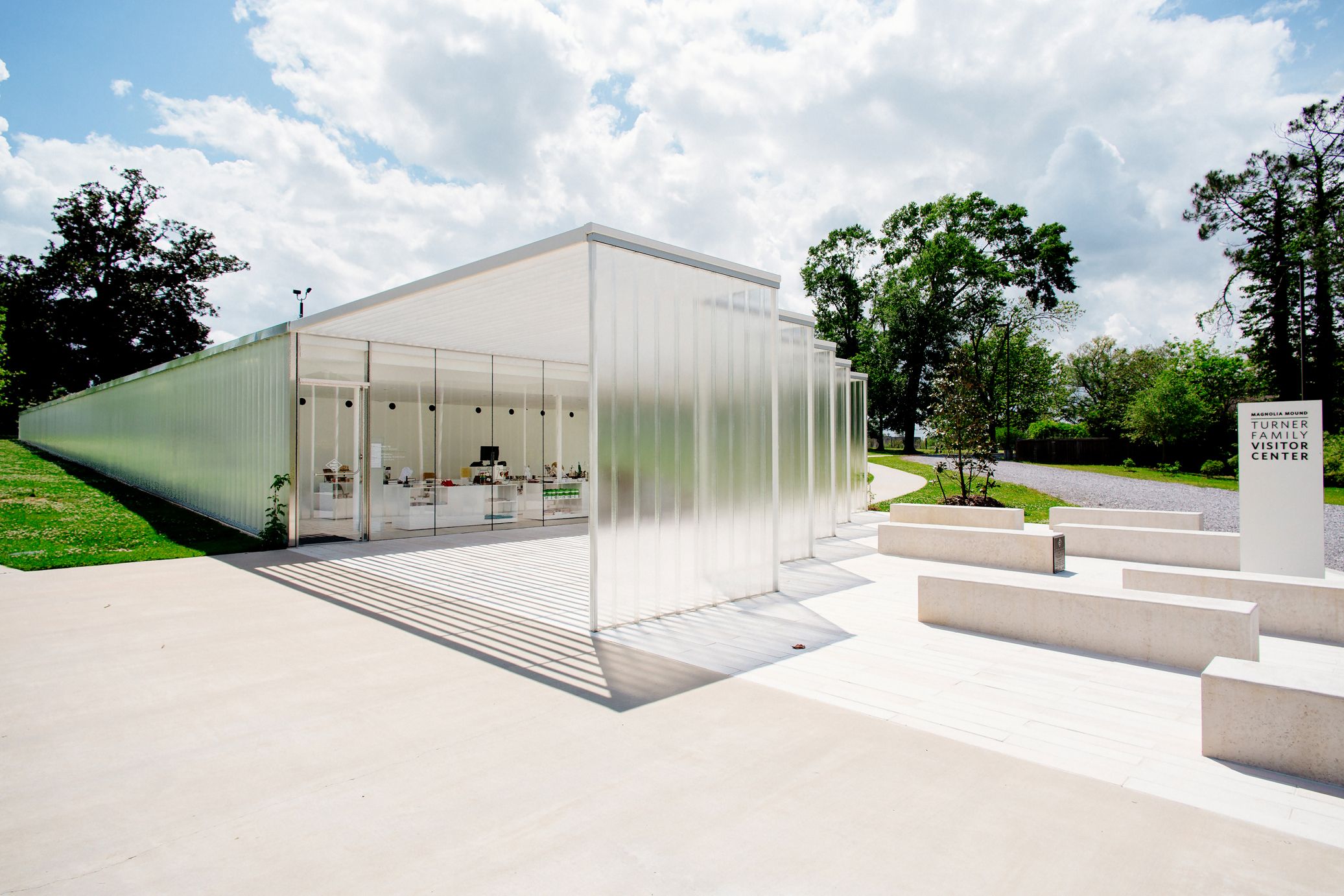 Visitors welcome: A family legacy lives on at Magnolia Mound
Looking at the clean lines and glass walls of Magnolia Mound's new Turner Family Visitor Center, a futuristic series of planes that seem to disappear into the base of a low hill, a younger person might forget that the site it honors almost disappeared for good in the 1960s. Once slated for demolition, the main house at Magnolia Mound Plantation had fallen into disrepair until BREC, the Foundation for Historical Louisiana and local philanthropists including Sue Turner transformed it into the historical museum it is today.
Replacing the dated suburban house that served as the visitor center until this spring, the new structure stands as a testament to preservation, a modern touch to
the once-sprawling 900-acre enterprise for which more than 50 slaves reaped cotton, tobacco and sugarcane.
"We wanted to build something subtle and non-intrusive," says John Sykes, executive director of Magnolia Mound. "It's modern, but it's not a big statement, so that when you leave it to go see the plantation house and the other buildings, you really feel like you're stepping back in time."
The building's design came about through a close relationship between Turner and the team at Trahan Architects, further proof of the Turner family's personal stake in the property, which exists, above all, to serve as an honest, educational glimpse into 18th- and 19th-century Louisiana.
"This is a great moment for us and Mrs. Turner's commitment," Sykes says. "It means so much to her that the place has been saved and that we can continue to engage the public in this history."
With a whole community behind her, and with 2016 marking the 50th anniversary of the site's first restoration, one thing is certain: the Turner legacy is sure to live beyond the four new walls at Magnolia Mound.
Read more about Sue Turner's many philanthropic efforts in inRegister's cover story from August 2012.