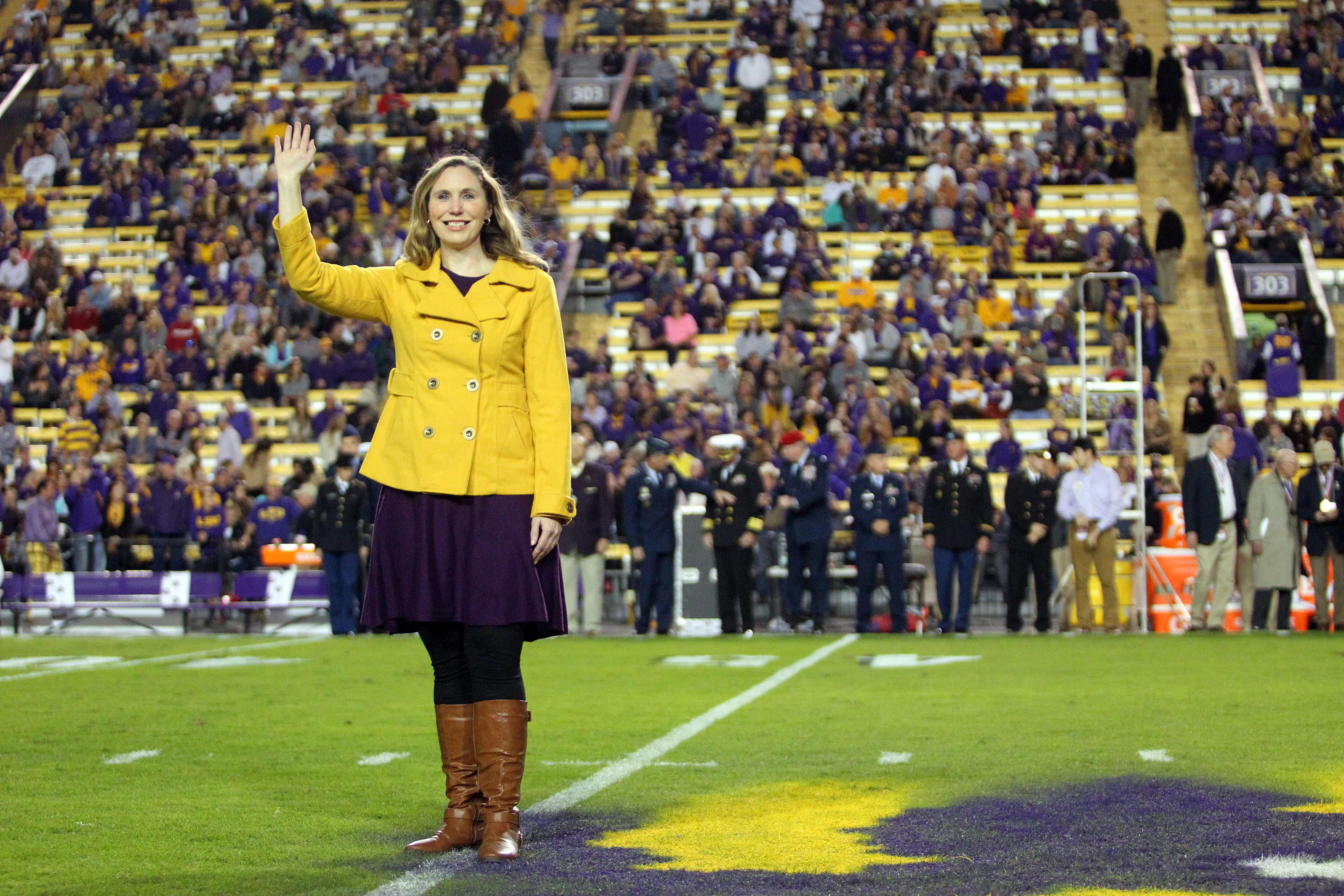 Dream Teachers brings educators to the head of the class
Louisiana Teacher of the Year Kelly Stomps gets a Tiger Stadium salute. Photo by Crystal Logiudice.
It was halftime of the LSU vs. Arkansas game, and Kelly Stomps stepped onto center field for the first time since playing drum line in Tiger Band 15 years ago. Of all the events she has attended as Louisiana's 2016 Teacher of the Year, this one was the highlight.
"It was strange to be on the field without the band," Stomps says.
Although she stood solo receiving her recognition, Stomps has been surrounded by music—and a classroom—ever since graduating from LSU.
A music educator at Woodlake Elementary School in St. Tammany Parish, Stomps was named Louisiana's 2016 Teacher of the Year by the state Department of Education and Dream Teachers, a nonprofit organization dedicated to promoting student achievement and making teachers feel like rock stars.
Dream Teachers began on the premise that teachers deserve to receive more than a mug and a certificate as recognition for their work. Founded in 2007, Dream Teachers leaders believe that a student's achievement is directly impacted by the quality of their teachers. Partnering with the Louisiana Department of Education to promote teacher and principal of the year programs, Dream Teachers raises money through grants, corporate sponsorships and personal contributions to give back to Louisiana educators. Gifts—ranging from money to a free supply of Community Coffee for the school to a year's lease on a Mercedes-Benz—are presented at the organization's annual Educator Excellence Symposium and Celebration.
"I've never experienced anything like this party being held in teachers' honor," Stomps says of the symposium.
Organization chairman Ben Heroman got involved with Dream Teachers after receiving a flower order for the symposium at Billy Heroman's.
"Teachers know how important their job is, and they don't do it for the praise," he says. But once you see the quality of the educators, it encourages you to do even more
for them."
Heroman says that the group seeks to continually grow by finding ways to honor more teachers throughout the year. Recently, it initiated the H. Norman Saurage III Service Award to recognize a Louisiana public school teacher who has gone above and beyond to contribute to the community and enhance the student experience. The organization also gives Teacher of the Month awards to any educator, public or private, selected from private nominations.
Stomps says her experience with Dream Teachers has amplified her voice and allowed her to connect with a wider public.
"We need those connections to bring effective change for all students," she says.
While Dream Teachers seeks to praise our educators, students are the ones who ultimately benefit. As the future of Louisiana's workforce, ensuring the success of students requires supporting the teachers and principals who are influencing their future.
"I feel like I can do anything because I have Dream Teachers behind me," Stomps says.
---
How you can help:
Visit dreamteachers.org to learn how to donate, nominate a teacher or join the advisory council.