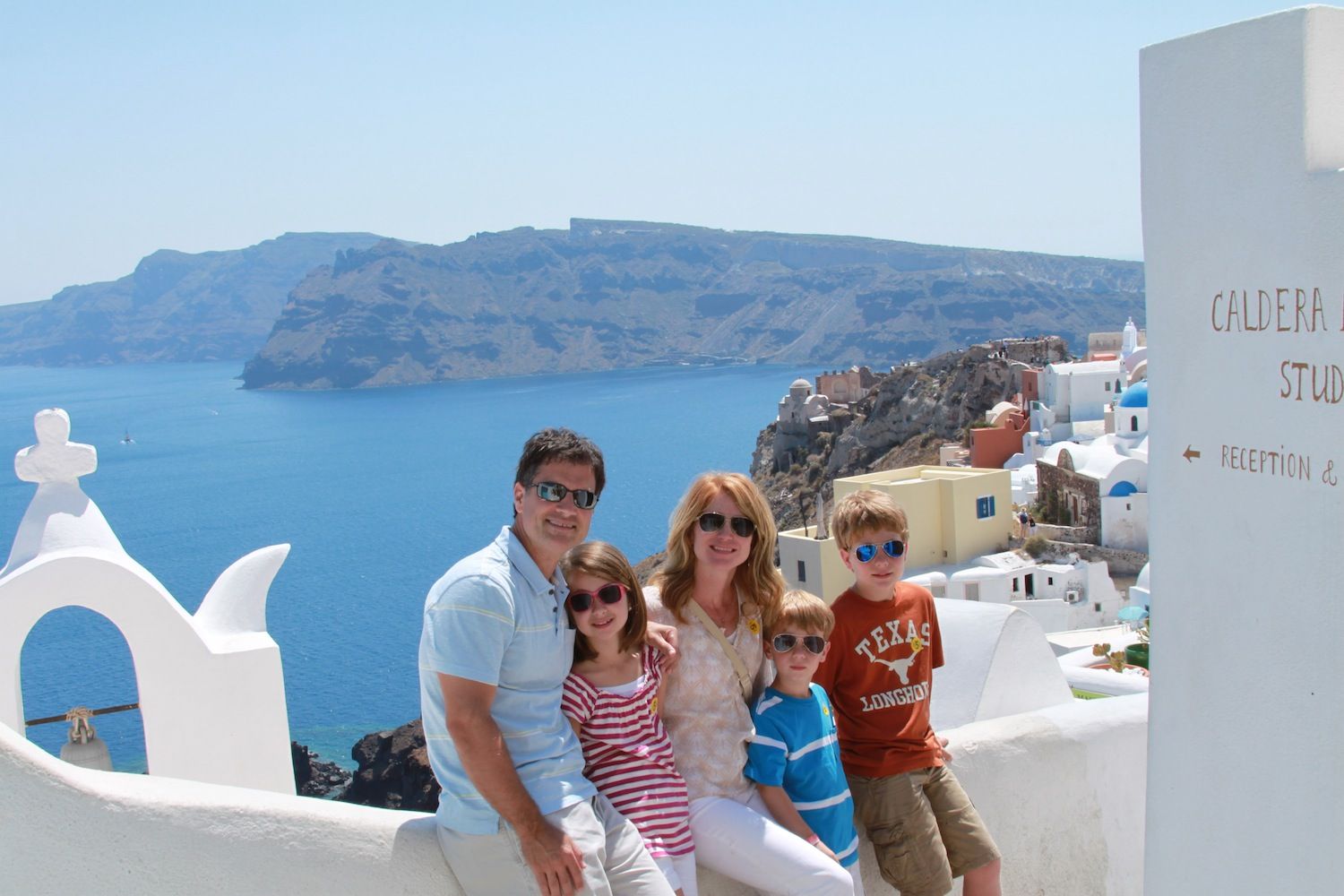 Travel Journal: Italy, the Greek Isles & Turkey
Seen through the eyes of Trae and Myra Russell
Who went: This was a family affair including our three children, Myra's two sisters and their families, as well as her mother.
Hotel recommendation: We stayed at the Hotel Eden in Rome. Great location near the Spanish Steps and Piazza di Spagna with lots to see within walking distance.
Where to eat: Where the locals eat—just ask around. But don't be in a hurry, because eating is an event in Europe—even more so than in Louisiana, if you can believe it.
Favorite dish: To name one favorite is impossible, so here are our top three: 1) delicious pasta made fresh daily in Rome, 2) Feta cheese and olive oil in Greece, and 3) Nutella & mascarpone cheese croissants with café speciale in Bari, Italy.
Item of clothing you shouldn't leave home without: Comfortable walking shoes. You'll do a lot of walking everywhere you go. Also, women should pack a sweater/cardigan because churches in Italy require females to cover their shoulders before entering.
Favorite historic landmark: Ephesus. It was awe-inspiring to stand in the same coliseum where St. Paul preached Christianity to the masses. Also, the Blessed Mother's last residence in Turkey and the Sistine Chapel in Rome were both very spiritual places that we'll never forget.
Local attraction worth seeing: The Trevi Fountain in Rome was amazing to behold. Grab some delicious gelato and enjoy the scene.
A great experience off the beaten path: Wine tasting at one of the wineries in Santorini, Greece. Hint: A great view of the Mediterranean Sea makes wine taste even better. (Runner up: Having lunch at a Turkish co-op and farm, and watching their students make rugs.)
Worth the splurge: A gondola ride in Venice, which may be total tourist trap but is worth it. Also, a private tour guide and a driver in Turkey are highly recommended.
Not worth the splurge: An expensive hotel. Spend your days out of your room, exploring as much as possible.
Something surprising we learned on the trip: Turkish coffee is horrible. Think hot Louisiana blacktop—liquefied. We also learned that even our young school-age children can travel well in Europe. All it takes is a lot of gelato!
Insiders' tips: The train is a convenient and inexpensive way to see Italy. You can buy and print your train tickets online ahead of time so you don't even have to wait in any lines at the station. It's also smart to buy all your tour tickets ahead of time—especially for the Vatican and the Coliseum—because the lines are endless in these two places. Also, be sure to have some "unscheduled time" each day to stroll through the quaint streets and shops.
We would suggest this trip to others because: The Mediterranean is amazingly beautiful. It's water is a color blue you've never seen before. And the food in Italy is even better than you've heard.