The Creatives: Lluvia Luz Peveto
---
LLUVIA LUZ PEVETO
Hometown: Beaumont, Texas
Age: 32
Artistry: Creative Marketing, Image Architect Media LLC
Website: imagearchitect.org
---
Friday night's all right for … meditating.
At Tam Bao Temple, marketing and business consultant Lluvia Luz Peveto has taken up the calming practice to help her confront some of the same probing questions she walks through with her clients, a collection of entrepreneurs who juggle multiple businesses and projects at often breakneck speeds.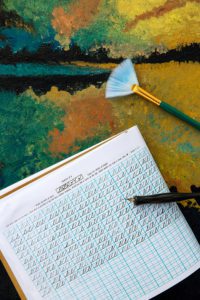 "I'm trying to find that balance between being accessible to anyone who is not like me, and being my full creative self," she says.
Using meditation, Peveto slows down to get to know herself—one of the keys to using creativity as an entrepreneur.
The other is knowing your colleagues or clients equally well, she says, and as a marketing specialist and business strategist, Peveto stresses the importance of strong relationships to the creative process of brand building, especially here in Baton Rouge where business and creativity are best done face to face.
Working as a consultant for FreshJunkie and Somos Banditos owner Pat Fellows, Peveto was a key player in the launch of the first annual LifeJunkie Fest in downtown Baton Rouge in August. On short notice, more than 200 attended the day-long event promoting fitness as a lifestyle along with local food and fun.
"Coming from Texas I've learned that in south Louisiana, business relationships move slower, and everything is about word of mouth," says the Beaumont native and Lamar University grad who cut her teeth in the Capital City working for the Baton Rouge Area Chamber. "Pat couldn't have pulled off the LifeJunkie festival in a few weeks had he not had so many prior relationships."
Peveto admits to having a strong personality, but with Fellows and others, her work is one of recalibrating businesses and time management, not reinventing any wheels or imposing her own aesthetic.
"We're leaning too much on the analytical over the creative, and when that happens compassion and human relational aspects are not put into perspective," Peveto says. "And really there is no way to reach your business potential unless those elements are more balanced."
For Peveto, that balance includes a lot of fun, too—simple things like texting about life. Her dialogue with clients is rarely compartmentalized to action items on a business plan.
"There's a trust there, and a real friendship," Peveto says. "And that feels right. It's me."