The Creatives: Artist Sarah Frederick's intuitive approach to creativity
---
Sarah Frederick
Hometown: Jennings
Ages: 40
Artistry: artist, Temple Goods; business development, Frost-Barber
Online: MyTempleGoods on Etsy.
---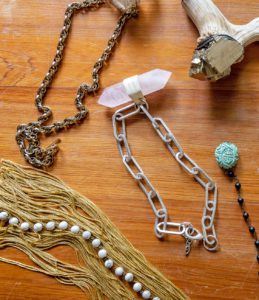 As daybreak rushes over Bayou Fountain, creativity arrives like a tide for artist Sarah Frederick. Her home studio, saddled on the edge of the narrow byway, is quiet this time of day. An array of artifacts from adventures gone by wait there in the stillness.
Frederick often starts her mornings in a simple way, moving pieces around the room, across the tabletop, into piles and lines and combinations to see how a stone or a piece of wood or fabric feels when placed next to another. Witnessing the unexpected ways colors and textures can play can be a revelation.
"The pieces let you know when they are happy," Frederick says of her unique jewelry and garden art pieces. "That sounds wacky, but it's a real feeling. Intuition comes into play."
The Jennings native who studied art history and interior design at LSU swiftly followed her intuition when, after a decade, she left her work at the hair and beauty salon founded and run by her husband Rigsby Frederick to pursue her art and freelance projects full time. That her partner had been so fundamental to the business and the creative drive of her career made the decision that much harder.
"A situation may look great on paper, but the truth is, only you can know if something is right for you, and Rigsby was very understanding," she says.
The reiki practitioner recommends thoroughly evaluating such desires for change, acknowledging them and beginning to ask questions. "Live with those questions for a little while, and that's when things happen in life to confirm what you're feeling," she says.
After leaving the salon, Frederick made a conscious effort to approach her creativity in a more professional way. She launched Temple Goods for her art pieces, handmade cards, jewelry and more, and sells on Etsy with a plan to expand into retail shops.
Frederick and her husband often forage around their property, where she finds curious rocks, feathers, even wasps' nests that she uses for art. She'll hunt through estate sales, buying old jewelry pieces to dissect them and combine the parts with stone and wood. The effect is something both timeless and new, natural and touched by a creative hand.
In February, Frederick took a business development position with Frost-Barber, a commercial furniture dealer. While learning the business has taken time, she's thriving being another step further into the interior design field.
Whether she is outfitting a chic corporate space or marrying a deer antler with a clutch of crystals for a wall-hanging mobile, Frederick says getting her hands on the things she responds to most is the first, essential step to take for creativity.
"If you're working with materials you love, the end result can't go wrong."