The Creatives: Clothing designer and instructor Andrea Eastin
---
ANDREA EASTIN
Hometown: Winterset, Iowa
Age: 37
Artistry: Clothing designer and instructor, Fair Fit
Website: fairfitstudio.com
---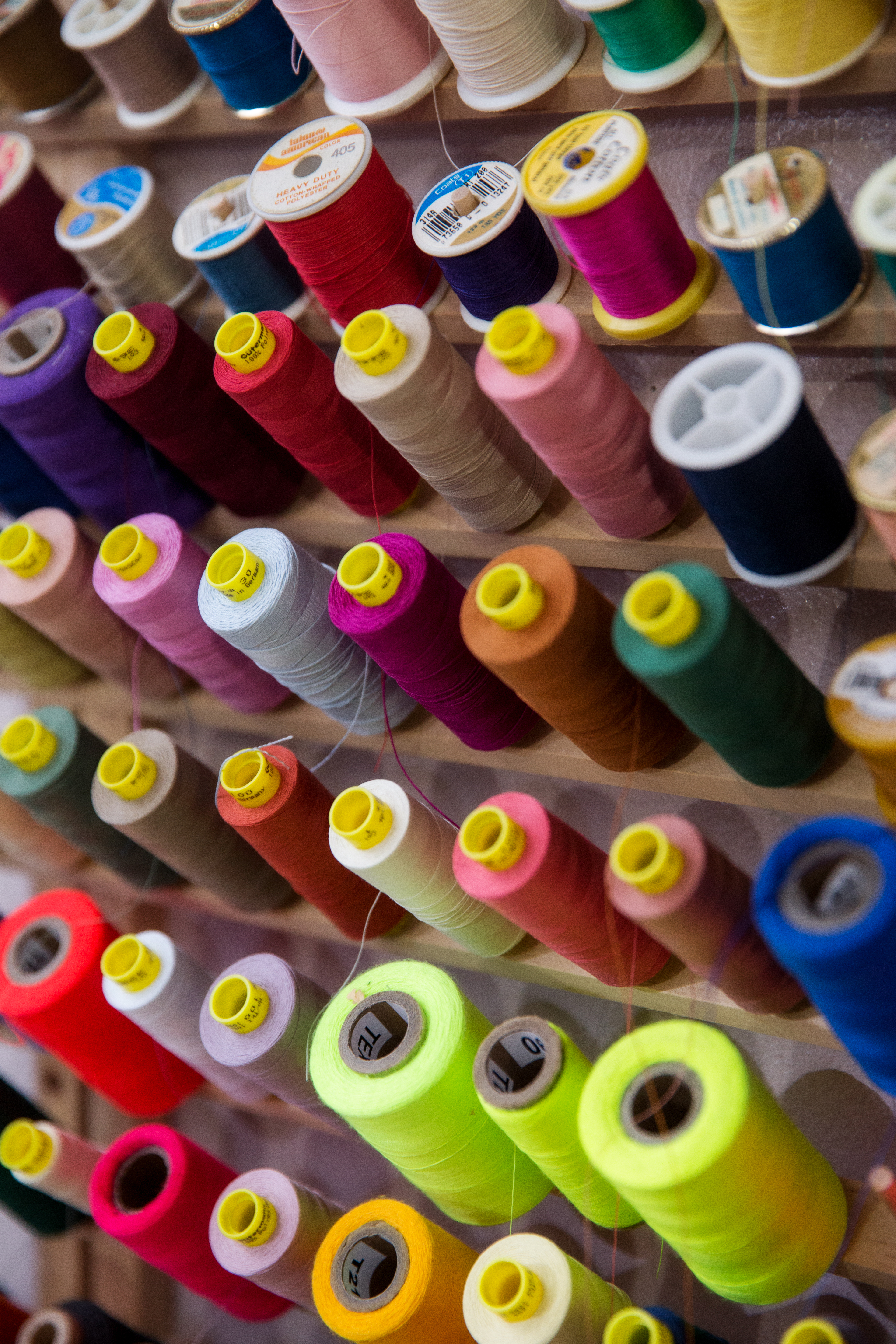 Having grown up on an Iowa farm where Clint Eastwood wooed Meryl Streep in the Bridges of Madison County, it's hard to fault Andrea Eastin for not thinking about a single winter coat since she's lived in Baton Rouge. This year she plans to change that. And this new coat, like the chic Manhattan-ready leather number she has on as we tour the prismatic textures and threads of her colorful workspace, will be made completely by her.
The fashion designer and her husband Paul, a hairstylist and bespoke men's clothing crafter, have both committed to only wearing clothing that they have made themselves.    
"There's a form of circuitry to sharing creativity that goes beyond 'I monetized that,'" Eastin says of her unique wardrobe. "Creativity is an exchange and functions on a lot of levels."
People ask where she bought her dress or skirt, and when she says she made it, a creative conversation sparks.
Through her company Fair Fit, Eastin inspires small group classes and teaches private lessons on all manner of sewing techniques, patterns and clothing design, sharing with beginners the passion she developed at an early age as a creative entrepreneur fueled by the mid-'90s proliferation of Internet access and a drive to create anything have on hand through obsessive study and library excavations.
"My earliest passion was making something and getting it to another person," Easton says. "I made toys, little sculpted figurines, and sold them at school. And there was no fashion in Iowa, so I had to make it."
Classically trained in visual art at the School of the Art Institute of Chicago, Eastin's work plays on exploration and flexibility and is never above a good pun. One collection is called "Avant Gardening."
"If an image comes in my head, I have to chase after it—I'm like a pitbull," Eastin says. "And I have to explore all the iterations. Seeing what other people do with your pattern, your puzzle, is really cool."
Eastin is in the process of expanding Fair Fit outside of the local market through a video series of modular online courses. As a longtime instructor, she preaches that creativity is stronger through practice, routine and discipline.
"You have to make time for creativity like you make time to exercise," she says. "And you can't wait for the hunger for it, you just have to do it and keep it up. Anyone can be creative if they can be disciplined. And you never know who you will inspire."