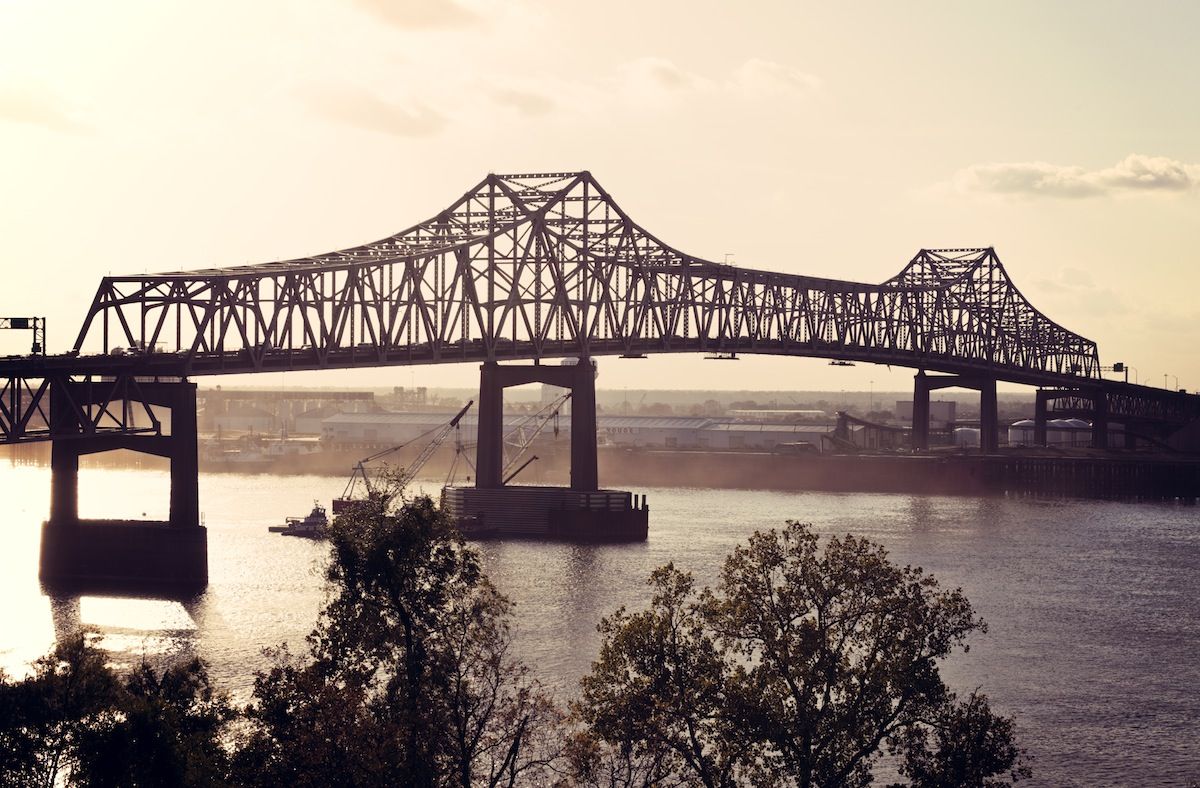 Covering the best of Baton Rouge
We've marked the milestones of this city with our signature style

1989
• Tom Ed McHugh becomes mayor.
• Blaze premiere is held in Baton Rouge as a benefit for the Foundation for Historical Louisiana.
• Men sport brown leather aviator jackets and aviator sunglasses.
1990
• Congress passes the Costal Wetlands Planning, Protection and Restoration Act.
• Future television personality Jeanne Burns is voted Miss Louisiana USA.
• Shaquille O'Neal plays his first basketball season at LSU.
1991
• Evening newspaper State Times ceases publication.
• Louisiana Legislature approves riverboat gambling.
• Edwin Edwards defeats David Duke in a landslide to win governor's election.
1992
• Pennington Biomedical Research Center opens its doors to the public for the first time at Discovery Gala.
• Sternberg family sells Maison Blanche stores to Mercantile.
• Swine Palace debuts with All the King's Men as its first production.
1993
• Maya Angelou performs at the LSU Union Theater.
• Former British Prime Minister Margaret Thatcher receives honorary doctorate from LSU.
• Catholic High School celebrates centennial; St. Joseph's Academy is 125 years old.
1994
• Garth Brooks releases "Callin' Baton Rouge."
• Three former U.S. presidents attend opening of LSU's Lod Cook Alumni Center.
• Baton Rouge General Health Center off Bluebonnet Boulevard opens with a gala.
1995
• Forum 35 spearheads a project to install lights on the Mississippi River bridge.
• Baton Rouge Community College is established.
• Mike Foster is elected 53rd governor of Louisiana.
1996
• Mary Landrieu becomes the first Louisiana woman elected to the U.S. Senate.
• Mary Bird Perkins Cancer Center opens six-story facility at Our Lady of the Lake.
• Bengal Belles organizes as an auxiliary for LSU football.
1997
• Baton Rouge Kingfish team completes its first season in the East Coast Hockey League.
• Holly Clegg publishes OneDish Favorites in the Trim and Terrific series.
• Mall of Louisiana opens its doors.
1998
• Redemptorist High School holds 50-year anniversary celebration.
• Bishop Stanley J. Ott Shelter is dedicated by the Society of St. Vincent de Paul.
• Tim McGraw and Lorrie Morgan perform at Woman's Hospital's 30thanniversary gala.
1999
• Mark Emmert is named LSU chancellor.
• Gala celebrates the reopening of the Old Governor's Mansion, which had closed for renovation.
• Irene Pennington ishonored at her 100th-birthday party.
2000
• Nick Saban becomes head coach of the LSU Fighting Tigers.
• Doc Severinsen performs with the Baton Rouge Symphony Orchestra.
• Children's Developmental Center is renamed to homor Dr. Frank McMains.
2001
• Manship family donates $2 million toward building a performing artsfacility downtown.
• Calandro's Supermarket celebrates 60 years in business.
• Baton Rouge's population exceeds 225,000.
2002
• Trisha Yearwood stars in the final Summerfest concert for the Baton Rouge Symphony Orchestra.
• Downtown's Main Street Market opens to the public.
• The Krewe of Artemis holds its first ball.
2003
• Kathleen Blanco defeats Bobby Jindal to become Louisiana's first female governor.
• A yearlong celebration marks the bicentennial of the Louisiana Purchase.
• Warrick Dunn sponsors three Habitat for Humanity houses for single mothers.
2004
• LSU Tigers win the Sugar Bowl and the school's first national football championship since 1958.
• Forum 35 holds the inaugural Art Melt event downtown.
• Baton Rouge River Center celebrates its expansion.
2005
• Hurricane Katrina, the most destructive natural disaster in U.S. history, hits Louisiana.
• Melvin "Kip" Holden takes office as mayor.
• The Shaw Center for the Arts opens.
2006
• Ribbon cutting celebrates new Mississippi River levee bike path from LSU to downtown.
• Hilton Capitol Center opens with gala event.
• Bill Cosby headlines a benefit for Baton Rouge Community College.
2007
• Junior League of Baton Rouge marks its 75th anniversary.
• Big Buddy's local benefit version of Dancing with the Stars debuts.
• Baton Rouge Uncorked holds its first event to benefit local nonprofit groups.
2008
• Gov. Bobby Jindal is first inaugurated.
• Raising Cane's CEO Todd Graves and his wife Gwen appear on TV's Secret Millionaire.
• The Cinderella Project launches to provide free prom dresses to students in need.
2009
• LSU Rural Life Museum breaks ground on a new visitors center.
• Spike Lee speaks at Southern University's Chancellor's Lecture Series.
• Pete Sampras plays James Blake in a local tennis exhibition match.
2010
• New Orleans Saints win the Super Bowl.
• The first Bayou Country SuperFest draws music fans to Tiger Stadium.
• The Deepwater Horizon explosion sets off the Gulf of Mexico's largest-ever oil spill.
2011
• Lee Michael Berg and Paula Pennington de la Bretonne preside over Laurel Street Palooza.
• The Audubon Bridge, the longest cable-stayed bridge in the Western Hemisphere, opens between St. Francisville and New Roads.
• Nottoway Plantation announces expansion with new cottages and ballroom.
2012
• L'Auberge Casino & Hotel Baton Rouge opens.
• North Boulevard Town Square and its redesigned Galvez Plaza are unveiled downtown.
• LASM celebrates 50 years at its Golden Anniversary Gala.
2013
• F. King Alexander becomes LSU system president and chancellor.
• The Manship family sells The Advocate newspaper to New Orleans businessman John Georges.
• Hope House opens as a refuge for victims of human trafficking.
2014
• The Miss USA pageant is held at the Baton Rouge River Center.
• The Baton Rouge Area Foundation celebrates its 50th anniversary.
• LSU's new stadium expansion brings the capacity to more than 102,000.