On Exhibit: 'Courting Style: Women's Tennis Fashion' at the West Baton Rouge Museum
Whether in country clubs or community parks, setting foot on a tennis court often calls to mind the all-white dress code designated by Wimbledon as key to the sport's stereotypical style. But as seen in the West Baton Rouge Museum's new exhibition, "Courting Style: Women's Tennis Fashion," society has long fostered a gendered scrutiny toward deviations from that norm, with women usually finding themselves at the center of the conversation. In the exhibition's showcase of photographs and illustrations from tennis' recent history, as well as outfits worn by the likes of Martina Navratilova, Billie Jean King, and Venus and Serena Williams, the museum explores how tennis fashion has changed not just through trends and championships, but through the players themselves.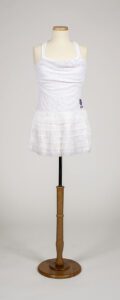 Exhibits curator Ferin Jones knew that the traveling exhibition—originally organized by the International Tennis Hall of Fame in Newport, Rhode Island—would find fans in Baton Rouge given the sport's popularity during summer months, especially in the era of social distancing.
The athletes represented in the Port Allen exhibition halls, however, aren't so distant—at least in terms of the decades in when they made their mark. "Visitors will get to travel through time with outfits from the 20th century to the present," says Jones.
Specifically, many of the objects come from the International Tennis Hall of Fame's Ted Tinling Collection and Archive, named for the late British designer responsible for game-changing looks like King's 1973 "Battle of the Sexes" dress and Gussie Moran's 1949 lace undershorts. Modern-day designers—or players like Venus Williams, who oversees her own EleVen line of tennis apparel on display at the West Baton Rouge Museum—shine just as bright.
"I'm especially excited about the dress designed by the late Virgil Abloh—who was Louis Vuitton's artistic director—and worn by Serena Williams," says Jones. "I'm also excited for designer tennis outfits by brands like Tory Burch and Diane von Furstenberg."
If these threads of history have anything to say about it, we'd say the women of tennis will be serving up looks for plenty of years to come.