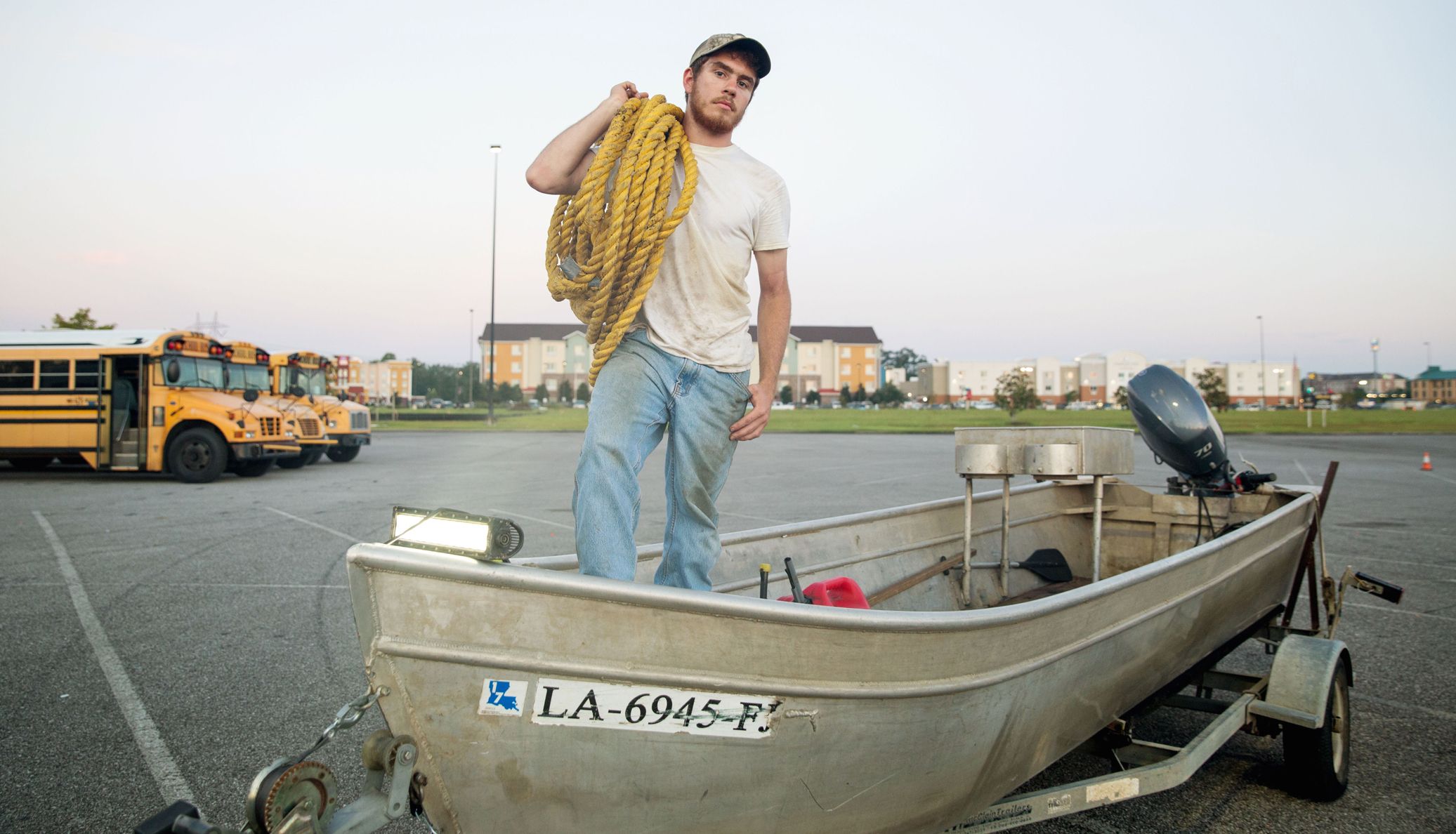 Citizen sailors: With selflessness and sympathy, the Cajun Navy saved thousands
Shoes of all shapes, sizes and colors bobbed just above the living room floor as Chris Macaluso and Trey Williams lifted a wheelchair-bound elderly woman into their boat, using the chair's ramp as a boat dock. She was dressed in only her nightgown and a big, bright smile.
"It was her first boat ride," Macaluso says, recounting how he and Williams brought the woman and her great-granddaughter out of their rapidly flooding home to safety.
Since 10 a.m. on Saturday, August 15, Macaluso had been coordinating with Baton Rouge police to find out where his 30-man convoy of hunting and fishing buddies from Thibodaux, St. Bernard, Houma and Chalmette, with their nearly 20 boats, could have the greatest impact. They made it to North Sherwood Forest Drive and Greenwell Springs Road by mid-afternoon and fanned out as police directed them where rescues were needed most.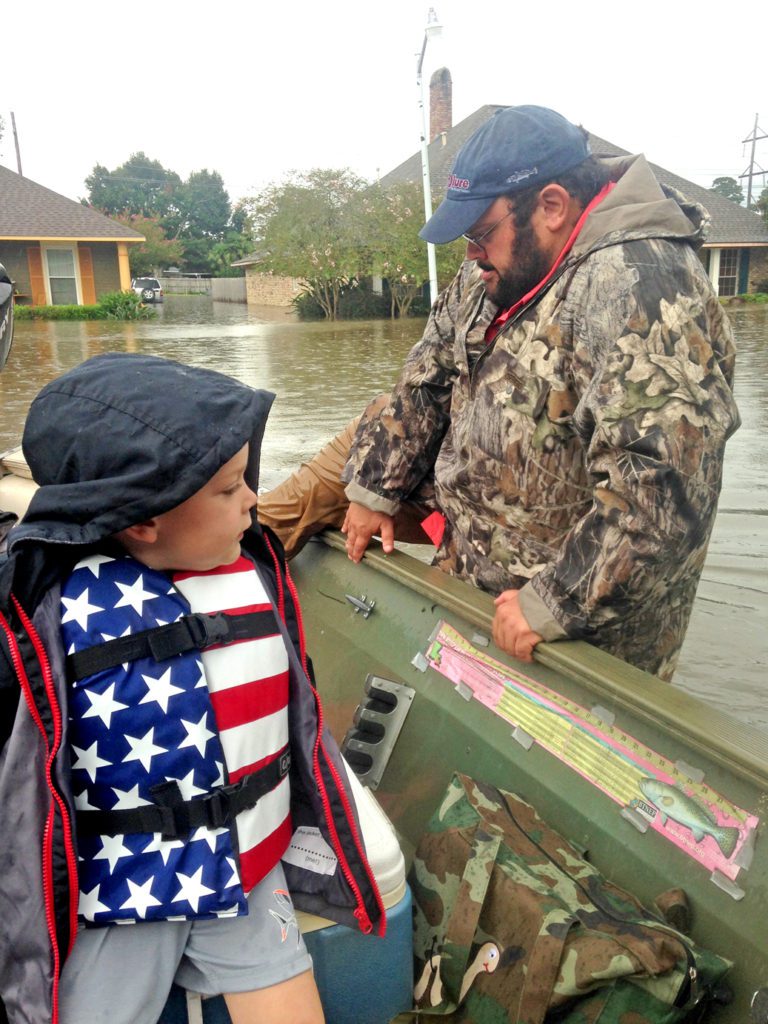 "We just launched the boats into the street, the closest place they'd float, and we started heading out, picking people up," Macaluso recalls. "The guys from St. Bernard that lived through Katrina said they came because they knew what it was like."
Macaluso doesn't know how many he rescued, but he remembers their faces: young children, single mothers, elderly people; some in wheelchairs and some with significant medical needs.
He took them by the boatload. There was no time to lose, as the water seemed to be rising close to one foot per hour.
"It was pouring in off Greenwell Springs Road so fast that it looked like whitewater rivers in the Smoky Mountains or something," he says. "It was moving that fast. I don't think anyone's ever seen anything like that … not here."
Macaluso had every intention of doing it all again on Sunday but instead awoke to find water licking at his own steps in Woodland Ridge.
"The water was three feet deep in my street, over by Episcopal High School, so I had to launch the boat on my driveway and get people out of here," Macaluso says. The water stopped six inches from his front door.
He got his family out and spent the day boating through his neighborhood, street by street maneuvering around mailboxes, through narrow trees and over fire hydrants in his 16-foot, 25-horsepower aluminum boat. And he wasn't alone.
As rivers crested and historic flooding consumed unsuspecting neighborhoods, citizen sailors from across south Louisiana arrived in pickup trucks by back roads and highways, all towing boats to launch into submerged parishes wherever high water met the road.
"Once I got my family out, I went back by myself several times, but the great thing was there would always be someone standing in about knee-deep water waving and saying, 'Let me get in and come help you," Macaluso says. "And you know, I needed the help."
The same can be said of so many other volunteers who came to Baton Rouge's aid as local authorities quickly became overwhelmed by the calls for rescue.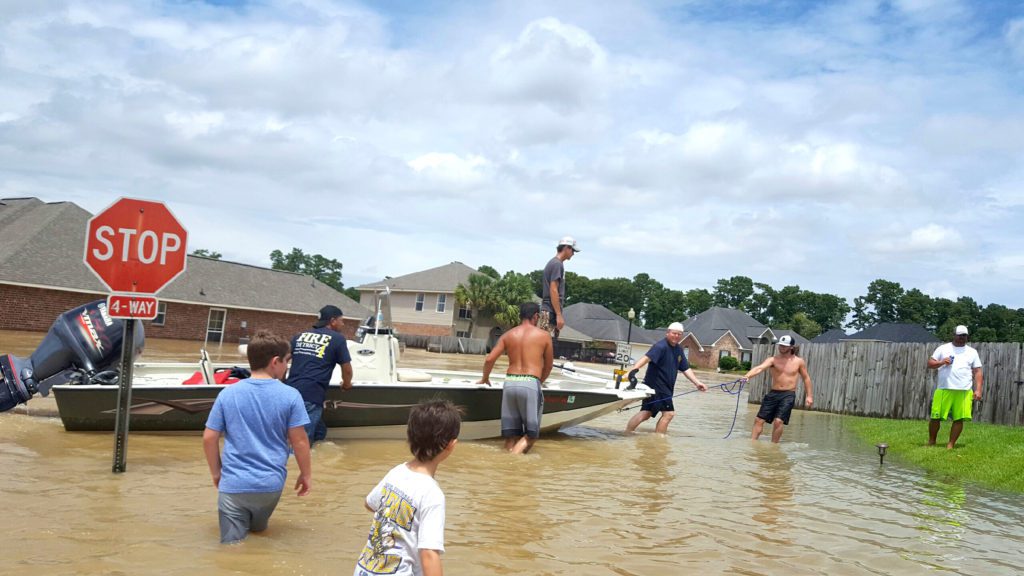 This will be the legacy of the historic Louisiana flood of 2016. It is the story of the "Cajun Navy," the story of neighbors helping neighbors and strangers helping strangers through incredible acts of courage and selflessness.
There's no telling how many Louisianans have donned the moniker in the days and disasters following Hurricane Katrina, but it was ultimately the heroic acts of this makeshift fleet that finally captured the attention of the national media and drew them in after they seemed so unwilling to acknowledge the region's unprecedented plight.
"We are all the Cajun Navy," says Baton Rouge businessman Chris King. He set out on a daring eight-hour journey from Port Vincent to Denham Springs, with the help of clients from Morgan City who brought two boats, to rescue his employees from their flooding homes.
"I was proudly touting—partially joking because I don't even have a boat—that I was part of the Cajun Navy now," King says.
Boat or no boat, hundreds of volunteers managed to give of themselves to the grassroots efforts of the Cajun Navy that only became more organized as the waters rose to historic highs.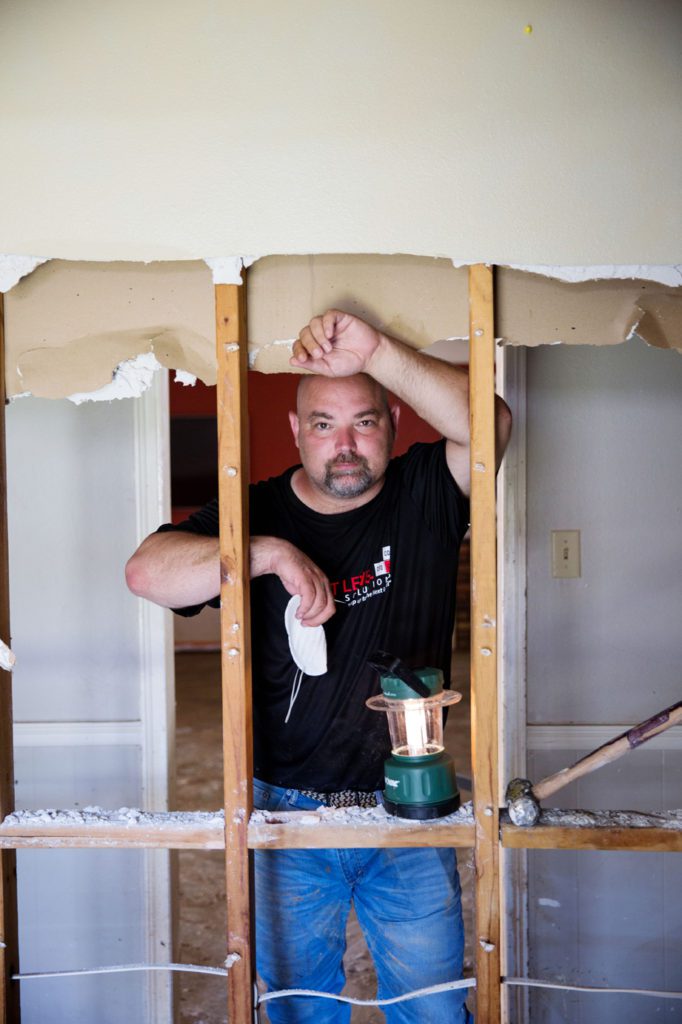 New Orleans resident Shawn Boudreaux played a pivotal role in organizing boater efforts when he joined a Facebook group by the name of The Cajun Navy, on Sunday. Boudreaux introduced a walkie-talkie app called Zello and a GPS tracking app called Glympse to the Cajun Navy group, which at the time of publication had more than 20,000 members and counting.
"I was totally surprised," he says. "I didn't expect a bunch of Cajuns to be that tech savvy, but they were. It is the younger generation."
With Zello acting as a CB radio and with volunteer dispatchers vetting requests and then coordinating rescues through Glympse, the Cajun Navy managed to assemble an astounding fleet of more than 100 boats staging at Cabela's throughout Monday and Tuesday.
With the help of local law enforcement, the Cajun Navy efficiently carried out thousands of rescues in Ascension Parish and even sent an eventual glut of boaters to other areas in need.
"It was great to see how gracious and excited people were for the help, but it was also so sad to see their heartbreak at the devastation," Boudreaux says.
While he facilitated rescues on the ground from Cabela's, pairing Ascension Parish sheriffs with boaters, Baton Rouge business owner Rob Gaudet used his technical skills as software consultant to organize and monitor communications on the rapidly growing Cajun Navy Facebook page.
But Gaudet insists the Cajun Navy is much bigger than just a Facebook page. "We are boaters," he says. "We are people out doing rescue and dispatch. The Facebook page is interesting because it created opportunities for people to ask us for help."
As conditions on the ground changed with each passing day and water receded from some areas while flowing into new ones, organizers and leaders who had emerged within the group, like Gaudet and Boudreaux, began holding nightly conference calls to regroup and plan for the next day.
"There has been an amazing amount of coordination among people who, for the most part, have never met," Gaudet says. "People are dispatching from their living rooms and their kitchen tables. It is really amazing."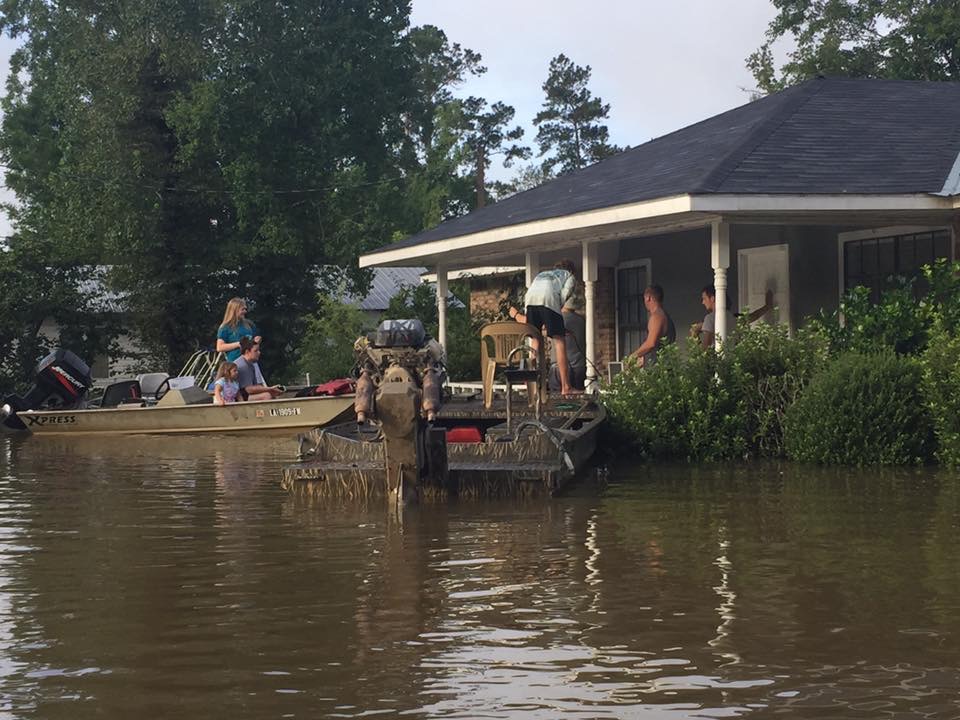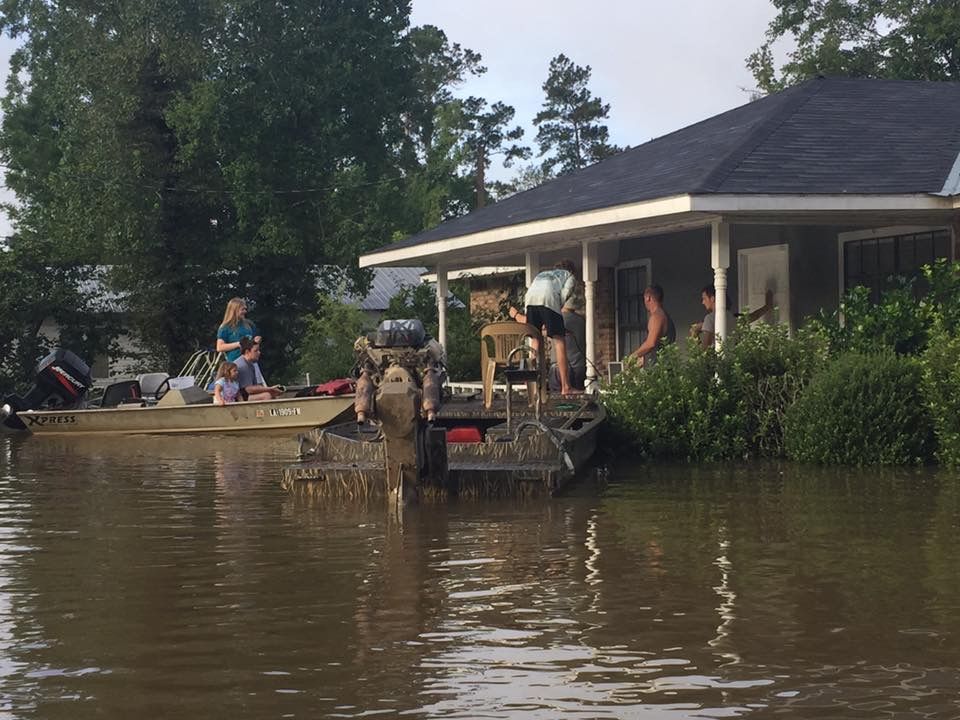 Non-stop chatter has filled the airwaves of the Cajun Navy Zello channel since the first evacuation operations began. However, the discussions have shifted from communications between dispatches and boaters on treacherous midnight search and rescues to the coordination of volunteers collecting, picking up and dropping off supplies to shelters and displaced individuals. And of course there is still the occasional pause for a prayer said over the Zello channel for the safety of their mission and those impacted by the storm.
Chris King's one-time experience in the Cajun Navy inspired him to start a group called the Cajun Army while the rain was still falling. His goal: to begin organizing the massive recovery effort ahead. Just five days after staring his group, King had over 2,000 members and built a website complete with a sign-up form for people to request help or volunteer to gut houses.
"Cajun Army belongs to all the people in all the homes doing work right now… It is an abstract concept," King says. "I think Cajun Navy would say the same thing, because I'm one of them, too."
One week after the skies opened up on Baton Rouge, King, Boudreaux, Gaudet and a handful of other Cajun Navy and Cajun Army group organizers held a meeting to discuss how they could respond to changing needs and integrate efforts moving forward.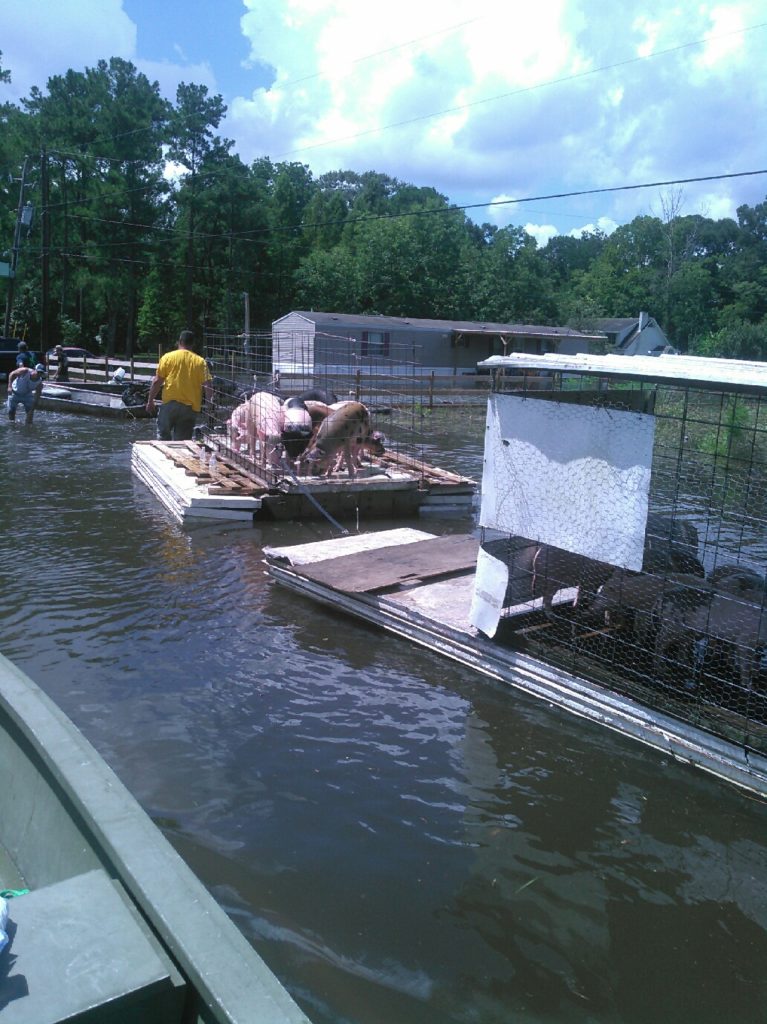 Although they all started as strangers, they've now solidified their cooperation as a team, leveraging each other's strengths and networks, with the Cajun Navy using its logistics capabilities to organize the pickup and delivery of supplies across flood-ravaged areas and the Cajun Army using its website to pair flood victims in need with volunteers ready to gut houses and also find hosts homes for those volunteering.
"There is no way to overstate this: Those guys who came from Thibodaux, LaPlace, Hahnville and St. Bernard Parish, those guys are all heroes," Macaluso says. "I watched those guys put their lives in danger."
Thirteen people lost their lives in what experts are calling a thousand-year flood, but that toll would have been inarguably higher had it not been for the brave and timely efforts of those from down the bayou. After a deluge of such historic proportions, there is no telling when the waters will rise again, but rest assured that when they do, the Cajun Navy will be there.
Still, don't bother trying to find a captain or that first citizen sailor calling himself the Cajun Navy. There is no captain. They fly no flag. They just show their true colors. Some would call it civic duty, others pride of place, but more than anything, it's the true definition of Southern hospitality in south Louisiana.
Click below for a closer look at more Cajun Navy rescue efforts: