Butterfly gardens are popping up in Baton Rouge thanks to a longtime resident
Colorful corner butterfly gardens have recently exploded along Camellia Avenue, one of the Garden District's main north-south thoroughfares. Blossoming plants reach skyward from each bed, luring pollinators with bright foliage. Delightfully random, the beds hold native growers like purple coneflower, blanket flower, guara and milkweed, the sole diet of monarch caterpillars.
"It's like creating an entertainment center," says Ginger Ford, the lifetime Garden District resident behind the gardens. She began planting the beds in February as a personal gift to the neighborhood.
Ford says the idea emerged during the COVID-19 shutdown.
"I was thinking, 'What could I do to sort of give back to the neighborhood,'" says the avid gardener and former mental health nurse. "I think kids are No. 1 in the world, and I wanted to create a situation where they could see interesting things when they walk or ride their bikes."
Ford has planted 29 beds throughout the neighborhood thus far—and she's still going, installing new corner beds on other blocks at the request of neighbors. Fellow residents have donated statuary, bird baths and other yard art to add character to the installations. Even the area's signature St. Patrick's Day parade, which brings in throngs of spectators, didn't interrupt the beds' spring growth.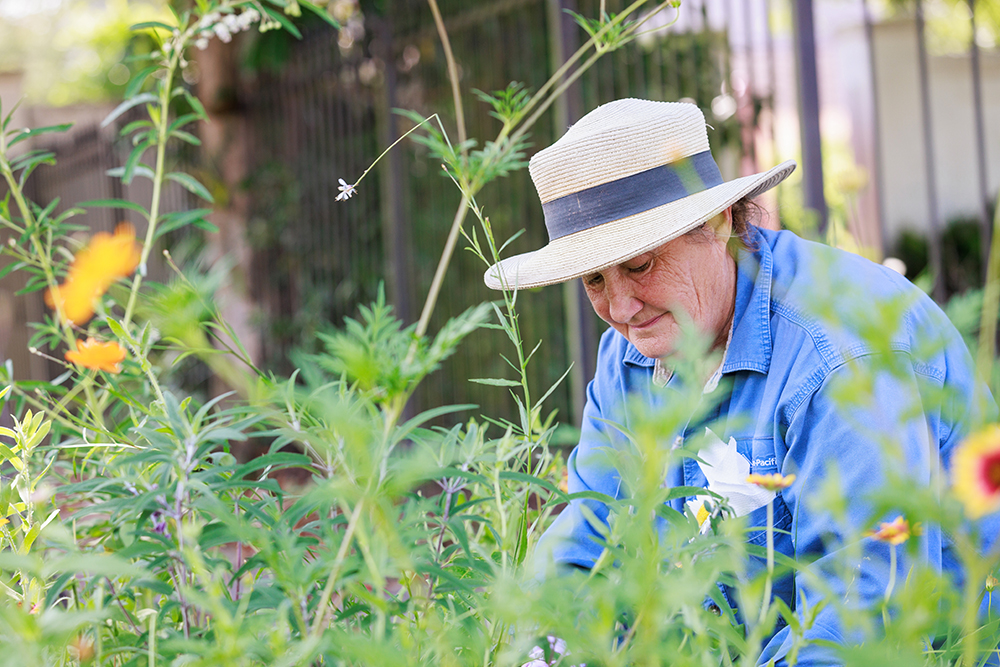 Ford says she wants to ensure each intersection has both a bird bath to supply water to birds and insects, and milkweed to attract monarchs. It's part of a larger plan to show kids the joy of observing a bird splashing or watching a striped plump caterpillar morph into a mint green chrysalis.
Many in the neighborhood know Ford from her cut flower giveaways, a tradition she's continued since the start of the pandemic. She arranges flowers from her own voluminous garden in 8-ounce plastic containers and places them on a table for neighbors to take freely. It's still a near daily occurrence, with Ford issuing reminders via Nextdoor.
"I'm going to grow flowers regardless," she says. "So if I can make somebody else feel good, why not?"
---
This article was originally published in the July 2023 issue of 225 magazine.