A beginner's guide to spring cleaning your closet
---
This article originally appeared in a March 2017 edition of the [email protected] newsletter.
---
Spring is finally in the air, but winter may be left over in our homes—extra blankets, bulky coats and jeans, all taking up room in overflowing closets, turning the simple act of outfit selection into a daily disaster. InRegister has showcased an array of game-changing closets over the years, with track lighting and clean countertops and enough room to eat Thanksgiving dinner inside, but even an average closet can take a hint from these perfectly organized spaces. All it takes is a little creativity, a few extra storage items, and maybe the timer on your phone.
"I always like to set a timer to help stay focused on a task," says Martha-Carol Stewart, owner of Chaos Organizing in Baton Rouge. "Just set it to 30 minutes while you work, then take a short break, and do it again. It's too easy to get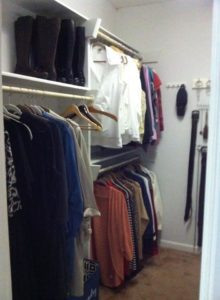 distracted by everything in your closet while you're trying to clean it out."
If that seems like the easy part, don't worry. Stewart has a system in place for even the most cluttered closets, and it starts with just two things.
"My process starts with two different colored garbage bags," she says. "One is for clothes to donate, and one is for trash. You don't want to donate damaged or stained clothing, for example, so those items can be tossed. If an item is only gently used, then donate it. After you do that, it's a matter of looking at what you have left and grouping like items together. Put pants together, long-sleeve blouses together, short sleeves together—any grouping that will help you easily identify an item's location later on—then hang them back up and organize them in a way that makes sense. Personally, I like to sort by color."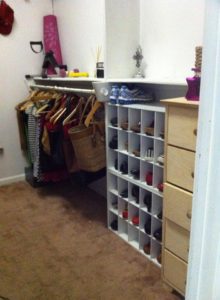 Another tip: try having as many clothing items as possible facing the closest door when you walk in, for easy access. Using the same type of hanger for each item also provides a clean-looking, instant face lift to the space. Just don't, under any circumstances, make excuses for any items of clothing you haven't worn in the past year or so.
"Ask yourself two things: do you love it, and do you use it?" says Stewart. "Not should I love it. Not should I keep it 'just in case.' If you are keeping some piece of clothing just because someone gave it to you as a gift or something, just let it go. Try to answer questions like 'Why do I have this?' and 'Would I buy this again?' So many people hang on to things because of sentimental value or a sense of obligation, and they just end up taking away valuable storage space."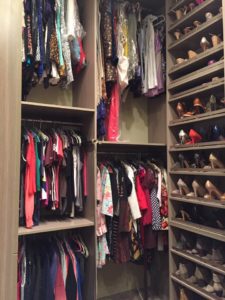 But what about the clothing and extra items that you still like to wear, like a fluffy coat or heavy sweaters, that don't suit the warmer season?
"I'm a big fan of vacuum-seal storage bags," says Stewart. "You can put heavy items inside and suck the air out so they lay flat, then you can store them in small places out of sight, like at the top of the closest or under the bed. They're reusable, too, so you can switch out the clothes inside as the seasons change."
Not everything in storage needs to be hidden away or laid flat on the ground, though.
"You can use unrelated items to help store whatever you like," she says. "I have this item people normally use to store cutting boards or baking sheets, but I like to use them for keeping my clutches and purses upright. Like a file organizer. For purses too big for that, I just stuff tissue paper in the middle so they stand up. I'll put rolled-up magazines in tall boots so they don't slump, and I like keeping other shoes in something like a clear shoe bin, but only if you have the shelf space. Otherwise you can put a shelf or a stand on the ground, against the closet wall. I like to organize them by heel height, and in pairs by putting one shoe out toe-first, and the other out heel-first, so you can see both sides at once."
For more closet inspiration, click on the photos in the gallery below for a closer look at some stellar closets previously featured in inRegister:
---