Pet palettes: Artists paint portraits of four-legged friends
Those who've owned a pet for a long time tend to see things in them that not everyone recognizes—a cowlick behind one ear, a face full of wonder, a softness in their eyes. These attributes are the kinds of things artist Stephanie Torregrossa looks for when she's painting someone's pet.
"Normally I work from photos," she says. "I'll tell people to send me a handful of their favorite photographs—more than one, because sometimes, the dog is at a cute angle in the photograph, but it may not be the best perspective of the dog. It may not capture that one cowlick over their ear, or the lighting may be off."
Educated as a graphic designer at LSU, Torregrossa got the courage to begin painting full time while working for an advertising agency. Her first painting of a dog was of her own German shepherd and, after posting the painting of Facebook, the furry part of her diverse business took off.
"It's the most popular product I have," she says.
Artist Laura Welch Taylor began painting pets during her sophomore year as a painting and drawing major at LSU. And like Torregrossa, she started with her own canine. "As my beloved childhood dog Blue aged, I knew I'd want a memento to remember him by when he was gone," Taylor says. "As friends and family saw the painting, the concept spread like fire. Since then, I've had the joy of painting countless pet portraits."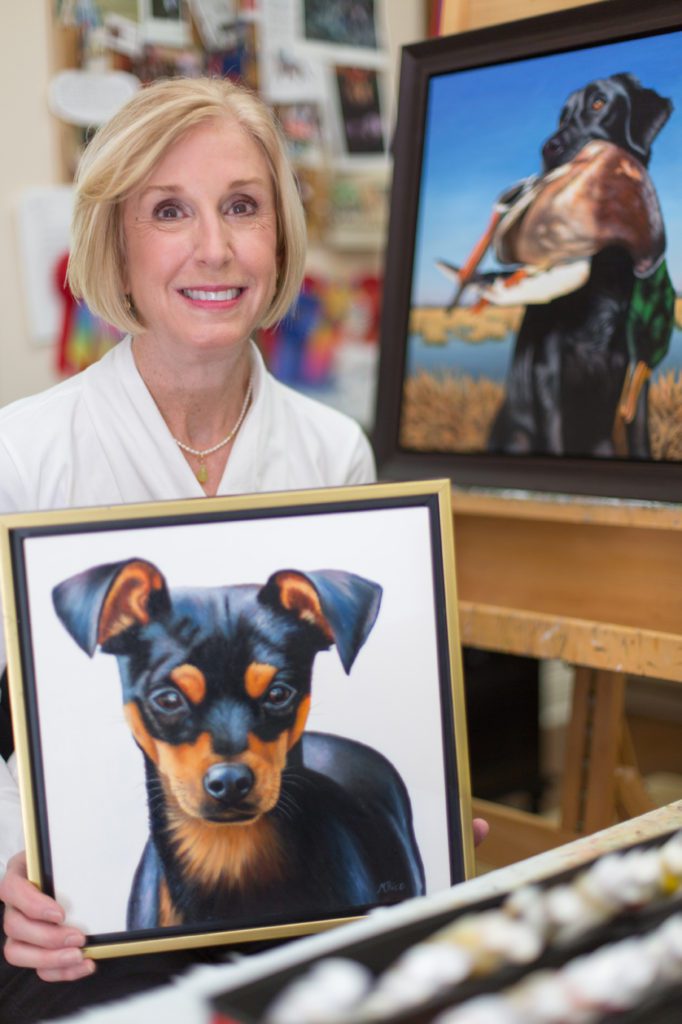 Artist and Houston native Margaret Rice put down the brush for a few years after getting her BFA from LSU. But she picked it up once again for a refresher course taught by Baton Rouge artist Libby Johnson. Rice began copying a few paintings to get back into the swing of it, and as a natural animal lover, she transitioned to painting animals. Pet portraits have been her sole business for the past 15 years.
Personality—perhaps defined as the collection of things pet owners see that others may not— is paramount for a great pet portrait, but it can be tricky to pin down in source photographs. Taylor, like Torregrossa, prefers a variety of images to work with. "One photo typically is enough," says Taylor. "But with a handful of pictures I can begin to see a pet's personality."
Sometimes, they get lucky with the photographs, as Torregrossa found with a series she's currently creating. "I'm working on a set of four smaller paintings for someone I know, and all the pictures she sent me had the dogs with their tongues out. They have a huge smile, and it's like a headshot," Torregrossa says. "They're very funny."
Rice, on the other hand, is particular about this part of the process, and takes matters into her own hands. "I go and take the photographs myself, and then I, along with the owner, pick out the one we like. Then I do the painting."
Her preference for using her own photos is why she's chosen not to establish an online presence. "I don't have a website, strictly because I don't want to do paintings for people in say, New York," Rice says. "How would I get up there and take the photographs?"
Even so, Rice has still been tracked down and propositioned by out-of-towners, which she credits to her participation in LSU Vet School's art shows over the years. "I've done a few out-of-town ones, but it's very difficult, because I have to work with the photographs they have," says Rice.  "And they're not always what I would do."
Rice's paintings take several months to complete—"I'm slow," she admits with a laugh—but her final results are well worth the wait.
Pet owners, of course, love the portraits right after they receive them while the pets are still around to enjoy. But owners may truly appreciate them even more years later.
"One beautiful aspect of working from photographs is the ability to memorialize our four-legged friends who have already passed on," Taylor says.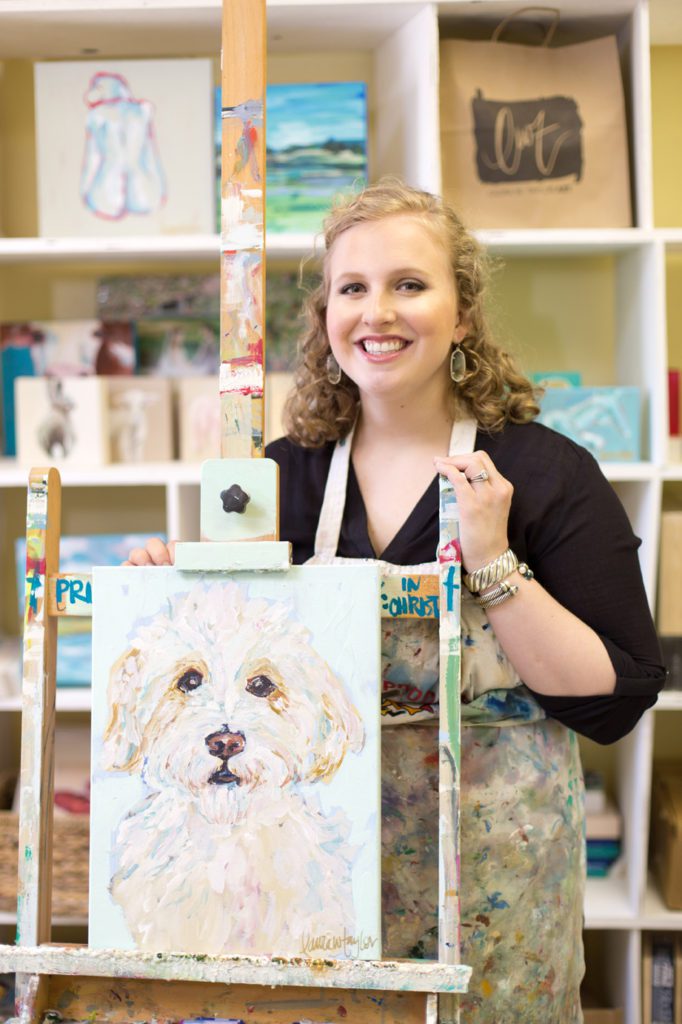 "Most people will commission a painting of their living pet," Torregrossa says. "And you may love it, it may be spot-on, but the value increases exponentially when the pet passes away. I have done a lot of older pets—pets with graying faces and droopy ears—and I'm able to capture the personality of the dog, however old it is or however young."
Working to capture the bond between human and pet can be difficult, but according to the artists who do it, the task becomes its own reward in different ways.
"When the people come to see their paintings, and they're pleased—or they say, 'Oh, it looks just like him or her,' I think that's the most exciting part," Rice says.
"It brings me great joy to watch a client see their pet's personality come through in a painting," Taylor says. "The driving force behind all of my artwork is a desire to bring happiness and beauty to people's lives, and nothing makes people happier than their pets."
For Torregrossa, who admits that pet portraiture isn't her most profitable product, the reward lies in the depth of the bond she's trying to capture. "I think the reason that I love doing it so much is for the same reason that we take care of these animals that can never really repay us," Torregrossa says. "They're like family members. And as humans, we're attached to these creatures that complete our lives in an inexplicable way."