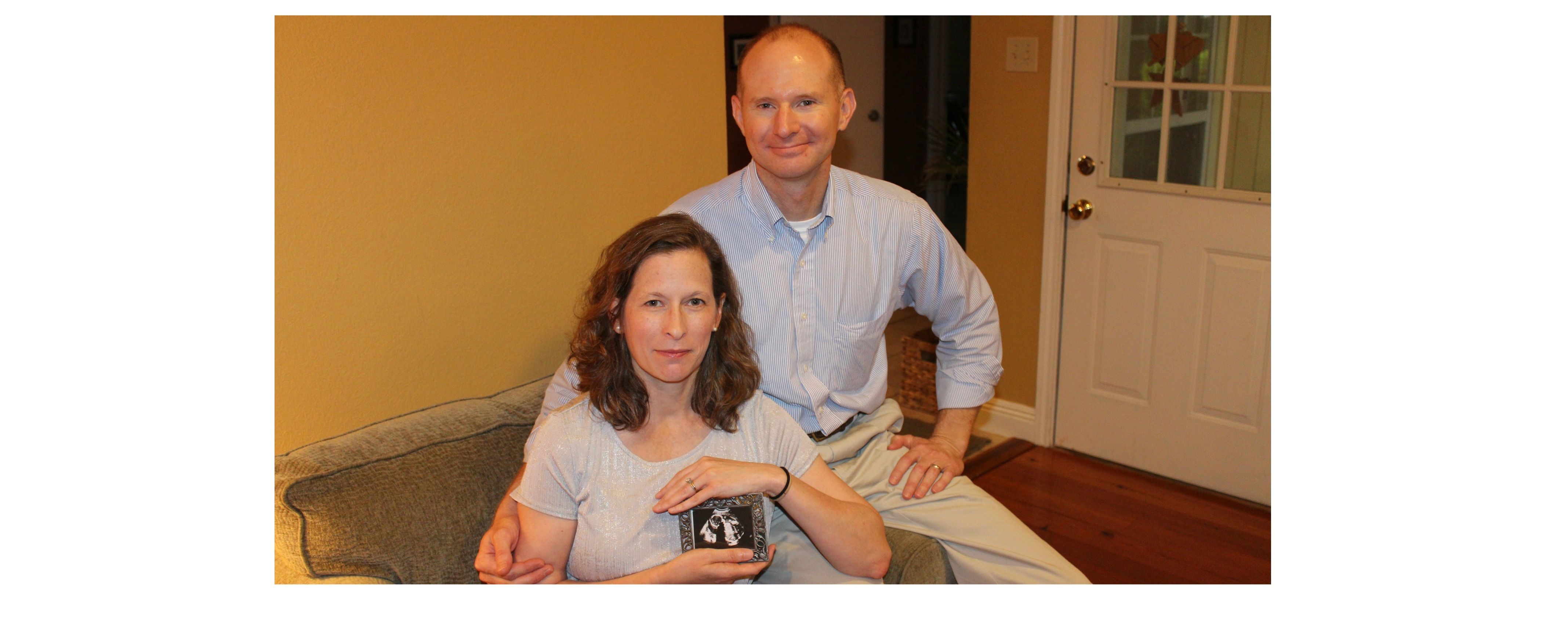 Giving back: Anna's Grace
Monica Alley and her husband Todd in their living room. Monica holds a framed ultrasound picture of their daughter Anna. Photo by Lindsey Saucier.
There was no heartbeat when Monica Alley went in for her 20-week ultrasound. The next day, she delivered Anna.
"There was a concert in town," Monica says, remembering the days after she delivered her stillborn baby. "Billy Joel or Elton John or someone. I got stuck in traffic, which usually would irritate me. But it didn't that day. That's when I realized I had to do something. A light bulb had gone off."
For the next two and a half hours as she sat in the concert traffic, Monica racked her brain. Anna's life would not be in vain, she decided. It would mean something more. She was going to do something to honor her daughter—and to help others.
Monica and her husband Todd say they always wanted a big family. And that's what they have. You'd never know the void the house holds unless you know where to look. There are five kids running around when Todd is home for lunch on a weekday. It's summer break and most of the kids are wearing white T-shirts, the words Anna's Grace written on the back below a rainbow. On the mantel in the living room rests a framed ultrasound picture of Anna.
She was buried in January of 2013. By August Monica was pregnant again, and by early 2014 she had a newborn baby boy and an official 501(c)(3) nonprofit organization called Anna's Grace. The nonprofit, which aims to raise awareness of infant loss and provide support to grieving mothers, is currently still in the fundraising stage.
"If I see something that needs to be done, I do it," Monica says. "One in every four pregnancies ends in a loss, and in Louisiana alone there are approximately 11 infant deaths and 80 stillbirths every week, with the number of miscarriages being even greater."
In addition to fundraising, Anna's Grace is working to create care packets regarding end-of-life planning for area hospitals. Other goals of the organization include helping parents financially with the cost of burial or cremation services and providing grave markers for all who suffer a loss, regardless of their financial status.
"These costs are unexpected and not covered by insurance," Monica says. "When it happens, you feel alone. You know you're not the first person to go through it but you still feel alone. It's a very silent loss."
Todd said he was surprised to find out just how many others have suffered a similar situation and experienced loss, too.
"It's not a comfortable subject to talk about," he says. Which, in part, is a reason they created Anna's Grace.
"We want to make it a little bit easier for whoever is going through this," Monica says. "We're here to help."
The nonprofit is currently working with Woman's Hospital and Baton Rouge General. In the future, plans include expanding to a nine-parish region. "From all this we've found our rainbow at the end of the storm," Monica says.
---
 How you can help:
Anna's Grace is currently seeking funding and volunteers. Find out more.