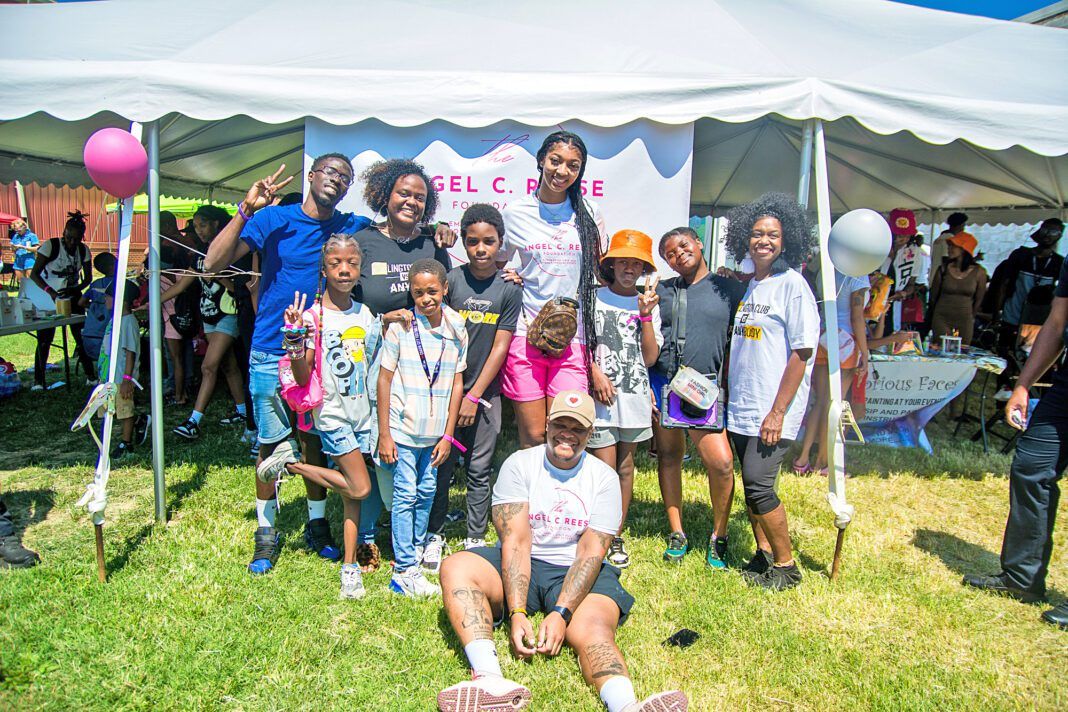 Angel Reese is giving back to her hometown and Baton Rouge with a new foundation
For young girls and boys who dream of a future in athletics, inspiration is not hard to come by here in Baton Rouge. With one of the top-performing collegiate athletic departments in the nation just right down Highland Road, they don't have to travel far to see some of the best athletes compete.
For girls particularly, the last few years in LSU Athletics have proved more encouraging than ever. The top three women with the highest NIL valuations in college athletics are all Fighting Tigers—although that's probably not what young girls look up to them for. More likely, young girls are focusing on how much these role models love the sport they're pursuing.
Angel Reese understands that feeling. Because of her experience, she is now working to give the next generation of female athletes the power to chase their dreams—on and off the court—through her new foundation. 
From her hometown in the Northeast all the way back down to the bayou, Reese is setting the standard for athletes everywhere to understand their influential power and put their newly acquired funds back into the community so others can have the same chances of success. 
"We are dedicated to empowering young women and the next generation through sports, education and financial literacy," she says. "I want girls everywhere to know they're in charge of their own athletic journey and that they can do anything."
While Reese is hands-on with the foundation, she is also still a full-time college student and, of course, busily preparing for another highly anticipated basketball season. Her mother, also named Angel Reese, is the official president of the foundation, overseeing the day-to-day operations, communicating with the team, coordinating requests from sponsors or donors and handling anything and everything else.
The Angel C. Reese Foundation launched on August 19, 2023, in her home state of Maryland, with a kick-off event at her alma mater, Saint Frances Academy in Baltimore. When she attended the academy, her tuition was paid for by the school's Joan & Bert Hash Fund for girls' basketball. Without it, she might not be where she is today. So, to top off her first event, she donated $12,000 to this fund—ensuring another girl will get the same opportunity she had.
"Angel has always wanted to give back, and we thought what better way to do that than by starting a foundation, so we could directly control the charitable giving and facilitate how we would help others," her mother says. "Our two main objectives are to ensure equity and equal opportunity for girls in sports. We feel that those are intertwined, and we chose these because of Angel's position."
Angel and her mother aim to inspire other people to give, as well. 
"We hope that they see what Angel has done and follow suit, if they're in her same financial position, as well," her mother says. "Creating and fostering role models is another large part of what we're doing because Angel is setting an example of how to do it, like funding other programs."
Angel's mother has attended both of the foundation's events. At the second event, which was in Baton Rouge at McKinley Elementary School, the foundation teamed up with Mayor-President Sharon Weston-Broome and East Baton Rouge Parish Schools to host a Back-To-School Block Party for students. They distributed backpacks of school supplies, and attendees were able to meet the "Bayou Barbie" herself. During the event, Reese said she was just glad to put her fame to good use.
"I hope to always bring a positive impact to the community," she says. "I want to be an inspiration for young girls and the next generation that they can do this too. There's no limit to what you can do."
Angel's mother says she feels Baton Rouge has adopted Angel, and she's been able to build relationships with so many who ensure they'll take care of her while she's down south and away from family. 
"It's been amazing to see so many people come out and support the events the foundation has hosted thus far, and the love in Baton Rouge has been so amazing," she says. "We're excited to continue to roll out programming in the months ahead."