10 questions with Rickey Heroman of Rickey Heroman's Florist & Gifts
There's no business like the floral business, and Rickey Heroman of Rickey Heroman's Florist & Gifts knows this all too well. A fixture in the Baton Rouge community, Heroman and his team work to spread love, encouragement, condolences and congratulations through beautiful works of floral design and carefully crafted gifts. We sat down with Heroman to learn about the ins and outs of the family business.
---
1. What is a typical day like for you and your team? In the flower business, there really is no such thing as a"typical day." The one thing to know about my business is every day is different. Sometimes it is a big weekend with lots of weddings and parties, a gameday weekend with LSU purple and gold going out the to the stadium suites and tailgate parties, or lots and lots of corsages and bouts for a homecoming dance. We are involved in a large variety of events.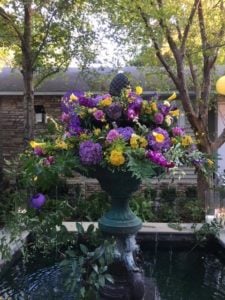 Sometimes it just everyday flowers to the hospital and funeral homes or helping people celebrate birthdays, anniversaries and new babies or to help brighten up the day for someone sick–or maybe just because or to send love. Christmas season brings days of decorating mantels, doorways and trees. And then there's Valentine's, when the night before and the next day are all the same because you never went home. It is always something new and different. That's one of the things I love about it–it gives me the chance to talk with friends and help them with their needs. We touch lives from birth to death and every special event and occasion in between. New babies, birthdays, weddings, anniversaries, illnesses, parties, special events, grand openings for a new business of building–we are involved in all occasions from times of sorrow to times of joy. We are here to help people express their feelings.
2. What is your professional background? How did you get into floral design and retail? I have an accounting degree from the College of Business at LSU, but I grew up in the flower business. At my grandfather's knee, I learned how to do the bookkeeping for my dad's business but always had a desire and love for design. I made my first arrangement of flowers for sale in the first grade and never looked back. I love doing it all–everyday flowers, big parties, creating special events and themes. Everything we do is custom made and specially designed to the customer's needs. It gives me great satisfaction to help a customer and turn their dream into reality. I love the emails, calls and personal notes of thanks. That helps me to know we were successful.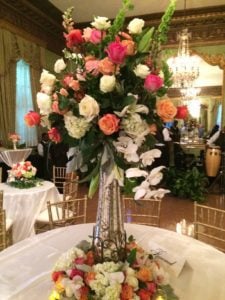 3. What are the first things customers see when they walk through the doors? The first thing a customer sees is our seasonal displays of gifts and decorative accessories. We are constantly changing our display tables to reflect the current season and carry extensive lines and variety. We have individual rooms throughout the store that displays wedding gifts such as china and crystal, another room is all pewter, one area is all LSU, another baby clothes and gifts, and we have an entire section dedicated to candles and fragrance oils and soap. We also have sections of specialty food and gourmet, jewelry, picture frames and more. Our Towne Center location has been open for 12 years, and people still walk in every day and say, "Wow, I didn't realize you carried so many different lines of gifts."
4. What sets your store apart? Everything we do is custom, and I am a perfectionist. Usually after five minutes of talking to someone, I get a feel of what they like. If you meet them in person you can usually tell a style by how they dress and the jewelry they wear. I ask about favorite colors, and do they like soft and frilly pinks and lavenders or bright and bold strong colors like red, purples, blues. Contemporary or traditional, glitz or soothing, what they use in their home to decorate–and after a few minutes I can usually pull some pictures that meet their vision. We love to help people express their feelings and their individual personality with our flower designs. I am fortunate to have an award-winning staff with several years of experience that loves to be creative. We ship flowers multiple times a week direct from the growers to assure we always have the freshest. I am fortunate to do enough volume that I can order and ship straight to my door, eliminating the wholesalers and getting my flowers fresher. We use all the latest in technology, quick dip, floral preservatives and floral mist to make sure it is all as fresh as possible and lasts a long time. Our motto has always been "No matter how small or large the occasion, 'that can be arranged,'" and we carry an extremely large variety so we can be creative to meet all needs.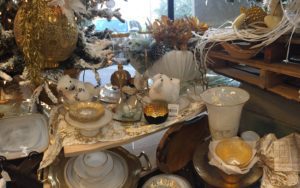 5. What is one thing you think customers should know about your store that they may not be aware of? Probably the extensive gifts, bridal registry and home decor. We carry over 50 lines in our gifts and bridal registry: Vietri, Arte Italica, Waterford, Annieglass, Beatriz Ball, Abigails, Mariposa, Arthur Court, Lynn Chase, Reed and Barton, Spode, Wallace and International Silver, and more. All pewter, silver, crystal and Italian pottery in everyday patterns as well as holiday lines. In our stores we have extensive holiday themes including Radko, Byers Choice, Katherines Collection, Mark Roberts and many more favorites in ornaments, garlands, wreaths, and ribbons with fresh and artificial versions.
6. How do you keep your store's inventory fresh and up to date? We attend shows and share with others in our industry. In today's world, everything is on Pinterest, Instagram and Facebook for people to see and get ideas. We love to create and try things new. Some of my younger designers have a great eye for things, and I turn around all the time seeing things we have used in a different way.
7. Can you share a hint about what shoppers will see in your store next season?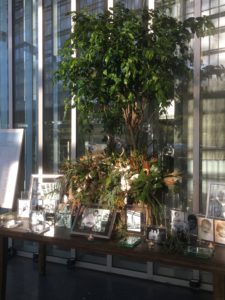 Every season, every year, every month and every day is new in the flower business. The colors and styles are always changing, as well as the materials we use to create them. It is always fun to mix in new colors and textures to give designs a new twist or to attend a market and show and see the new colors coming out for next year. We like to blend the new styles and colors in with what customers already have so they don't have any waste but will give them a new, fresh look.
8. When did Rickey Heroman's open, and how has it grown or changed since then? I opened Rickey Heroman's in 2012 and moved in to my Towne Center location in the fall of 2012. I built a shopping center on Bass Pro Boulevard in Denham Springs and opened my newest store there in June 2015. We have been fortunate to continue to grow and bring in new lines of gifts. I listen to the customers, what they are requesting and looking for to use in their homes, and what they like to give as gifts. I believe in the "find a void and fill it" philosophy. I love being around people and being involved in the community. The flower business has given me the opportunity to be a part of the lives of my special friends. I love being able to be a part of the great memories of a wedding, debutante ball, announcement parties, a 40th birthday or a 16th birthday. It is all about creating memories. But also to be there in times  of sorrow, to comfort a friend and their family memories and provide just what they are looking for to make the process easier on them. My family and I have been very fortunate, and Baton Rouge has been good to us. I enjoy giving back to the community with gift certificates, silent auction items, special prices or donations for charity events and more. My family is blessed to be a part of Baton Rouge.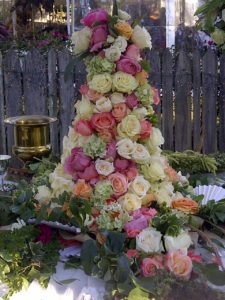 9. What are a few must-have items this season? Of course, every lady loves peonies and garden roses. Hydrangea are still high on the list of most, along with the new varieties of hybrid lilies and varieties of roses available on today's market. Some of my growers have colors and varieties that only they grow. Tulips are still a favorite, and of course roses send love. Many people like the simplicity of all whites and creams using roses, hydrangea, lilies and Queen Anne's lace in a compact tussy-style rose bowl.
10. What are some of your best-selling products? Roses, roses and roses … That's what men know; roses mean love; so that is of course quite often requested. After that, we still do a lot of seasonal: colorful fall shades of reds, gold and oranges; and at Christmas, red and white with beautiful, great-smelling Christmas greens of cedar, fir and holly. This will change the with season, but roses never go out of style, or simply lilies or tulips loose in a vase and now an all-white theme.
To shop these floral arrangements and more, visit rickeyheromans.com.