10 questions with Two Blondes manager Amanda Cason
When a small booth business turns into a large storefront, it often means the business is a success. That was exactly the case for Two Blondes, a gift and lifestyle store now located at the Settlement at Willow Grove. As booth business at another multi-merchant location grew, owner Tina Moore decided a brick-and-mortar store was the obvious next step. At their Willow Grove shop, Moore and her daughter-in-law Amanda Cason have curated a large selection of products that offers something for everyone. We sat down with Cason to learn more about the store and its history.
---
1.What is a typical day like for you and your team? We have fun every day replenishing, merchandising and keeping track of customer special orders and requests. During the weekends, you can find us hosting trunk shows or launch parties for new merchandise. We love to celebrate by serving mimosas and nibbles to customers and of course having one ourselves. We are blessed with wonderful, hardworking staff that make every day a great day at Two Blondes.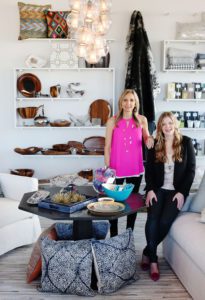 2. What is your professional background? How did you get into the retail field? Two Blondes is comprised of owner Tina Moore, who has been and remains co-owner and CFO of Moore Construction, and me, an LSU interior design graduate who practiced commercial design full-time at a large Baton Rouge firm before becoming an integral part of the store opening last year. Tina has always had a love for retail. After her youngest son graduated high school in 2011, she saw an opportunity to make a business of what she loves by renting a small space in a multi-merchant retailer beginning in the fall of 2011.
3. What are the first things customers see when they walk through the doors? Customers are greeted by a large dining table laid with some of our favorite entertaining and tabletop items, including place settings and serving pieces from Vietri and made-in-the-USA custom ceramic pieces. Just beyond, creating a background for this table, is a welcoming seating group sourced from one of our upholstery vendors and a large-scale, custom-designed modular shelving wall that is refreshed seasonally with new merchandise.
4. What sets your store apart? We pride ourselves on giving our customers the best shopping experience possible. The store is curated to put our customers at ease while they explore and interact with the merchandise. We go to great lengths to present our customers with unique gift and home items and are delighted with how at home our regulars and even first-timers feel when they come in. Unlike many others, we have a designated men's section of the store that is really fun. It tickles us how delighted customers are that we have taken on the challenge of offering such a hard-to-find-a-gift category.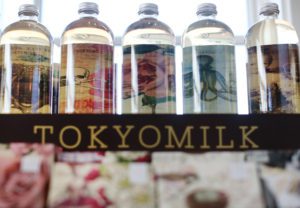 5. What is one thing you think customers should know about your store that they may not be aware of? An ever-growing component of our business is interior design services. As a licensed interior designer with residential and commercial experience, I spearheaded the furnishing selections and design for the store to present some of our favorite companies. I am thrilled to be back in the residential market and currently have openings for new clients. We also offer bridal registry services. While most of our brides will still use registries from traditional big-box stores, we are finding so many that want to source from local retailers, and we are happy to oblige!
6. How do you keep your store's inventory fresh and up to date? It is true what they say, "The customer knows best." We truly listen to what our customers want and are constantly looking for local and regional artisans that will partner with us to stock our store with must-have and not easily found items that we love and we know our customers will love.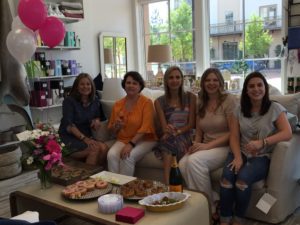 7. Can you share a hint about any new items shoppers will see soon? We are working on plans to revamp a portion of our showroom to better present our interior design as well as bridal registry offerings, a project we foresee being completed before the busy fall season. We are currently in communication with a New Orleans artist who we will be partnering with for a pop-up shop event this fall to present her newly released line of exquisite handbags, clothing and home textiles. Dates and details coming soon!
8. What was your reason for opening the store? When did it open, and how has it grown or changed since then? Growing every year and eventually becoming the top merchant in her original location, Tina decided an independent brick-and-mortar was the next step. During the period of time when Two Blondes was a small booth retailer, I maintained my interior design job and helped with buying and merchandising after hours and on weekends. When the Settlement at Willow Grove was developed, Tina and I joined forces and created the gifts and lifestyle concept that now stands today. Our doors opened July 1, 2015, and we have been extremely pleased with the continued loyalty of existing retail customers and the addition of many new every day.
9. What are a few of your must-have items this season? Design services for a well-curated home for the holidays. Also, our male-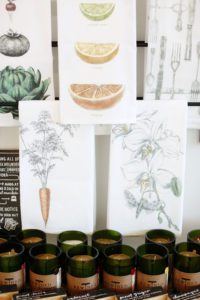 oriented leather and canvas travel and sporting bag line has released new pieces. We have several amazing jewelry lines with fall collections that we can't get enough of. Neither of us have gone a day without wearing a piece. Signature scents for your home, diffuser or candle are also must-haves. We have fantastic options.
10. What are some of your best-selling products? Jewelry, personal care items for men and women, home fragrances, home accessories and men's gifts.