10 Questions with Mary Johnston of Merry Floral
Capturing the romantic beauty of brightly colored wildflowers and free-flowing greenery, Mary Johnston embodies the term "flower child." She specializes in creating everything from wedding flowers and flower crowns to even floral workshops and subscriptions. And Johnston is capitalizing on her talent by bringing it to the Baton Rouge community. We caught up with her to learn more about Merry Floral and how Johnston brings dreams to life through floral design and friendship.
---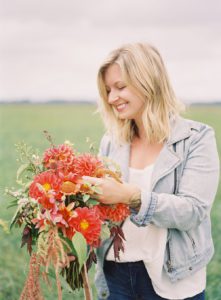 1. What is a typical day like for you? A standard day starts with my 7-month-old puppy and a side of cold brew. From there I'm out the door to work. On a flower day, though, everything is up in the air. I always try to start with a checklist of things to do—get my thoughts down on paper. And then I'll begin prepping my flowers for that day. It's a good flower day when I don't have to run any errands, and I have the availability to power through several pieces in one run. (This is the ultimate flower power!)
2. What is your professional background? How did you get into floral design? My "professional background"? Ha! Well, I graduated from LSU with a business degree and a minor in fine arts in 2016. Many people recognize me from working behind the counter at Magpie for a year during college. I've also worked in retail for the past couple of years. Flowers became a part of my life last summer. After graduation, a long time dream came true and I got the chance to travel to Washington state to attend an intensive design workshop at Floret Farm. Once I came home, I posted a few photos online of what I had made. I started getting inquiries for a variety of different types of design jobs. This career in floral design came into my life far sooner than I could have ever dreamed.
3. What is the first thing you ask customers when planning for an event? I do my best to understand what dream we're working to make come alive. I'll ask for descriptive words, colors, photographs. Clients share the venue and different details about the event, of course, depending on what it is.
4. What sets your arrangements apart?I really hope that my clients and my brides feel known by me. That is one of the most important parts for me. After all of the time spent sharing about what they want for their wedding or party or floral crown,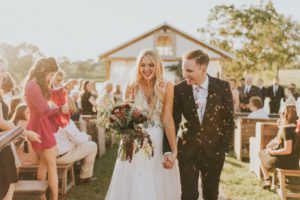 I hope that they can see pieces of all of our conversations and inspiration exchanges in their product. That's something that I really strive to be known for. I really pour my heart into my arrangements and do my best to make them into an extension of both me and the client. A little private piece about me: I always feel emotional when I make the bouquets for my brides. I get to make the special accessory that you will carry with you on the way to your partner and that you will hold after you promise your lives to each other. That gets me every time! Sensitive soul over here.
5. What is one thing people should know about your business that they may not be aware of? One of my favorite things to do is host educational workshops! It's an honor to get to teach a group of people how to make something new with their hands. I have found that a lot of women have tried to make arrangements in their homes but are mostly not satisfied with how they look at the end. Getting the chance to empower people to make interesting pieces for their homes or to give away to a loved one really fills me with gratitude.
6. How do you keep your designs fresh and exciting? I pay attention to whats growing around me on my drives around town. I notice growth in ditches and on vines and along the interstate. It is refreshing for me to be outside gathering elements that are native to our area.
7. Can you share a hint about the next great thing we can expect from you? I've got a holiday workshop in the process of being planned. You can look forward to learning how to make a holiday wreath for your front door or above your fire place. I think mine will be going above my sofa.
8. What was your reason for starting your floral design business? What have you learned through the process? I really dove into my floral design career because it truly brings me peace and confidence.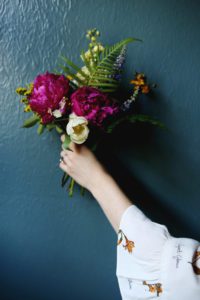 Working with my hands makes me feel like I'm really fulfilling my purpose in creating offerings for our community. At the beginning of this year I invested in my branding, illustrated by Keith Davis Young out of Austin, TX. That was a process in learning about my identity as a brand and how I wanted to be recognized. I've learned about myself and just how much help I need in starting this growing design business. I could not do the work that I do without the support of my closest friends. I am lucky enough to have a small list who lovingly call themselves "flower assistant."
9. What are must have flowers this season? For fall, a few of my favorites are yarrow, zinnias, and solidago, also known as goldenrod! You can see these all along the streets in Baton Rouge right now. Pay them some attention on your next drive, and enjoy them while you can!
10. What is your most requested flower or arrangement? My most requested arrangement is a bridal bouquet. This makes me a very lucky designer because my most requested and my most favorite happen to be the same arrangement.