10 questions with Jenni Peters of Varsity Sports
This story originally ran in the January 2017 edition of the inRegister@Home newsletter.
---
"Run hard, live easy" is the motto that Varsity Sports founder Jenni Peters incorporates into both her life and her business. The Louisiana-born running and specialty store began in a house near the LSU Lakes in 2000. Eighteen years later, the idea that began as a small corner in South Baton Rouge now has multiple locations across southeast Louisiana. Walking into a Varsity Sports store is like walking into a friend's house, warm and inviting. And for Peters, this environment is what sets them apart from most major retailers. We sat down with Peters to learn more about how Varsity Sports has become a hub for Louisiana runners.
---
What is a typical day like for you and your team?
There is no typical day, which is why we love our jobs. Since the stores are in little houses with staffs that all really like each other, it's like going over to my house and saying, "OK, what are we going to do for fun today? Who's stopping by? What are we getting for lunch?"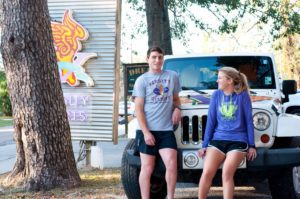 What is your professional background? How did you get into the retail field?
I taught in the college of business at LSU for 25 years in the marketing department. Then, I went over to become the director of marketing for LSU Athletics for years. I was a competitive runner all the years that I was teaching and working. I got into specialty retailing just because I wanted to open a fun little running store in a house in Baton Rouge.
What are the first things customers see when they walk through doors? 
All of our stores—Baton Rouge, Mandeville and New Orleans—are in houses, so I think that makes people feel warmer and more welcome.
What sets your store apart? 
Like all of us in specialty running retailing, we understand that our customers can easily "one click" a pair of running shoes and have it dropped off at their door. So we need to provide an experience that can't be "one clicked." People will never get tired of being personally cared for.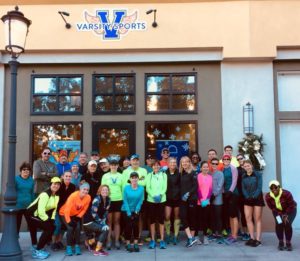 What is one thing you think customers should know about your store that they may not be aware of? 
We charge the exact same price for a shoe as Dick's, Academy or Amazon for the first three months that a shoe model is on the market. It is absolutely mandated by the brands–known as MAPP guidelines. Many people think we are more expensive because we are small specialty.
How do you keep your store's inventory fresh and up to date?
We work with our brand reps to do a careful job of new model and style scheduling. We are a top-level account with all of our brands, so we typically get the newest styles before big box and internet.
Can you share a hint about what shoppers will see in your store next season?
Brooks Running has selected Varsity Baton Rouge as one of 10 stores in the country to have a "shop in shop." It will be a special highlighted area with the latest merchandise from that brand. We are starting to carry some of the cool up-and-coming brands like the Swiss-engineered ON Running. In addition, the hot new product from a few years ago, HOKA, is getting some fantastic styling updates.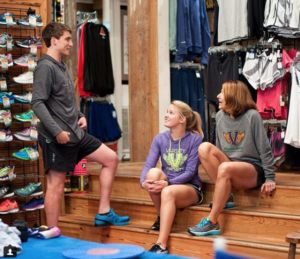 What was your reason for opening the store? When did it open, and how was it grown or changed since then? 
We owned the house on Perkins Road that was housing Dream Tee shirts. It was zoned C-1 and could be converted to commercial/retailing. As a longtime runner, I thought, "How much fun would it be to open a friendly little running store near the University Lakes?" Varsity Sports Baton Rouge opened in 2000. The way the industry has changed would take a whole other conversation. But we have enjoyed adapting and growing.
What are a few must-have items this season?
The new Brooks Levitate running shoe, Nike running vests and a new lifestyle collection from Maji have blown out of the stores.
What are some of your best-selling products?
Our top five selling shoes in order are Brooks, New Balance, Asics, Saucony and Mizuno. That may surprise some people that have never heard of Brooks Running. But it is the No. 1 specialty running brand in the country. New Balance has really made a big comeback in the run specialty side of things. I think for years it was perceived as a "maw maw" brand. Saucony's product has changed and improved so much in the last five years. Also, we can barely keep $25 super-fun polarized running glasses from GoodR in stock. Our Magazine Street store does exceptionally well with them.
For more information, visit varsityrunning.com.