10 questions with Giggles owner Emily Guidroz
Giggles, a toy and candy store, officially opened its doors Aug. 29 in the new Willow Grove development. The store carries a unique selection of toys from more than 100 different brands. The centerpiece of the 14,000 square-foot store? A light fixture made of 15,000 acrylic gummy bears. Giggles also features its very own Creation Station where arts and crafts classes, storytelling, music and other store events will be held. And kids will love the candy wall, teeming with 30 different kinds of candy–including parents' retro favorites. The shop offers free gift wrapping, and a birthday registry will soon be available.
We caught up with shop owner Emily Guidroz to get to know her and the store a little bit better. Read on for the Q&A below.
1. What's your connection to Baton Rouge? I graduated from LSU in 2002 and officially made Baton Rouge my home in 2008.
2. What was your reason for opening the store? We opened Giggles Toys & Candy to make gift giving a little easier and a lot more fun for parents while creating a place that sparks imagination and fuels creativity in children of all ages.
3. What do you love about Willow Grove? Willow Grove is a fantastic destination for families, shopping and dining! We are thrilled to be neighbors with Bistro Byronz, Two Blondes, Fresh Kitchen, Evolve Studio and Posh Boutique.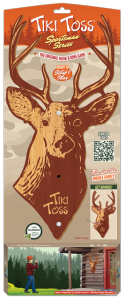 4. What is your favorite thing about Baton Rouge? The people! Everyone is so gracious, friendly, giving and FUN!
5. What is your favorite item in the store? There is no way I can pick just one!
6. What is a must-have toy for the fall? The Tiki Toss! It's a an easy-to-play (and extremely addictive) hook and ring game for all ages and is perfect for fall afternoons in Louisiana. We carry the Tiki Toss in buck, trout and bass designs.
7. What do you see being the hottest toys for holiday season? We'll be publishing a holiday gift guide soon, but some of the themes that are hot for the holidays are dinosaurs, arts and crafts, Star Wars, retro classics and building sets.
8. What's your life motto? Just be you…it's more fun that way!
9. What's your favorite movie? Goonies.
10. What's your favorite vacation spot and why? Rosemary Beach, Florida. Our family loves vacationing there! We love the charm of the town and the ease of beach life!