It's that time of year again—the time for making, then breaking, New Year's resolutions. Many diet plans tell you what not to eat, but my trim&TERRIFIC "D.I.E.T." relies on portion control: "Don't Ingest Everything Today!" I am not giving up my favorite foods, and I don't expect you to do so either.
One favorite food for many is pizza, which can be a no-guilt indulgence with a few simple tweaks. Don't go for delivery when you can whip up a healthier, family-friendly dinner in no time. Pizza is the perfect palate-pleasing dinner on a busy night, and it's perennially popular for everyone, from those desiring a hearty meal to the pickiest kids in your family. But ordering pizza can become a burden to both your wallet and your waistline. After you try these unique and easy recipes, you won't choose pizza delivery again. With so many varieties of toppings—as well as meatless and dessert options—quick-fix pizzas have pizzazz.
Pizza can be as simple as cheese and meat toppings, or it can reflect different cuisines with the mere change of sauces and seasonings. Flavors of eastern Asia blend perfectly on the Chicken Thai Pizza for a must-try taste explosion. Though gourmet in appeal, this is one of the easiest pizzas to put together. Use rotisserie chicken for extra ease, and save a step by purchasing pre-shredded carrots and chopped green onions. If you find peanut sauce too spicy or you want to switch up the flavor, substitute barbecue sauce. Top with antioxidant-rich red pepper slices for a dose of vitamin C. And if you omit the chicken, this pizza can also be a delicious vegetarian option.
Crusts can be prepared in many different ways. Purchase packaged dough or pre-made crusts that simply need sauce and toppings, or try using flattened biscuits. The full-flavored Mexican Meaty Pizza uses crescent rolls for its mouthwatering crust. I keep many of the recipe's pantry-friendly ingredients on hand for a moment's-notice meal.
Don't forget the dessert. Double Chocolate Candy Pizza was a huge hit in our house throughout my children's younger years. All three still request it, but now my daughters also make it themselves. It's funny, though—adults are often the first ones to grab a piece! This recipe is fun and festive, and I love to use colored candies to fit the season, from tailgate time to holidays. Cut this pizza into small squares when feeding a crowd.
As you prepare these tasty pizzas, remember that food that is fast doesn't always have to be fast food. These rush-hour recipes will be your new go-to dishes, keeping you trim and terrific in 2015!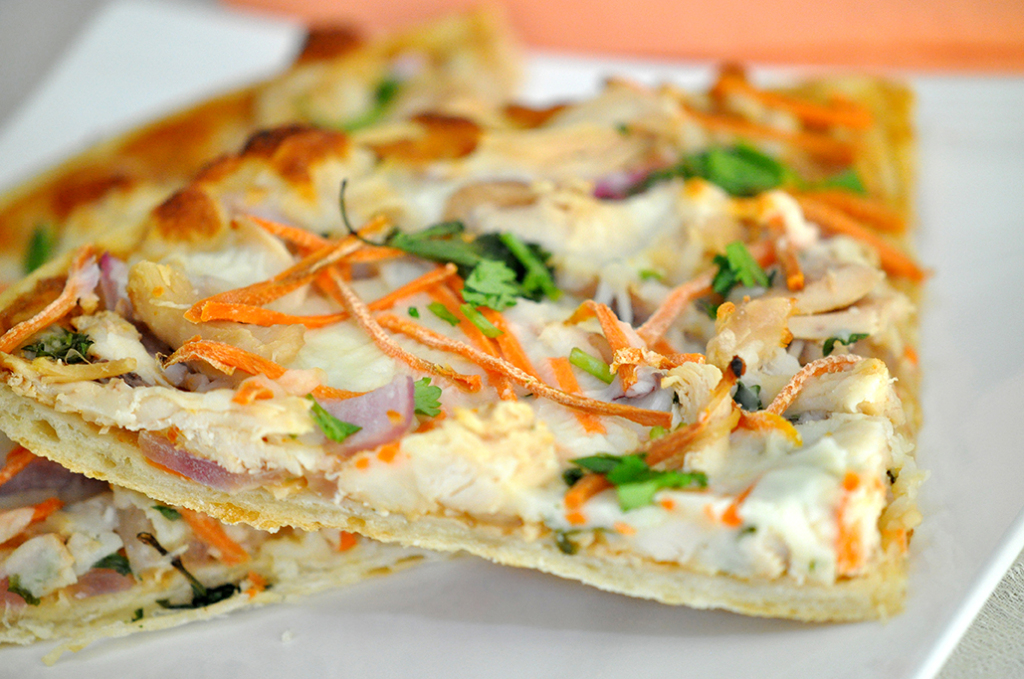 Chicken Thai Pizza
The combination of chicken, onion and carrots with peanut sauce makes for a bold and full-flavored pizza.
1 (12-in.) thin pizza crust
1/4 cup peanut sauce
1 1/2 cups chopped cooked chicken breast
1/2 cup red onion slices
1/2 cup shredded carrots
1/4 cup chopped green onion
1 cup shredded part-skim mozzarella cheese
2 Tbsp. chopped fresh cilantro (optional)
Preheat oven to 450 degrees. Spread pizza crust with peanut sauce. Top with chicken, red onion, carrots, green onion and cheese. Place on oven rack and bake for 8 to 10 minutes or until pizza is lightly browned. Top with cilantro if desired. Makes 8 (1-slice) servings.
Nutritional information per serving:
Calories 221 | Calories from fat 31% | Fat 7g | Saturated fat 2g | Cholesterol 30mg | Sodium 356mg | Carbohydrates 21g | Dietary fiber 1g | Total sugars 2g | Protein 16g | Dietary exchanges: 1 1/2 starch, 2 lean meat
---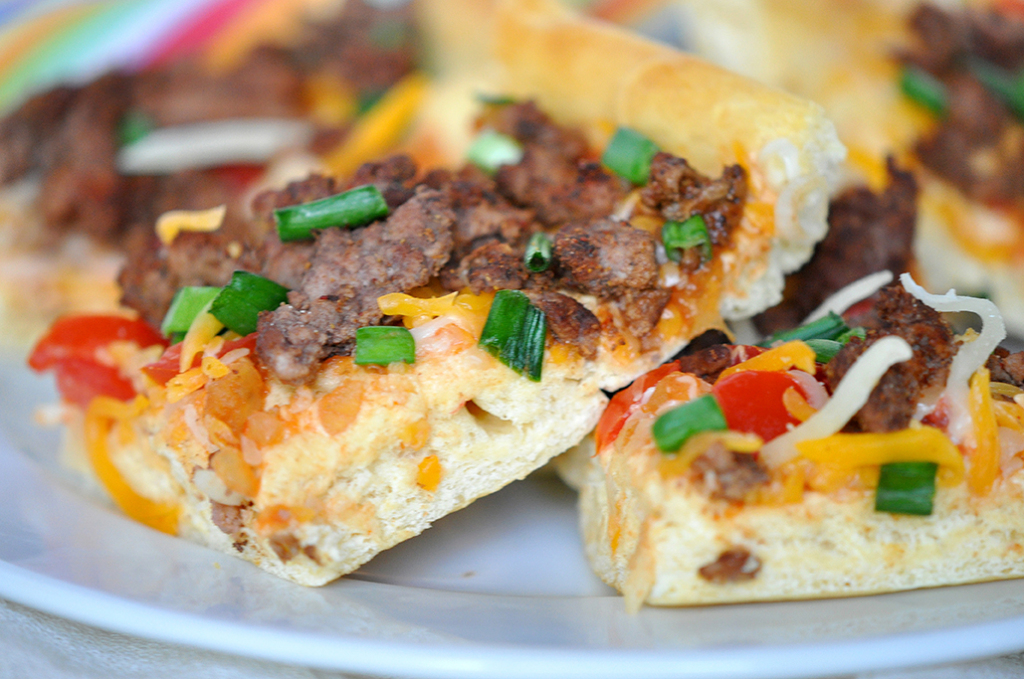 Mexican Meaty Pizza
This simple and satisfying meal is perfect on a busy evening or for unexpected company.
1/2 lb. ground sirloin
1 tsp. chili powder
1 tsp. ground cumin
2 (8-oz.) cans reduced-fat crescent rolls
2/3 cup salsa
1 1/4 cups reduced-fat Mexican blend cheese
1/2 cup chopped tomatoes
4 green onions, chopped
Preheat oven to 375 degrees. Cover an 11 x 15 x 2-inch baking pan with foil, and coat with nonstick cooking spray. In a nonstick pan, cook meat until done; drain any excess liquid. Add chili powder and cumin. Unroll crescent rolls into rectangles and place in prepared pan. Press rolls, sealing together over bottom and 1/2 inch up sides to form crust. Bake for 11 to 13 minutes or just until golden brown. Remove from oven and cover evenly with salsa. (For a variation, you can use a thin layer of refried beans, heated in microwave to soften, instead of salsa.) Top with cooked meat. Sprinkle with cheese, tomatoes and green onions. Return to oven for 3 to 6 more minutes or until cheese is melted. Makes 12 slices or 48 pick-up pieces.
Nutritional information per serving:
Calories 190 | Calories from fat 43% | Fat 9g | Saturated fat 4g | Cholesterol 18mg | Sodium 460mg | Carbohydrates 19g | Dietary fiber 1g | Total sugars 4g | Protein 10g | Dietary exchanges: 1 starch, 1 lean meat, 1 fat
---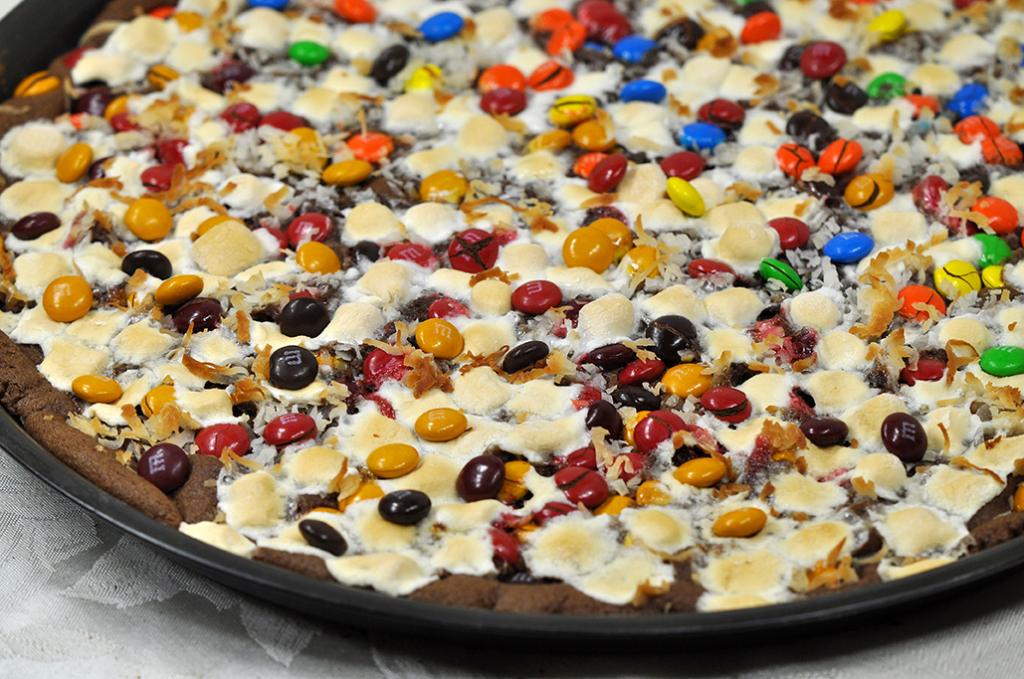 Double Chocolate Candy Pizza 
Seasonal candies reflect the holiday spirit on Valentine's Day, Easter, Halloween and Christmas.
1/2 cup butter
1 cup sugar
1 egg
1 tsp. vanilla extract
1 1/2 cups all-purpose flour
1/4 cup cocoa
1/2 tsp. baking soda
1 cup candy-coated milk chocolate candies, divided
1/4 cup flaked coconut
1 1/2 cups miniature marshmallows
1/2 cup chopped pecans, optional
Preheat oven to 350 degrees. Coat a 12- to 14-inch pizza pan with nonstick cooking spray. In a large mixing bowl, beat together butter and sugar until fluffy. Add egg and vanilla, blending well. In a small bowl, combine flour, cocoa and baking soda. Gradually add to sugar mixture, blending until well mixed. Spread dough on prepared pan, spreading dough to within 1 inch of edge of pan. Sprinkle dough with candies, coconut, marshmallows and pecans. Bake for 18 to 20 minutes or until edges are set. Don't overbake. Cool and cut into slices. Makes 12 to 16 slices.
Nutritional information per serving:
Calories 235 | Protein 3g | Carbohydrate 36g | Fat 9g | Calories from fat 35% | Saturated fat 3g | Dietary fiber 1g | Cholesterol 15mg | Sodium 123mg | Diabetic exchanges: 2 1/2 other carbohydrate, 2 fat