Scooped Up's ice cream tricycle is just getting rolling
These days, everyone is looking to add that wow factor to their wedding or big event. Scooped Up is making its Baton Rouge debut with a clever new business model, because don't we all scream for ice cream?
As a certified wedding planner for four years, Scooped Up CEO Lindsey Speer was looking to elevate her events with a fun food component. "Our couples are always looking for fun and different ways to entertain their guests and create an unforgettable experience." Speer said. "Once I started reaching out to different ice cream shops, I realized there wasn't a specific company that catered to private events only."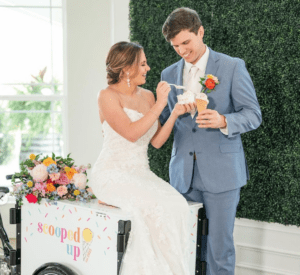 After brainstorming with her mother, Carmen—now COO of Scooped Up—the duo got the ball rolling…literally. They created an ice cream trike: a tricycle serving Blue Bell ice cream for private events in the city and surrounding areas.
"We didn't want just a table with a plain linen and some ice chests. It needed to be better," Speer said. "The ice cream trike provides the look and ease that we were looking for while adding the fun factor with it being something that could be interacted with."
The business involves more than just rolling in, scooping ice cream and rolling out. Scooped Up is working to make ice cream an experience, with custom catering for special events and clients. They offer three different packages from one scoop with sprinkles to what they call "everything but the kitchen sink." Speer also offers soda or Champagne floats, as well as a full topping bar.
"We are two women passionate about providing an overall great experience from the inquiry through the end of the night when we hand you your to-go ice cream tub," said Speer. "Also, who wouldn't want to make an entrance on an ice cream trike? Hop on it and ride it in. What an entrance!"