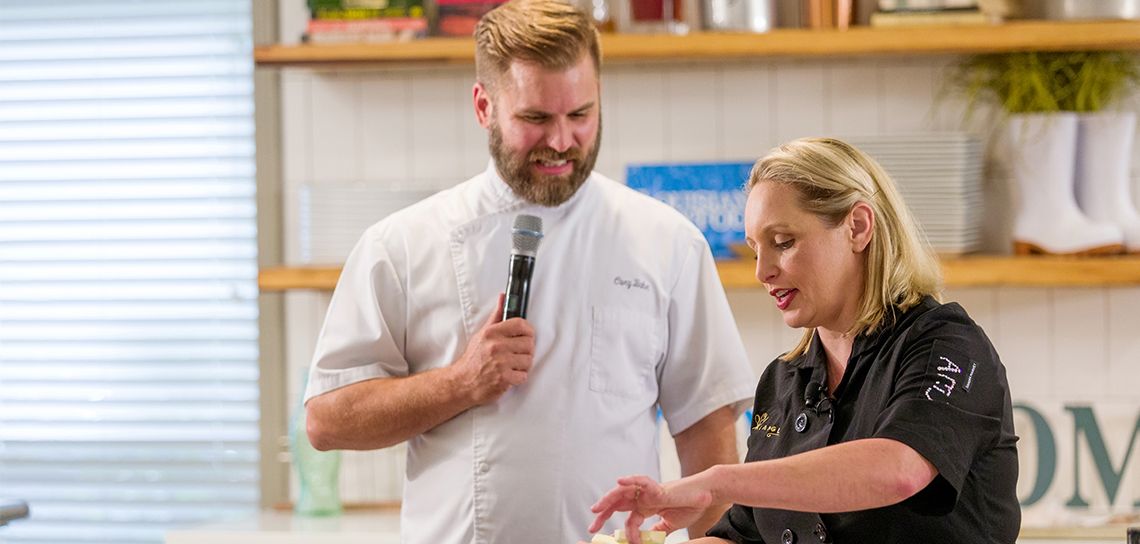 A kettle of fish: The Louisiana Seafood Cook-Off remained shipshape amid uncertainty
---
'Filming in Session" reads the sign on the door of the home of Jay Ducote, the Baton Rouge barbecue guru who agreed to open his party-size kitchen to a mid-virus version of this year's Louisiana Seafood Cook-Off. On the second and final day of the late September competition, the door stands open just a crack, and inside, through the entryway covered in gilded certificates and magazine clippings—why, hello there, inRegister—the normalities of domestic life fade away. This is a film studio, all right. At least for the day. Bundles of black electrical cords snake away around corners, leading to a room glowing blue where a person in a headset passes in and out, puttering to and from the cooking area straight from a Food Network vision board. Studio lights beam off the silvery pots, pans and bowls and illuminate a line of judges awaiting their fourth out of five dishes of the day. Two camera operators focus on their monitors, while a swift and untethered third moves a handheld camera around the makeshift kitchen stadium where Langlois in New Orleans' chef Amy Sins, bantering with repeat host and former Seafood King Cory Bahr, eases into a smile for the three, two, one, action!
Hosted by Lieutenant Governor Billy Nungesser and the Louisiana Seafood Promotion & Marketing Board, the Cook-Off was supposed to have taken place in Lafayette this year, a typical competition wherein 10 chefs from across Louisiana would cook largely in tandem while hundreds of people watched from the festival sidelines, smelling each clove of garlic as it hit the pan in real time. Judges would score their taste tests and communicate the results within a couple of hours, leading to the crowning of a Seafood King or Queen and the conclusion to the yearly celebration of Louisiana's regional flavors. Then came mid-March and the shuffle to accommodate the COVID-19 shutdown, with the restaurant and hospitality industries bearing much of the brunt. A siege of homemade cooking trends followed in the aftermath, and while restaurants everywhere adjusted to the new normal of takeout-only menus, the Louisiana Seafood Board took note: eating out less didn't necessarily mean that people outgrew their taste for gourmet meals. On the contrary, our worldwide quarantine suggested that when the going gets tough, we can look to the kitchen for some culinary counseling.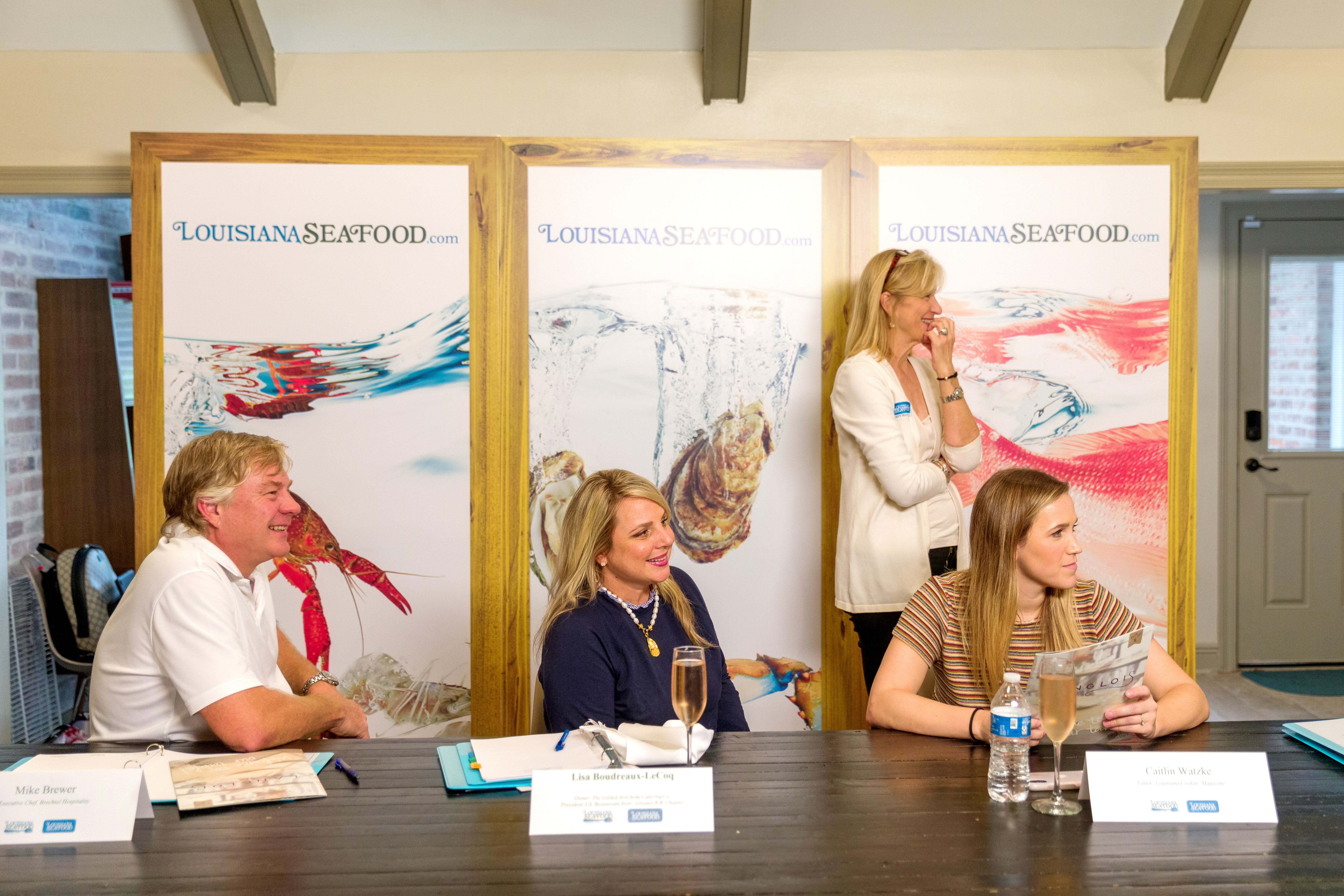 "The setup is definitely a change," says chef Samantha Carroll, former Food Network Cajun Aces star and current LSPMB executive director, "but the thing that really drove home why LASCO@Home needed to happen is that everyone is cooking at home these days, and looking to try different things. This is a perfect outlet for that. These chefs can get these videos out for people to watch and be inspired by, and our goal is to have people want to recreate these dishes at home."
Each chef's individual video—a condensed version of the 30 minutes given to prepare their dish in Ducote's kitchen—appeared online for a period of "People's Choice" voting until October 27, followed by a final virtual ceremony on October 28 that saw this year's Seafood King, Robert Vasquez of PePe's Sonoran Cuisine in Covington, outscore the competition with his Red Snapper and Crawfish Sofrito. But as the backlog of recipes on the Louisiana Seafood website can attest, every chef's dish would be a winner on any Southern supper table.
"In years past, I think I've overthought my recipe choice for competitions, so what I loved about this year is that it was focused on the home cook—those are my people!" says Sins, whose Shrimp and Crab Bucatini transformed Ducote's kitchen into a Creole-scented dream of citrusy goodness straight from a Sicilian nonna's stovetop. "I thought: what if you're someone who likes to cook for dinner, but it's been a busy day, and you don't have much time, but you want something pretty and rooted in our local cuisine? That doesn't have to be complicated."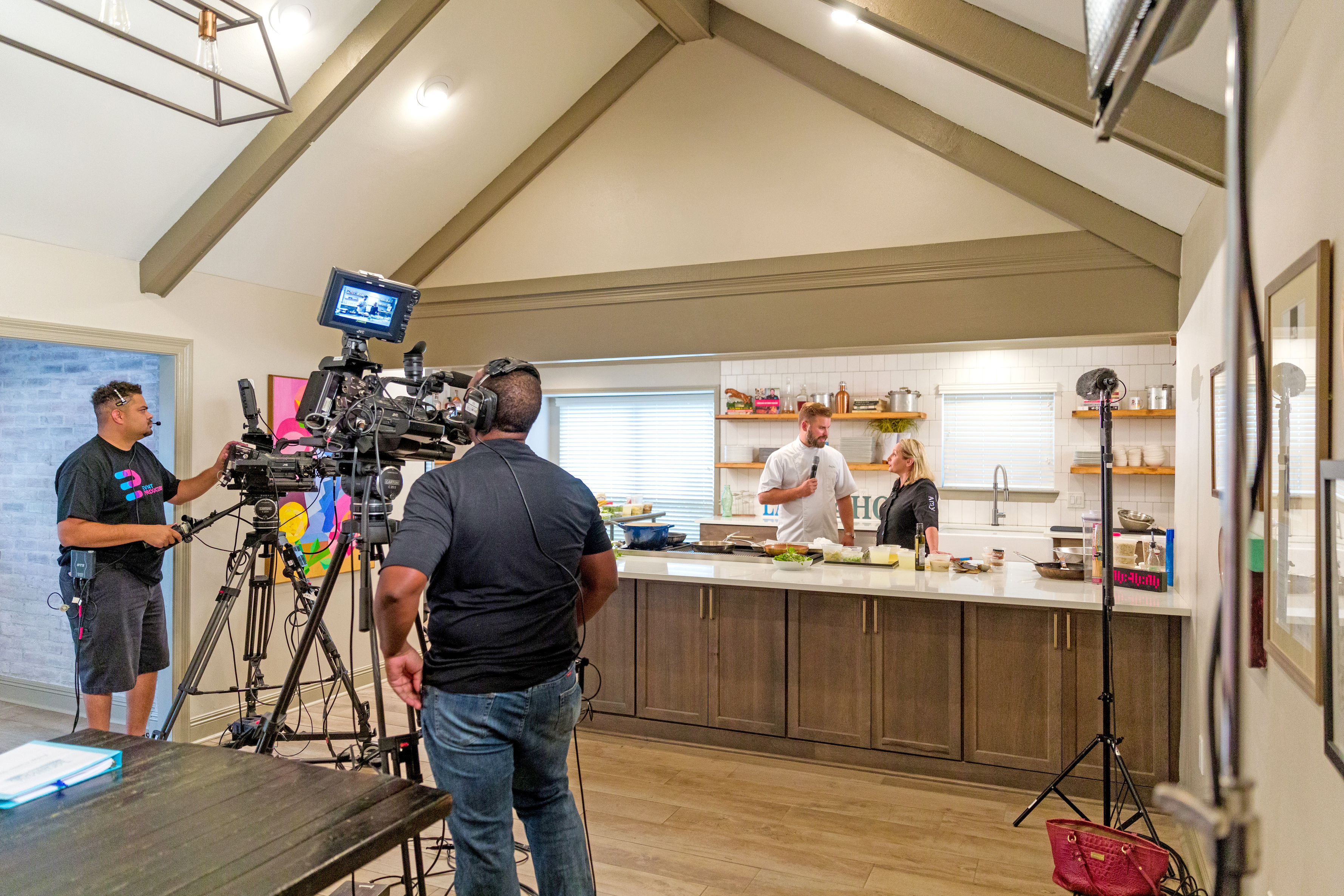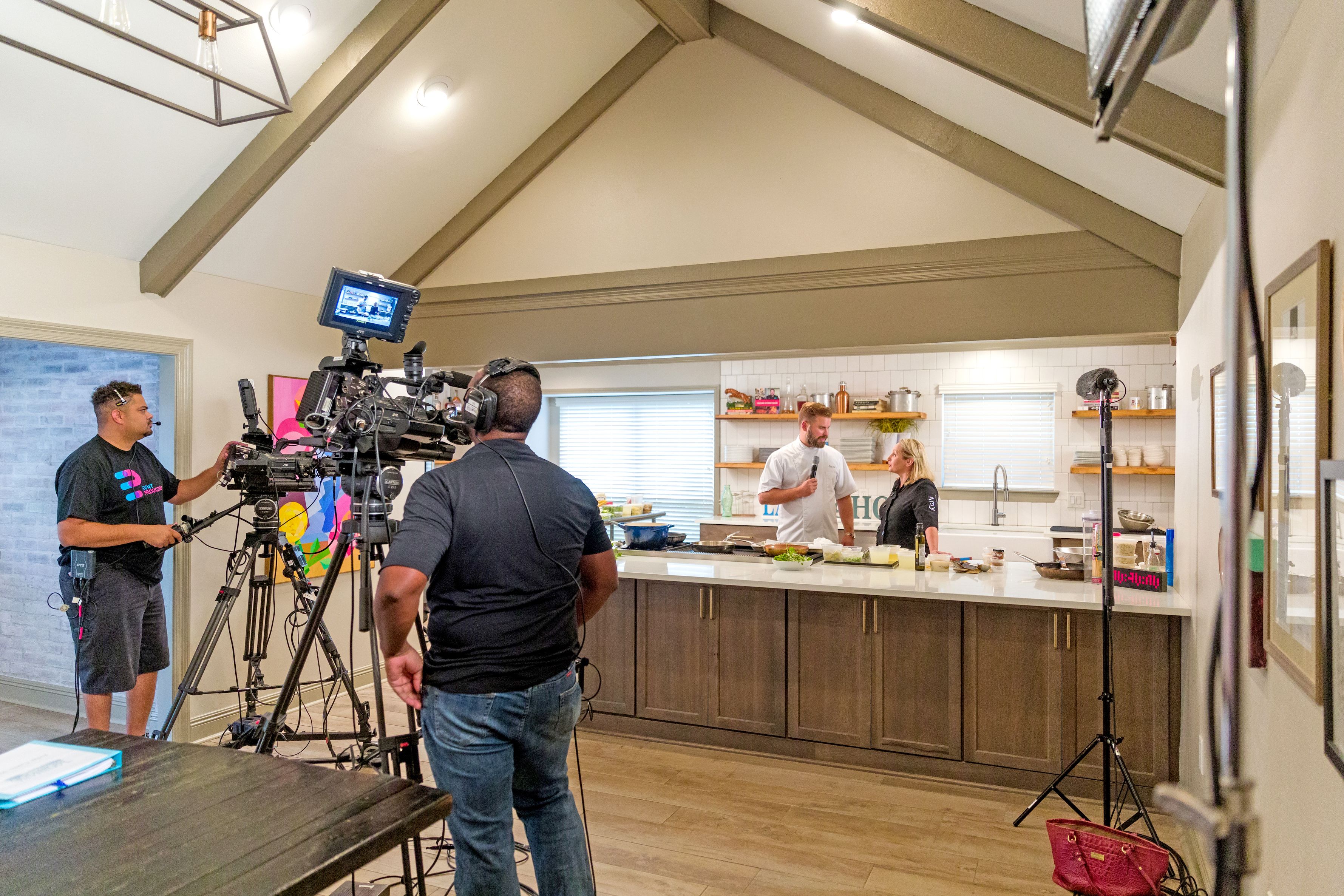 In their allotted time, Sins and her competitors turned scallops, crabs, shellfish and their scalier cousins into meals a family might craft from their cabinets, but with a heaping side of expertise. The preserved lemons and garlic confit used in Sins' recipe, for example—as she divulged to Bahr in the bright studio lights—could easily become new staples in a household pantry.
"We tend to waste too much food in America," she says. "We buy things at the big-box stores that end up going bad in our fridge, like huge bags of lemons or a whole tub of garlic. If we embrace easy ways to preserve them and make them last longer, then we're going to waste a lot less."
The idea behind it all, she says, is to focus on giving more people access to professional cooking advice. "I think we're all learning and growing, so I like to tell the home cook: be fearless. It's not always perfect," Sins says. "If you stress out, the food just never tastes right."
Fellow competitor Chef Ben Fidelak of Mariner's Restaurant in Natchitoches has his own way of bringing fun into the kitchen: enlisting his daughter Lauren as sous chef for his Redfish en Papillote with Sweet Corn and Local Pea Succotash dish. "We often cook together as a family at home, so I actually thought that competing in a house this time, instead of the normal setup with all these people looking at you, was more relaxing than a live event," he says, remembering the last time he competed in the Cook-Off in 2017. "This time was like seeing old friends, in a way."
LASCO@Home judge Lisa Boudreaux-LeCoq, founder of catering company The Gilded Artichoke, certainly relates to the changing circumstances these chefs and their customer bases have been through this year, and chooses to approach each new day with optimism.
"I was completely honored to be a part of this," she says. "I understand how hard the job of a chef can be, and I'm so impressed by the people who have made a career in this industry. Each dish was wonderful with so many layers and complexities, and I can see that these chefs work with such passion."
For Lieutenant Governor Billy Nungesser, LASCO@Home also served as a stand-in celebration of the chefs and flavors our state can't help but cherish in the best of times. "We've had to cancel so many events this year, and it's been hard not to celebrate in person like we usually do in Louisiana," Nungesser says. "That's why I'm so happy that the Seafood Cook-Off did not cancel completely, and instead switched to a virtual event. It keeps people cooking and it supports the Louisiana seafood industry. It is good for all."
Pandemic or not, the bellies of Louisianans are nothing if not searching for the next satisfaction.
"We couldn't just let a whole year go by and not have a king or queen," says Carroll. "We're going to keep pushing through, and we hope that people will always remember the place Louisiana seafood holds in our livelihoods and cuisine."
---
RECIPES
Amy Sins' Shrimp and Crab Bucatini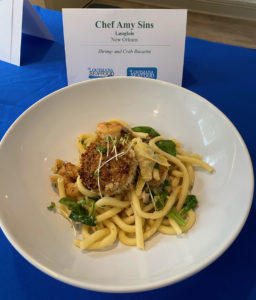 Bucatini & Shrimp Pasta:
6 oz. unsalted butter
1/2 cup shallots or onion, finely chopped
6 cloves garlic, minced
3 Tbsp. fresh squeezed lemon juice
1/4 tsp. lemon zest, grated, or preserved lemon
1/4 cup arugula or parsley, minced
Kosher salt
1/4 tsp. red pepper flakes
4 cups pasta (bucatini, capellini or linguini)
1 1/2 lbs. cooked shrimp (size 9/12), peeled and deveined
½ cup dry white wine (optional)
1 cup pasta water (reserved water from cooked pasta)
Parmesan cheese for garnish
Olive oil, as needed
In a large pan, cook butter over medium heat until frothy; add shallots and cook until toasted. Add garlic. Add lemon juice, lemon zest and arugula. Taste and season with salt and red pepper flakes. Add cooked pasta and cooked shrimp, and toss. Add wine and/or reserved pasta water to pan to add moisture, if desired. Serve topped with Parmesan cheese.
Blackened Shrimp:
2 lbs. large fresh raw shrimp, peeled and deveined
1 tsp. cayenne pepper
1 tsp. ground black pepper
1 tsp. kosher salt
1 tsp. dry thyme leaves
1/2 tsp. onion powder
1/2 tsp. garlic powder
1/2 tsp. smoked paprika
1/2 cup unsalted butter, melted
Rinse shrimp with cold running water and pat dry. Your seasonings will stick better and you will get a better blackening if your shrimp are dry and slightly tacky to the touch. In a small mixing bowl, combine all spices and whisk to combine; adjust seasoning to your taste. Coat shrimp in seasonings; get both sides and cover surface but do not apply too thick.
If skillet blackening, preheat a large cast iron skillet over medium heat. Add half of melted butter, and allow to brown slightly. Add half of shrimp and allow to cook on one side for 3 minutes before turning and browning other side. Transfer to a warm dish to keep while using remaining butter to complete the next batch.
If oven blackening, preheat oven to 375 degrees; arrange shrimp on a wire rack above a cookie sheet. Brush both sides of shrimp with melted butter. Bake for no longer than 7 minutes. Serve immediately.
Crab Cake:
1 lb. jumbo lump crab
2 egg whites
¼ cup mayo
1 Tbsp. mustard (Dijon or Creole)
Juice of 1 lemon
½ tsp. liquid crab boil
½ tsp. blackened seafood seasoning
½ tsp. garlic powder
½ tsp. black pepper
Salt to taste
1/8 cup chopped green onions
¼ cup panko breadcrumbs
Drain and pick crab. Whisk together egg whites, mayo, mustard, lemon juice, crab boil and all the dry seasonings. Fold in crab and green onion, then add panko. Set in refrigerator for 20 minutes. Shape crab cakes and gently coat in panko/andouille crust. Cook until heated through.
---
Robert Vasquez's Red Snapper and Crawfish Sofrito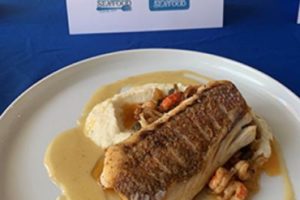 Louisiana red snapper:
2 Tbsp. canola oil
4 (6-oz.) red snapper filets
¼ tsp. kosher salt
¼ tsp. coarse black pepper
In a sauté pan, add oil and heat over medium heat. Dust both sides of snapper evenly with seasoning. Sear snapper skin side down for 4 minutes. Turn and sear flesh side down for 5 minutes.
Crawfish sofrito:
¼ cup canola oil
2 yellow peppers, diced
1 poblano pepper, diced
White onion, diced
3 small roma tomatoes, diced
2 garlic cloves, chopped
1 tsp. kosher salt
5 oz. cooked crawfish tails, clean
Add canola oil to saucepan. Heat over medium heat. Add all diced vegetables and chopped garlic. Braise for 10 minutes, stirring frequently until golden brown. Finish with salt. Remove pan from heat. Add crawfish tails. Stir mixture evenly.
Butter sauce:
1 Tbsp. canola oil
1 oz. yellow onion, diced
2 oz. carrots, sliced
2 garlic cloves, whole
1 sprig thyme
2 bay leaves
¼ tsp. black pepper
¼ cup white wine
1 Tbsp. lemon juice
1 tsp. red wine vinegar
¼ cup heavy cream
12 oz. butter, cubed
1 tsp kosher salt
Add canola oil to sauce pot. Heat over medium heat. Add onion, carrots, garlic, thyme, bay leaves and black pepper. Cook for 3 minutes, stirring frequently. Add white wine, lemon juice, red wine vinegar and heavy cream. Continue to cook until liquid is reduced by half. Lower heat. Slowly incorporate soft butter, whisking evenly until all butter is added. Pour sauce through a fine sieve into a bowl or sauce pot. Keep warm.
Turnip purée:
3 turnips
3 oz. mascarpone cheese
Pinch kosher salt
Dice turnips to ¼-in. cubes. Place turnips in a steamer and cook for 12 minutes or until soft in the center. Place hot turnips into mixing bowl. Add mascarpone and salt. Whisk all ingredients until a smooth mash texture.
---
Learn more about the other participating chefs and their dishes at louisianaseafood.com.