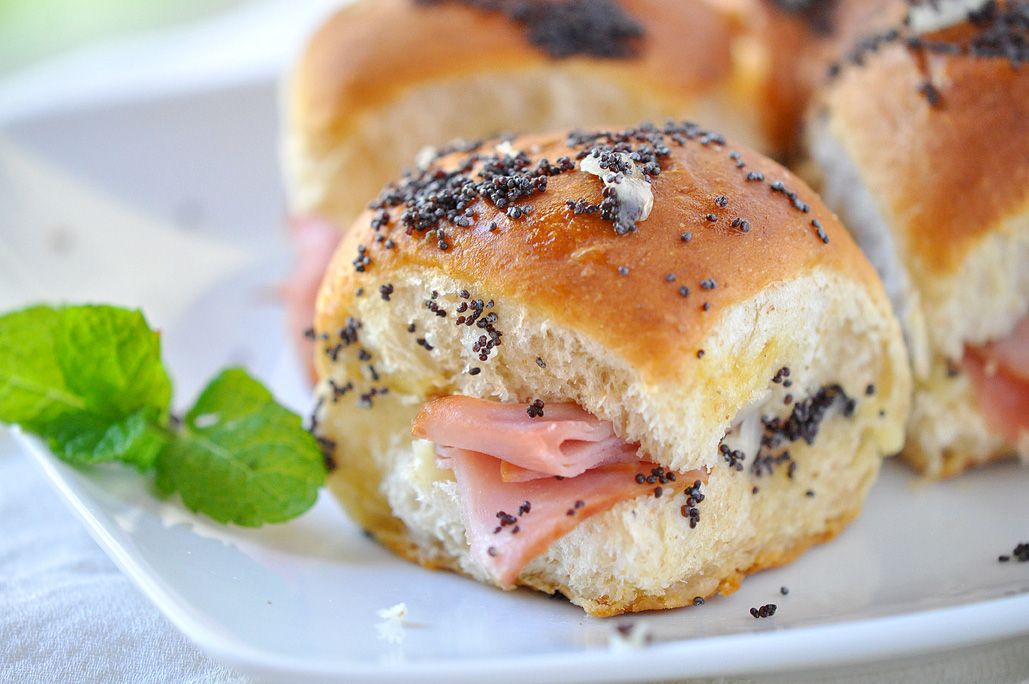 Holly's Scoop: Fan Favorites
Folks here in LSU Tigerland have only one thing on their minds this time of year: football! Whether you are planning your tailgate party on campus or propping your feet up in front of the TV, food takes center stage. Just wait until you dig into these savory appetizers and sweet treats. They are some of my favorite and most requested recipes, and they're terrific for tailgating.
Nothing says "Go team!" like my All-American Potato Skins with Horseradish Sauce. They're the perfect pick-ups, whether you are setting up a tailgate or watching the game at home. Did you know potatoes are actually a healthy, low-fat source of good-for-you fiber, especially in the skins? Don't let the pulp go to waste, either; use the extra potato pulp to make mashed potatoes for tomorrow's dinner. I seed the tomatoes by cutting each tomato in half from side to side and gently squeezing the tomato to watch seeds easily pop out.
Ham and Cheese Sliders are an updated twist on a classic combination. I love to include sliders on my tailgate menu as they are a great way to feed a crowd and don't require extra fuss. Best of all, these easy sliders can be made ahead and kept in the refrigerator or freezer; just add the poppy seed sauce when you are ready to bake.
I always save room for dessert, and for the ultimate in gameday sweet treats, I love this recipe for Double Chocolate Brownies. This chocoholics' dream was shared with me by Carolyn Winder years ago. A hint of almond extract makes the icing melt in your mouth. Be sure to sneak a taste hot out of the oven. These are my absolute weakness—one bite is never enough! Make them in a large pan, and cut into squares to feed your whole tailgate crowd.
Don't get overwhelmed! It's easy to put together a tailgate menu, especially with these trim and terrific recipes and tips. Start planning your menu a few days before kickoff. For an inexpensive and portable centerpiece, fill a basket with a football, pompoms and a pot of team-colored mums. Use disposable plates, napkins and utensils in the team's colors for easy cleanup. No sweat!
Holly Clegg has sold over 1 million cookbooks in her trim&TERRIFIC and Eating Well series. Sign up for her Monthly Menu newsletter at hollyclegg.com, check out her blog at thehealthycookingblog.com, or watch Holly on YouTube at youtube.com/user/hollycleggonline. 
---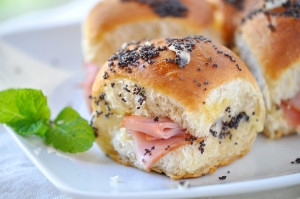 Ham and Cheese Sliders
Who said ham and cheese sandwiches had to be boring?
24 miniature rolls
1⁄3 cup Dijon mustard
1⁄2 lb. thinly sliced lean ham, cut into small pieces
2 cups shredded Jarlsberg cheese (light Swiss)
Poppy Seed Sauce (recipe follows)
Heat oven to 350 degrees. Line a baking sheet with foil. Split rolls in half and lay on prepared pan. Spread each bottom half with mustard, and layer ham and cheese on top of mustard. Replace tops of rolls. Place filled rolls close together on baking sheet. Drizzle Poppy Seed Sauce evenly over sliders. Cover with foil and bake for 12 to 15 minutes or until cheese is melted. Remove cover and bake for 2 minutes longer. Makes 24 sliders.
Poppy Seed Sauce:
1 Tbsp. poppy seeds
4 Tbsp. butter, melted
2 Tbsp. finely chopped onion
Hot sauce to taste
In a small bowl, mix together all ingredients.
Nutritional information per serving: 
Calories 148 | Calories from fat 36% | Fat 6g | Saturated fat 3g | Cholesterol 24mg Sodium 324mg | Carbohydrates 16g | Dietary fiber 1g | Sugars 4g | Protein 8g | Dietary exchanges: 1 starch, 1 lean meat, 1⁄2 fat
---
All American Potato Skins with Horseradish Sauce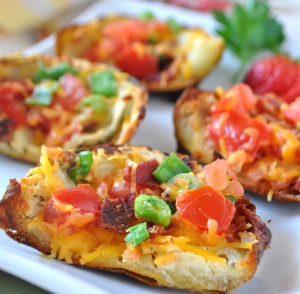 These popular restaurant-style pick-ups are a guaranteed winner.
6 medium baking potatoes
Garlic powder
4 slices turkey bacon, cooked and crumbled
1⁄2 cup chopped tomatoes
1⁄2 cup chopped green onions
2⁄3 cup reduced-fat shredded cheddar cheese
1⁄2 cup fat-free plain yogurt
1 Tbsp. horseradish
Pierce potatoes all over with fork. Microwave for 8 to 10 minutes depending on size (or bake at 425 degrees for 50 minutes). When potatoes are cool enough to handle, cut in half lengthwise; scoop out pulp, leaving a 1⁄4-inch shell (save pulp for another use). Cut potato skins in half. Sprinkle with garlic powder. Place potatoes skins on a baking sheet lined with foil. Coat skins with nonstick cooking spray.
Bake at 475 degrees for 5 to 7 minutes; turn and coat skins' other side with nonstick cooking spray. Bake until crisp, about 5 to 7 minutes more.
In a small bowl, mix together bacon, tomatoes, green onions and cheese. Sprinkle mixture inside skins. Bake for 2 minutes longer or until cheese is melted.
Meanwhile, in another small bowl, mix together yogurt and horseradish. Serve with potato skins. Makes 12 potato skins.
Nutritional information per serving: 
Calories 62 | Calories from fat 22% | Fat 2g | Saturated fat 1g | Cholesterol 7mg | Sodium 96mg | Carbohydrates 9g | Dietary fiber 1g | Sugars 1g  Protein 4g | Dietary exchanges: 1⁄2 starch, 1⁄2 lean meat
---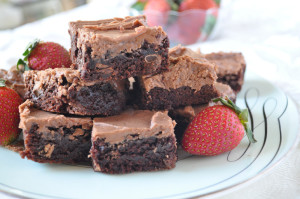 Double Chocolate Brownies
Dark or bittersweet chocolate chips make a great contrast to sweet chocolate almond icing.
1 (21.5-oz.) package original brownie mix
2 eggs
1⁄3 cup canola oil
1⁄4 cup water
1⁄3 cup bittersweet or dark chocolate chips
    (1⁄2 cup for more chocolate flavor)
3 Tbsp. butter 
2 Tbsp. cocoa
2 cups confectioners' sugar
2 Tbsp. skim milk
1 tsp. almond extract
Preheat oven to 350 degrees. In a bowl, combine brownie mix, eggs, oil, and water until well mixed. Stir in chocolate chips. Transfer to a 9 x 13-inch baking pan coated with nonstick cooking spray. Bake for 23 to 25 minutes, being careful to not overcook. Cool.
In a bowl, cream together butter, cocoa, confectioners' sugar, milk and almond extract until creamy. Spread on top of brownies. Makes 48 brownies.
Nutritional information per serving: 
Calories 108 | Calories from fat 37% | Fat 4g Saturated fat 1g | Cholesterol 11mg | Sodium 45mg Carbohydrate 16g | Dietary fiber 0g | Sugars 12g  Protein 1g | Dietary exchanges: 1 carbohydrate, 1 fat