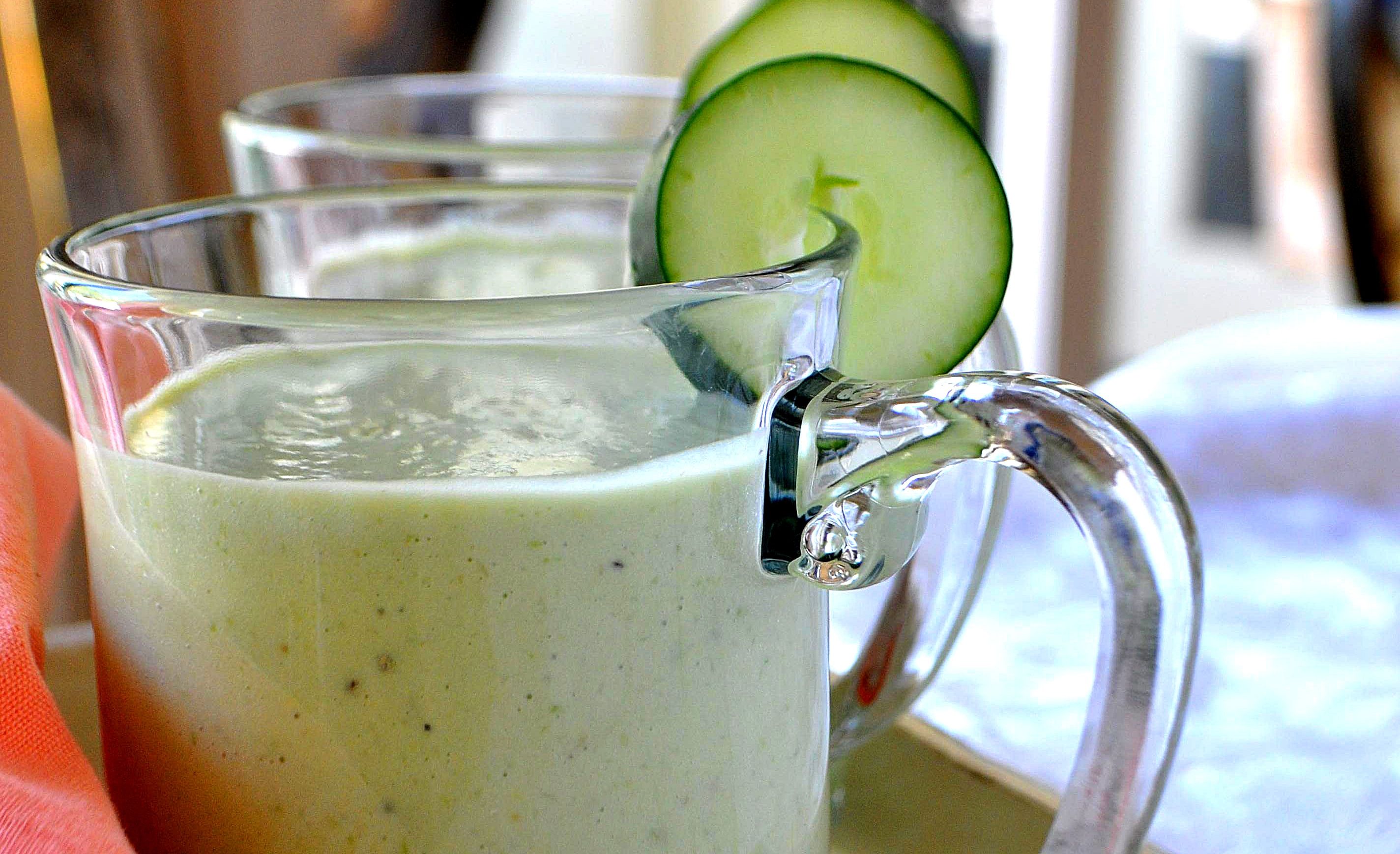 Holly's Scoop: Cool as a Cucumber
Avocado cucumber soup
It might be hot outside, but you can stay cool as a cucumber by satisfying your taste buds with this refreshing ingredient. Crunchy, crisp and oh-so-healthy, the cucumber is the perfect summer ingredient to keep your recipes trim and terrific. I use this quick tip to easily seed cucumbers: After peeling, just cut in half and run a knife or fork down the center of the cucumber to scrape out the seeds.
Try something new this summer with the delightfully creamy Avocado Cucumber Soup. Buttery avocados and cool cucumbers blend together to make a fantastic, diabetic-friendly cold soup. Cold soups make a refreshing lunch or light dinner when served with a salad or sandwich. They also add a nice touch to summer entertaining and pair perfectly with one of the salads featured here. I like to serve the chilled soup in coffee cups or mugs (especially glass) and garnish with mint for a fun start to a gathering.
All of the terrific Mediterranean flavors of my famous layered dip come together in the fabulous Chopped Greek Salad. This recipe evolved as one day I had leftover ingredients from making the dip and decided to turn them into a chopped salad. It begins as a vegetarian salad, but I often top it with grilled shrimp or get creative with any leftover chicken or meat.
For a light pasta salad with mouthwatering summer flavors, Mexican Chicken Orzo Salad uses my favorite time-saver, rotisserie chicken, plus the essence of summer garden ingredients with a light Southwestern vinaigrette.  Just by changing your vinaigrette, you can dictate the ethnic personality of this recipe, so be creative with any vinaigrette option! Summer is grilling time, so this entrée salad also turns leftover grilled chicken into another scrumptious meal. Orzo is a rice-shaped pasta, but you can use any pasta with this recipe.
When the weather heats up, remember to keep it cool and take advantage of summer produce to create these savory delights that will keep you away from the oven.
Holly Clegg is a Louisiana chef, healthy cooking expert and author of the best-selling trim&TERRIFIC cookbooks, which have sold more than 1 million copies. For Holly's recipes and books, visit hollyclegg.com or the healthycookingblog.com.
---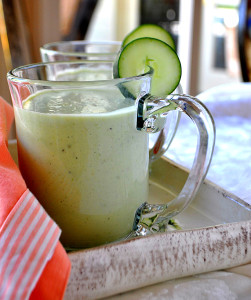 Avocado Cucumber Soup
1 large avocado, peeled, pitted and halved
2 cucumbers, peeled, seeded and halved
1 cup fat-free low-sodium chicken or vegetable broth
1 cup fat-free evaporated milk
2 Tbsp. lemon juice
Salt and pepper to taste (optional)
1⁄4 cup chopped green onion
1⁄2  cup chopped tomatoes
In a blender or food processor, blend avocado, cucumbers, broth, evaporated milk and lemon juice until smooth. Season with salt and pepper if desired. Refrigerate, covered, until chilled. If soup is too thick, stir in a little more broth or evaporated milk. Sprinkle individual servings with chopped green onion and tomatoes before serving. Makes 6 (3⁄4-cup) servings.
Nutritional information per serving:
Calories 102 | Calories from fat 46% | Fat 5g | Saturated fat 1g | Cholesterol 2mg | Sodium 65mg | Carbohydrates 11g | Dietary fiber 3g | Sugars 7g | Protein 5g | Dietary exchanges: 1 vegetable, 1⁄2 fat-free milk, 1 fat
---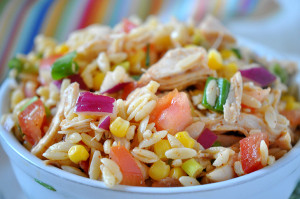 Mexican Chicken Orzo Salad
4 cups cooked orzo pasta
2 cups chopped skinless rotisserie chicken breast
1 cup chopped tomatoes
1 cup frozen corn, thawed
1 cucumber, chopped
1⁄4 cup chopped red onions
1⁄2 cup chopped green onions
1 Tbsp. Dijon mustard
2 Tbsp. lime juice
1 Tbsp. olive oil
1 Tbsp. chopped jalapeño pepper
1⁄2 tsp. chili powder
1⁄2 tsp. ground cumin
In a large bowl, combine orzo, chicken, tomatoes, corn, cucumber, red onion and green onions. In a small bowl, whisk Dijon, lime juice, olive oil, jalapeño, chili powder and cumin. Pour dressing over pasta mixture, tossing to mix. Makes 8 (1-cup) servings.
Nutrition information per serving:
Calories 258 | Calories from fat 14% | Fat 4g | Saturated fat 1g | Cholesterol 32mg | Sodium 170mg | Carbohydrates 39g | Dietary fiber 2g | Sugars 4g | Protein 17g | Dietary exchanges: 2 1⁄2 starch, 1 1⁄2 lean meat
---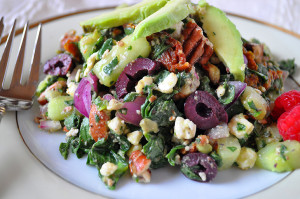 Chopped Greek Salad
2 cups chopped fresh baby spinach
1 cup chopped peeled cucumber
1⁄2  cup chopped sun-dried tomatoes, reconstituted
1⁄4 cup chopped red onion
1⁄4 cup chopped avocado
1⁄4 cup crumbled reduced-fat feta cheese
2 Tbsp. sliced Kalamata olives
1⁄4 cup chopped pecans, toasted
2 Tbsp. lemon juice
1 Tbsp. seasoned rice vinegar
1 tsp. olive oil
Pepper to taste
In a large bowl, combine all ingredients except lemon juice, vinegar, olive oil and pepper. In a small bowl, whisk together lemon juice, vinegar and oil. Toss with spinach mixture, and season with pepper to taste. Makes 5 (1-cup) servings.
Nutritional information per serving:
Calories 110 | Calories from fat 60% | Fat 8g | Saturated fat 1g Cholesterol 3mg | Sodium 198mg | Carbohydrates 8g | Dietary fiber 2g | Sugars 3g | Protein 3g | Dietary exchanges: 2 vegetable, 1 1⁄2 fat